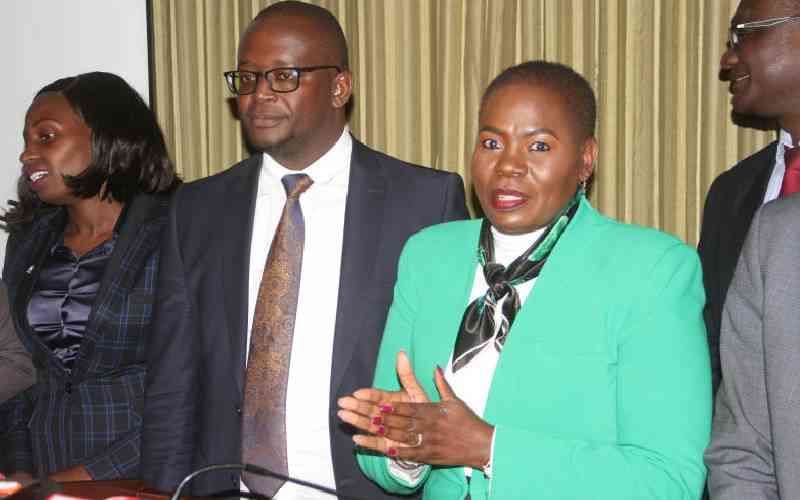 Ministry of Lands, surveyors and lawyers have finally agreed on how to solve disputes arising at the Lands Registry.
Among the agreements are collaboration between the private and public sectors, and holding meetings every week to address emerging issues.
The above resolutions come after the Law Society of Kenya (LSK) and Institution of Surveyors of Kenya (ISK) held a consultative forum on August 3, 2022, in a city hotel to review resolutions reached last week.
The issues that emerged include conversion of title deeds, long-term leases, difficulties in getting searches on the Ardhisasa platform, implementation of the Sectional Properties Act (SPA), 2022 among others.
"Following the meeting of last week, we did develop a module to allow them to search while the properties are being cleaned out in the system and that module I think is already deployed," said Lands Cabinet Secretary Farida Karoney.
The CS said they have established a module to help in land searches and now the services will be provided digitally so that they can trace and track actions on the platform.
She said this was among the issues raised in last week's meeting, where the searches were not available to professionals.
On SPA, she said they have agreed on modalities for implementation.
The ministry has developed the Land Information Management System (NLIMS) which is designed to digitise land records and transactions and enhance the security of land records, improve accessibility and cut down the cost of land transactions.
The NLIMS created an online platform known as Ardhisasa for accessing land data and carrying out paperless transactions that are easy, secure, cost-effective, efficient and transparent.
So far, she said, they have digitised land records and transactions for Nairobi County with plans to go to other three Nairobi Metropolitan counties of Machakos, Kajiado and Kiambu then later to the rest 43 counties.
The CS also said they have finished doing the separation of public land from private land, which was a directive from President Uhuru Kenyatta in April last year.
According to the CS, the professionals had complained that the ministry is doing a lot at the same time.
This, she said, is because they had to fix all the wrong things that were in the register, including deploying the legislations that were repealed in 2012 by the Land Registrations Act.
"That is why we ran conversion concurrently with digitalisation so that we have a uniform digital register," said Karoney.
The CS said the ministry has up to December to implement the new law.
She said there was no going back on disgitisation because it would end the challenge of missing files.