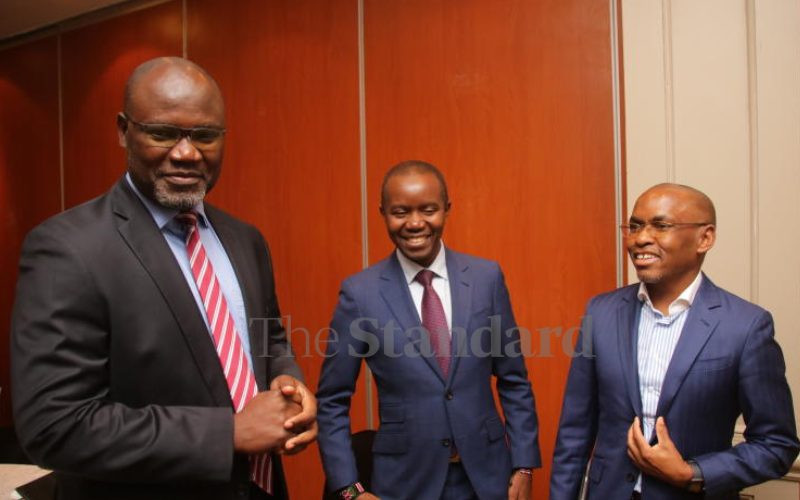 The government has no access to passwords of the electoral commission servers nor does it intend to interfere with next week's election, a Cabinet Secretary has said.
The Information, Communication and Technology CS Joe Mucheru also said the government will not shut down the internet during the electioneering period since citizens have a right to access information.
Speaking during a Kenya Editors Guild meeting on election preparedness in Nairobi on August 3, 2022, Mucheru said that Kenya currently enjoys 100 per cent network coverage making it one of the leading African nations in network connectivity.
"We would like to assure Kenyans that the government will not shut down internet during the electioneering period since we have a democratic space," he said. "We are committed to have a free press and citizens have a right to access to information which we have not interfered with in the past and will not do it now."
Safaricom chief executive Peter Ndegwa said telecommunication service providers have to ensure the election is successful.
Ndegwa said that Safaricom is a neutral party and will not be involved in the tallying and announcement of results but it is required by the law to support the Independent Electoral and Boundaries Commission (IEBC).
He said there are 26,680 polling centres that need to be covered by network and at the moment only 730 polling centres do not have coverage and IEBC will use satellite modems to ensure efficient transmission of results. "We have established a network freeze to ensure its availability for usage on election day so that the IEBC is able to perform its constitutional role, we also have a backup plan in case there are some failures," said Ndegwa.
Mucheru said the General Election will be run by the IEBC with various government agencies supporting it to ensure efficiency, accuracy and credibility.
He explained that it was the government's role to ensure cyber hygiene and cyber security are maintained and there will be social media monitoring to ensure no hate messages are spread during the electioneering period.
The CS also said that the country currently enjoys 96.4 per cent of 3G and 4G network coverage, which is an assurance that the IEBC will relay the election results as soon as they are ready.
Mucheru added that that the government cannot interfere with the election outcome. "We have a democratic government which has the best interests of citizens at heart. That is why President Uhuru Kenyatta has asked all government agencies to ensure there is a successful election," he said.
Kenya Editors Guild president Churchill Otieno said the Kenya Media Sector Working Group has been working with the IEBC for the last one year to ensure that elections are conducted successfully.
"The major challenge in the electoral process in this country has always been in counting and transmission of results, we believe all stakeholders have done their best to ensure a credible and transparent electoral process," he said.