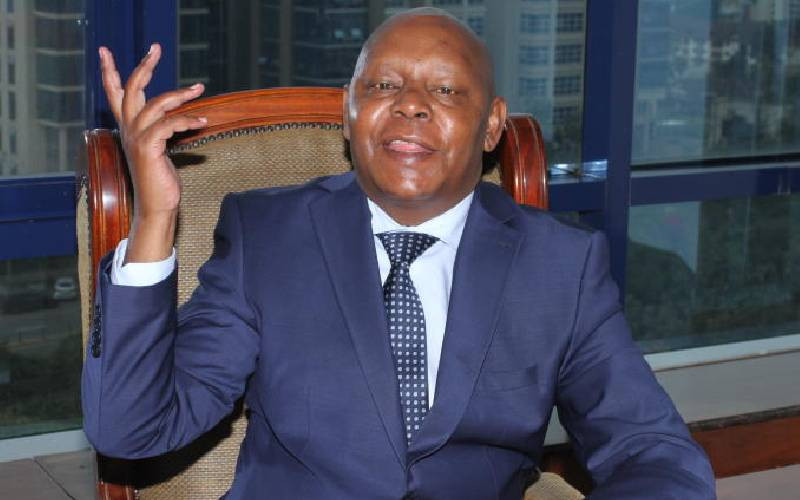 International Criminal Court (ICC) deputy prosecutor yesterday linked Deputy President William Ruto to an alleged bribery scheme whose architect was lawyer Paul Gicheru, assisted by more than 10 associates.
This even as Gicheru linked the witnesses to NGOs, adding that they were all interested in accommodation, employment, money, opportunities and schools for the children in countries out of Africa.
Gicheru urged Trial Chamber III judge Maria Samba to dismiss witness testimonies submitted against him, terming them lies, hearsay and unsubstantiated claims by grifters, opportunists, con-artists and confabulators of Olympic proportion.
While terming Dr Ruto as the ultimate beneficiary of the scheme of things, ICC Deputy Prosecutor James Stewart argued that the managers consisted of a group of influential people associated with him and or his supporters. "There is no innocent explanation consistent with the prosecution's evidence, nor has any been suggested by the defence. It proves beyond reasonable doubt the accused's essential role in the implementation of the witness interference scheme described below, which was conducted for the benefit of William Samoei Ruto," said Stewart.
The prosecutor named Gicheru, Silas Simatwo, Isaac Maiyo, Meshack Yebei (deceased), Phillip Bett, Walter Barasa, Elisha Busienei, P495, a Mr Kogo as well as lawyers named Mr Njuguna and Mr Mitei as the team behind witness tampering.
He argued that an analysis of Gicheru's phone, his alleged close friendship with Ruto, Simatwo's position in AMACO, an insurance firm associated with Ruto, Maiyo being appointed as Eldoret North Constituency Development Fund chair when Ruto was its MP, were pointers that they all worked to have witnesses withdraw their testimonies against the now DP.
The common plan, Stewart said, materialised by April 2013 and continued until the close of the prosecution's arguments in Ruto's and Radio journalist Joshua arap Sang's case on September 10, 2015.
Plan associates
"There are no fewer than 10 common plan associates and other persons of interest linked to the accused to the phone data. These include managers Simatwo and Maiyo, intermediaries Barasa and Bett, Associates Busienei, P495, and Kogo, as well as lawyers Njuguna and Mitei. And of course the ultimate beneficiary of the scheme, Mr William Ruto," argued Stewart.
"I note that the defence says that the relevant phone data for Ruto were not contained in the phone data. However, this is incorrect Your Honour. Inspection of the record reveals that the number is further reflected in the records," he said.
On the other hand, Gicheru told court that ICC investigators never visited Rift Valley. Instead, they dangled relocation promises to witnesses to have them testify; interviewed them for long periods of times to create certain memories and failed to link money trail, and only produced phone numbers without call data to link him with other alleged members of common plan on witnesses. His lawyer Michael Karnavas said the trial was an exercise of trying to find needles of truth in massive haystacks of lies.
According to the lawyer, there was no evidence of communication between Gicheru and the witnesses or calls with then State officials despite being a senior lawyer in the country and chairman of State companies.
"The OTP's investigation is a textbook lesson on how not to conduct an unbiased, methodical, and diligent investigation where the sole objective is to let the evidence lead where it may, as opposed to having a predestined outcome lead the evidence.
Alarmingly, the OTP is expecting the Trial Chamber to find the needles of truth – if any exist – hidden in the massive haystacks of lies by each witness, inaptly cherry-pick through the witnesses' accounts with preference accorded to the most recent versions produced through countless and ever-evolving "clarifications," argued Karnavas.
He said prosecution never tried to reach out to alleged managers and associates to collaborate or differentiate the claims by the witnesses.
At the same time, Karnavas asserted that omissions, contradictions and admissions that witnesses lied to get favours from the prosecution led to a concussion of a witch hunt. He was of the view that the data the prosecution relied on was illegally acquired, adding that even the alleged banked money could not be traced to him.
"The OTP's case is awash with astonishing lies, conjectures, innuendo, assumptions, gaps, and unverifiable hearsay – the product of a shabby, amateurish, and result determinative investigation, that, from the outset, was dependent on and became wedded to individuals with low morals, high desires, and exceptional motivation to do and say whatever it took to hoodwink the OTP investigators into providing them financial benefits and relocation out of Africa," he said.
The final submissions were doused with anecdotes and sharp criticism of the opponent's submissions, with each imploring the judge to tilt the scale of justice in their favour.
While concluding his submissions, Stewart urged the court to find Gicheru guilty on all eight counts.
"The prosecution's closing brief sets in detail how the evidence presented proves that Paul Gicheru is guilty on all eight counts of corruptly influencing prosecution witnesses. This evidence stands uncontroverted by any defence witnesses.
Binary choice
"The chamber is faced with a binary choice, either the witnesses presented by the prosecution are true and correct in their essential features and Mr Gicheru is guilty as charged, or he is a victim of a grand conspiracy of breathtaking scope, intricacy and duration. There is no middle ground," argued Stewart.
But Gicheru implored the judge to acquit him, saying the evidence investigators and witnesses had did not link him to alleged tampering.
"The OTP has not met its burden of proof as shown herein. And when the entire record of all admitted evidence is carefully scrutinised and properly assessed, the Trial Chamber should find Mr Gicheru not guilty on all counts.
"Because of the OTP's self-imposed policy not to investigate in the Rift Valley, no efforts were made to go to the banks and verify witnesses' banking records or conduct any financial investigation. The OTP should have conducted financial investigations to accurately determine the source of funds deposited in witnesses' bank accounts," replied Gicheru.
He is accused of tampering with witnesses P-0274, P-0341, P-0397, P-0495, P-0516, P-0536, P-0613 and P-0800.