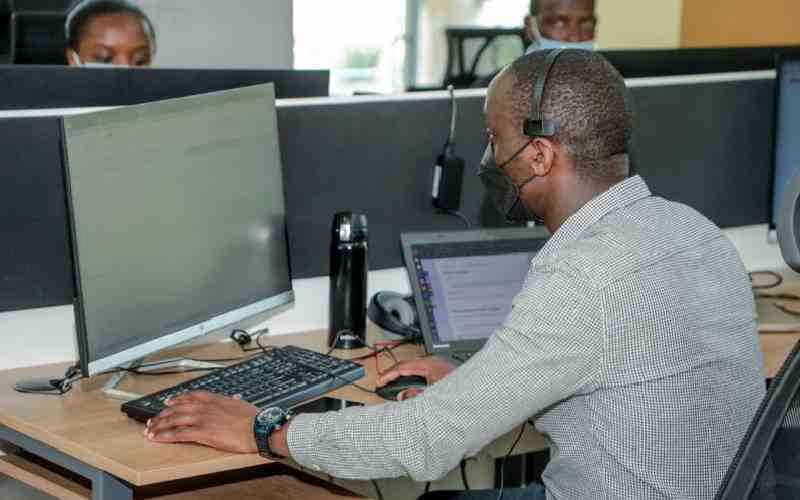 Geoffrey Maina may have been the lucky Kenyan who own land in Nairobi but unlucky that he is not tech-savvy.
It never occurred to him that following migration from manual to digital transactions in Ardhi House, he needed to have basic Information and Communication Technology (ICT) skills.
He also needed to have a smartphone, an email address, internet bundles and an E-citizen account to make millions out of soil or even do a search to ensure that fraudsters do not tamper with his titles or green book.
Maina is among millions of Kenyans who have been locked out of government services as State powers the new wave of technology and digitisation.
His predicament started when intruders accompanied by the police stormed his property with the sole aim of evicting him.
He first sought help from a civil society group, Kituo cha Sheria, which advised him to do a land search.
Armed with his title details, Maina shuttled to Ardhi House, Lands Ministry headquarters knowing he would get information on what was happening to his land ownership documents.
But he was turned back.
In his court papers, Maina says that officers at the Lands ministry asked him to apply for an online search.
To him, this was Greek, as he had never interacted with a computer and has no ICT skills.
Maina informed the officers that he had no email address or anything else to help him conduct a search online.
"The officers at the Land office told me that they could do it if I gave about Sh5,000. I told them that I do not have such an amount of money. I viewed this as bribe for services that should be rendered to me at a minimal fee and which is provided for," says Maina.
The first day passed with no help, he went home and came back three more times but the officers refused to budge. He retreated to a cyber café for assistance.
He parted with Sh3,000 for the cyber operator to make an application on his behalf. The officers had requested Sh5,000.
His difficulties did not end there. Maina's lawyers John Mwariri and Mosongo Maosa told the court that their client thought that just as the manual process, he would walk home with an answer to his problem. After all, this was a computer.
However, Maina made a search on December 3, 2021, but got his results on May 20, 2022.
"I swear this affidavit to highlight to the honourable court the challenges many Kenyans face in trying to access government services which are offered exclusively through the internet.
"Many Kenyans with no ICT skills and lack finances continue to suffer in silence, as they cannot access government services," Maina says.
Maina's case paints the true picture of many Kenyans who face problems with the government's e-services, raising many questions about the resolve to have everyone to on board its digital bandwagon.
However, Maina is not the first one to move to court over government digital services.
Transformation process
The Judiciary and Registrar of Political Parties were separately sued over digitisation.
On June 10, 2008, the late president Mwai Kibaki launched Vision 2030 as a vehicle for accelerating the transformation of Kenya into a rapidly industrialising middle-income nation.
The intention of Kibaki's government was to provide a high quality of life to all its citizens by the year 2030 in a clean and secure environment.
Kibaki subsequently appointed the Vision 2030 Delivery Board on February 13, 2009, to drive and manage the transformation process.
His government then had Transforming Connectivity and Transmission in the Country, East African Marine System (TEAMS) fibre optic cable land in Mombasa in 2009, placing Kenya on the superhighway to major technological take-off.
SEACOM, a privately funded fibrer optic project, also landed in 2009, setting the stage for internet connectivity and communications in the country.
Initially, the country relied on satellites to access the internet which was then out of reach for many owing to the high cost.
At the end of Kibaki's tenure, at least 14 million Kenyans had access to the internet. The former president is said to be the father of digital citizenship.
Initially, E-Citizen only offered services such as driving license, passport and good conduct certificate.
However, one was required to deliver and collect physical copies of the documents to and from different agencies.
And when President Uhuru Kenyatta took over, he accelerated the digitisation process. But this came with its own battle: lack of public participation and denying many Kenyans access to government's e-services.
The first case was on Huduma Namba.
Nubian Community challenged Uhuru's Huduma Namba project, arguing that their community would be locked out of the National Integrated Identity Management System (NIIMS), a government's digital citizenship repository.
Uhuru said that Huduma Namba would be a single source of truth while searching all government services.
Another worry about this technology project was data storage and collection. The court heard that collection of DNA and GPS location was an intrusion of privacy.
At the same time, the government is accused of using archaic servers to store data collected from millions of Kenyans. To date, the Huduma Namba project is marred by court cases.
However, Covid-19 changed the dynamics totally; the government pushed a gear further to offer its services online.
The Judiciary rolled out an e-filing system and started virtual courts aided by Zoom, Cisco Webex, Go-To-Meeting, and Microsoft's Teams apps.
Judiciary was also sued for this.
Elizabeth Zeze and Nyambeki Asuma argued that the introduction of technology in the judicial system is elitist and foreign.
Unfamiliar to Kenyans
They accused the Judiciary of leaving out indigent and self-representing litigants by adopting technology for accessing justice.
Law Society of Kenya supported the case. It argued that its members had no access to computers and the internet.
LSK pushed for the manual filing and physical court appearance if the Judiciary did not improve its e-system, but the Judiciary argued that it had to save lives by denying Kenyans access to open courts.
After hearing rival arguments, Justice James Makau found that the new system was unfamiliar to Kenyans. He gave the Judiciary 90 days to ensure Kenyans had access to justice.
A Judiciary report launched last year reveals that during the pandemic, technology locked out at least 6.02 percent of litigants from accessing court services.
A total of 8,314 e-filing accounts were created on the portal at the end of the reporting period, comprising 4,826 individual accounts, 3,085 law firms, 333 organizations, and 70 State organizations.
Since virtual courts started, nearly 170 court stations and tribunals countrywide had hearings through video and audio conferencing by the end of June 2021.
At the same time, judges and judicial officers handled approximately 144,000 cases through the virtual platform and delivered over 31,000 judgments and rulings through Microsoft Teams and Go-To-Meeting video conferencing applications.
In a separate case, High Court judge George Odunga found that it was unfair to have all Kenyans correct their political party membership status through the Integrated Political Parties Management System (IPPMS).
Although he found that the IPPMS was put up without considering the marginalised and those with no access to the internet, Justice Odunga declined to order the platform to be pulled down as many Kenyans had joined or resigned from political parties using the system.
Reverting to the manual system, he said, would benefit unscrupulous politicians. "To suspend or reverse the system would mean that the crafty political party officials who enlisted Kenyans as members of their parties without their knowledge would have succeeded in beating the system and the law," he ruled.
The case was filed by the Centre for Minority Rights Development, William Sipai, and Noah Kitarpei.
They sued the Attorney General Kihara Kariuki, Registrar of Political Parties Anne Nderitu, and the Independent Electoral and Boundaries Commission (IEBC), claiming that the platform had locked out sections of Kenyans, including pastoralists.
The court also heard that indigenous people have been subjected to historical marginalisation and legislative discrimination and that the majority of their population have no internet access.
The petitioners argued that they represent about 30,000 members of the Keekenyokia clan of the Maasai, and the Yaaku minority group.
They said the communities do not have technologies to access the IPPMS yet they wish to take part in party primaries.
Ms Nderitu told the court that 24 million people had registered as party members using IPPMS.
Meanwhile, if one today wants to get married, get a license to be a pastor, file a case, check their political party list or enroll a child to Form One, one has to have internet access or know how to use a computer or a smartphone.
Such skills are also needed when applying for an NHIF card, transferring land or getting a title, renewing driver's license, applying for a passport or paying land rates.