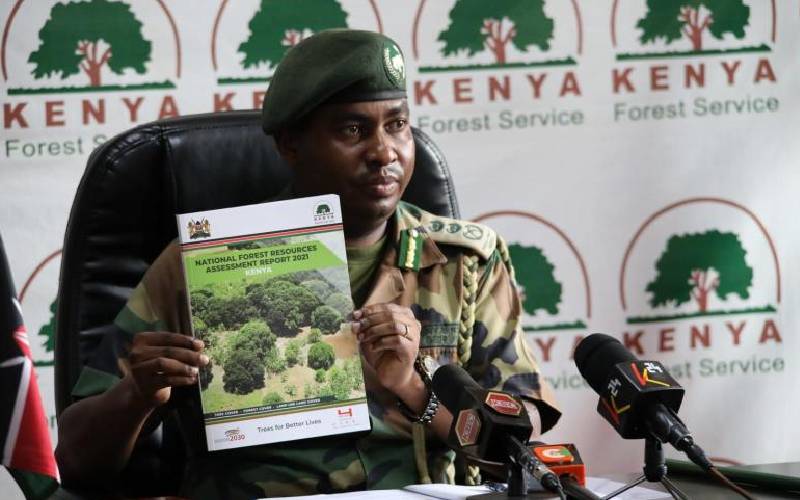 Kenya has surpassed the 2022 minimum target of 10 per cent tree cover to achieve 12.13 per cent. It has also achieved an 8.83 per cent forest cover.
In 2013, the forest cover was at 6.99 per cent while in 2018 was 5.99 percent. This is according to the Kenya Forest Service (KFS) in its new National Forest Assessment Report 2021 released yesterday.
The Kenya Vision 2030 blueprint set a goal for the country to increase the area under forest to 10 percent by 2030 and sustainably manage natural forests for environmental protection and enhanced economic growth.
However, in March 2018, President Uhuru Kenyatta affirmed Kenya's commitment to achieve minimum of 10 percent tree cover by 2022 as part of the national efforts to address the challenge of climate change. Article 69(1)(b) of the Constitution of Kenya emphasises on the need to ''work to achieve and maintain a tree cover of at least ten percent of the land area of Kenya.''
Speaking during the release of the report at Kenya Forest Service(KFS) headquarters in Nairobi, Chief Conservator of Forests Julius Kamau said the report was compiled to assess the implementation strategies and action plans that had been been put to achieve the 10 per cent tree cover.
The report employed a cutting edge technology that involved use of high resolution satellite imagery and highly competent personnel under a multi-agency approach to determine the status of tree resources in the country.
"Results generated through the National Forest Resources Assessment 2021 indicates that Kenya has 7.1 million hectares of tree cover representing 12.13 percent of the total area," said Kamau.
Further, from the assessment, 37 counties out of the 47 (79 percent) have a tree cover percentage greater than the constitutional set target of 10 percent tree over. In addition, results reveal that the country has a tree cover per capital index of 1,507.48m2 per person.
He added: ''The findings also indicate that the country has 5.2 million hectares of national forest cover that represents 8.83 per cent of the total area. Forest cover is unevenly distributed across the country.
Of significance is that 21 counties have forest cover above the national forest cover of 8.83 percent, while 26 counties forest cover fell below the national forest cover. The results also show that up to 10 counties have a tree cover less than the constitutional target of 10 per cent.
Nyeri County has the highest tree cover at 45.17 per cent followed by Lamu (44.06), Vihiga (35.92), Kirinyaga (30.39), Meru (29.95), Embu (29.63), Murang'a (27.8), Kilifi (27.75) and Nyandarua (27.56) in the top ten.
Bottom five counties were Marsabit at 2.06 per cent followed by Mandera (3.61), Wajir (4.45), Siaya(5.27), Machakos (6.03) and Isiolo at 6.7 per cent. On forest cover, Nyeri led again with 40.89, Lamu (32.13), Kilifi (26.25), Nyandarua (26.2), Bomet (24.28), Kirinyaga (23.62), Samburu (23.29), Kericho (20.61) and Elgeyo Marakwet (20.53). Siaya had the lowest forest cover at 0.23 per cent followed by Migori (0.31 per cent, Busia (0.56), Wajir (0.98 per cent and Marsabit at 1.11 per cent in the bottom five.
"Further results indicate that the wooded and open grasslands are majorly concentrated in the drier parts(ASALS) of the country, especially in the northern region," said Kamau.
Speaking recently during Madaraka Day celebrations, President Kenyatta set a new target of 30 per cent by 2050, which KFS has embarked on meeting the new target. The report recommends strategic financial support to strengthen the forest resourcing and management system.
"Two is the State to establish and finance a suitable sustainable institutional and cooperation mechanism between KFS and Joint National Mapping to create synergies on availability of high resolution imageries, technical competencies and other resources,'' said the report.