78 elephants starve to death as drought bites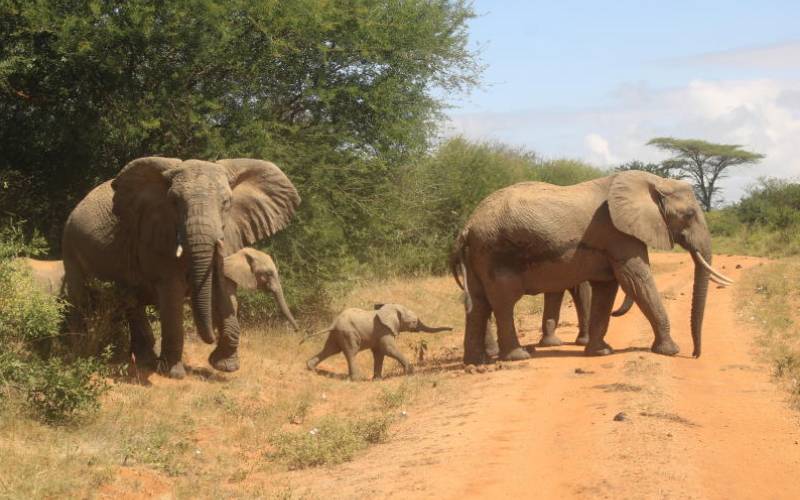 Kenya has lost 78 elephants in the past few months due to drought, according to the Ministry of Wildlife and Tourism.
Tsavo National Park was the most affected. Principal Secretary Zeinab Hussein said the government has come up with various mitigation measures to lessen the effects of drought, including digging water pans in Tsavo to address the issue of water shortage.
The PS said the ministry was doing everything possible to make sure that no more animals died from drought.
"Currently, we are ferrying water using bowsers to several parks in the country as one way of making sure that no animal dies because of drought," she said.
The PS spoke at Wildlife Research and Training Institute (WRTI) in Naivasha after launching a tree planting exercise. She said the ministry was keen to plant more trees as one way of achieving the envisaged 10 per cent forest cover.
She said that the ministry has already planted a total of 15,000 seedlings in Tsavo East, Aberdare, and Kamnarok National Reserves.
"By the end of this financial year, we hope we will have grown 20,000 seedlings. We have already planted 7,000 seedlings in Aberdare and another 1,000 here in WRTI Naivasha," she said.
She assured students that the ministry was engaging the Higher Education Loans Board (HELB) so that they could also start benefitting from the loans.
The Director of WRTI Patrick Omondi said they have partnered with the organisers of the upcoming World Rally Championship (WRC) to plant 19 million trees across the country.
Omondi noted that the institute has already planted over 10,000 seedlings and was keen on meeting the 10 per cent forest cover as part of habitat restructuring and management.
"We are keen on increasing forest cover within the institute which has been adversely affected by invasive weeds which cannot be eaten by wildlife," he said.