Uhuru calls for a cabinet meeting after one year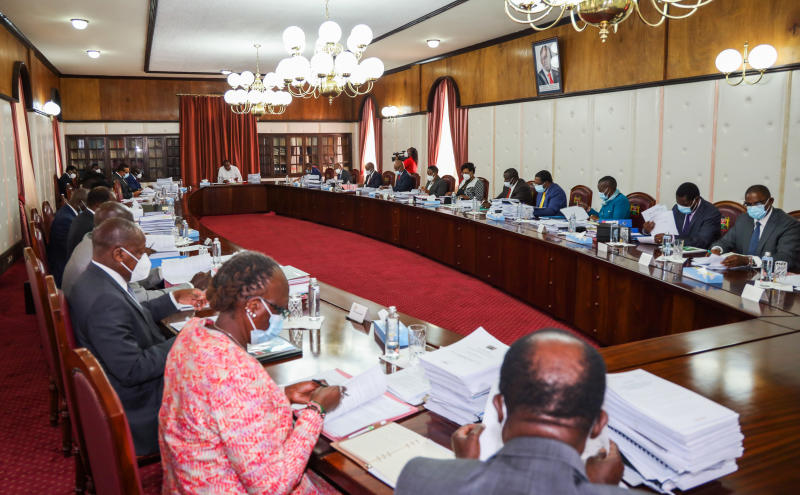 President Uhuru Kenyatta has finally called for a Cabinet meeting to deliberate on the government agenda after more than a year hiatus.
Traditionally, the Cabinet has been sitting every Thursday where the government's agenda and issues over the collective responsibility of the formulated government policy are agreed upon and adopted.
The last Cabinet meeting was held on February 18, 2021 when the President broke the tradition of such forums and included Chief Administrative Secretaries (CAS) and Principal Secretaries where they discussed Jubilee's Big Four Agenda and Vision 2030 flagship projects.
A Cabinet Secretary who sought anonymity told The Standard that they had been invited for a cabinet meeting on Thursday. "We were told the agenda will be shared at the meeting," said the CS.
According to Chapter 9 article 152 of the Constitution, a Cabinet includes the President, the Deputy President, the Attorney-General, and not fewer than 14 and not more than 22 Cabinet Secretaries.
In the absence of Cabinet meetings, the ministers have been attending Cabinet sub-committee routine meetings chaired by Interior and Coordination Cabinet Secretary Fred Matiang'i every Tuesday to deliberate on government business.
Currently, there are 19 Bills at the National Assembly that were introduced by the government and three of them were introduced to the House before or immediately after the last Cabinet meeting.
During the one year when Cabinet meetings were not held, Bills including Public Procurement and Asset Disposal (Amendment), Universities (Amendment), Children, Proceeds of Crime and Anti-Money Laundering (Amendment), Sacco Societies (Amendment), Political Parties (Amendment) and Huduma bills have been introduced in the House.
The Political Parties (Amendment) Bill, 2021 which was acrimoniously passed has since been signed into law while Huduma Bill, 2021 is currently at the first reading.
Belgut MP Nelson Koech says the government risked having its Executive decisions which were done during the period that there were no meetings challenged, given that they lacked Cabinet approval.
"A full cabinet meeting is important for the deliberations and approval of government business, it cannot be substituted with a sub-committee of Cabinet," said Koech.
A cabinet meeting is expected to give government policy direction discussed and approved before implementation.
According to an earlier interview with former Foreign Affairs Minister Prof Amukowa Anangwe, a CS cannot formulate a policy and implement it or prepare a Bill and take it to Parliament without passing through the Cabinet for discussion and approval.
"All government decisions must be deliberated and approved by the full Cabinet for it to part of policy formulation directive. No law would be binding unless it was agreed upon at Cabinet and taken to Parliament for debate and passing," he says.
He explains that a CS from a parent ministry is supposed to initiate a draft paper or Bill from the parent ministry, present it to the Secretary of Cabinet as a filed Cabinet memorandum.
"Once the Cabinet paper is tabled, it is circulated to all CSs and during the weekly Cabinet meetings, they are discussed and once passed, they carry the collective responsibility of the entire Cabinet," said Prof Anangwe.