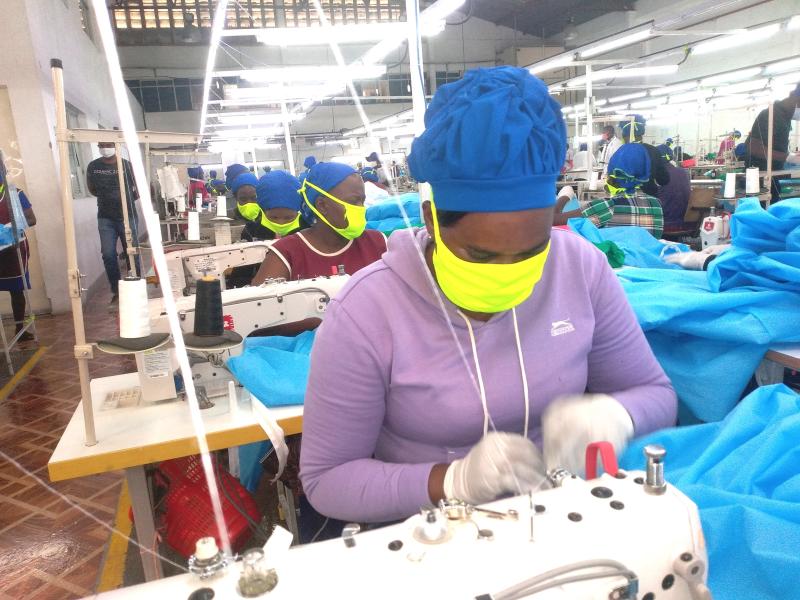 A rebounding manufacturing sector recorded a growth of 6.9 per cent in 2021, bucking the trend after a suppressed growth of -0.4 per cent in 2020.
The share of the manufacturing sector to the gross domestic product (GDP) was 7.2 per cent, with the sector's volume of output also expanding by 6 per cent in the year from a revised growth of 0.2 per cent in 2020.
Data released by the Kenya National Bureau of Statistics (KNBS) in its Economic Survey report of 2022 also show that the number of people in formal manufacturing employment increased by 6.7 per cent from 316,900 to 338,000. The number of local employees engaged in export processing zones (EPZ) enterprises went up by 17 per cent.
The value of output, intermediate consumption, value-added and compensation of employees in the industry all hit a five-year high on the back of a vibrantly recovering economy.
The quantity of manufactured and processed food products increased by 3.1 per cent in the year, compared to a growth of 5.6 per cent in 2020.
"The growth was mainly driven by processing of sugar, meat and meat products, dairy products and bakery products," noted the report. "However, prepared and preserved fruits and vegetables, and animal and vegetable fats and oils registered negative growths in the same period."
Production of meat and meat products recorded a 13.1 per cent growth, while dairy production registered a 10.8 per cent growth in 2021, compared to a slump of 6.7 per cent in 2020. The grain milling subsector grew by 6.2 per cent in 2021 compared to 11.7 per cent the previous year as the beverages and tobacco sector showed a 9.2 per cent growth.
Textiles (1.6 per cent), leather and related products (15.6 per cent), wood and products of wood (10.2 per cent), refined petroleum product (4.6 per cent), plastic products (2 per cent), basic metals (2.7 per cent), electrical equipment (2.3 per cent), non-metallic mineral products (23.2 per cent) and motor vehicles, trailers and semi-trailers (18.9 per cent) sectors and sub-sectors all demonstrated growth.
The overall inflation, as measured by Producer Price Index (PPI), which is valued at basic price and measures the average change in the price of goods as they leave the factory, rose by 7.32 per cent from 102.08 in 2020 to 109.55 in 2021.
Credit extended to the sector also increased in the year under review.
"Total credit approved by both commercial banks and industrial financial institutions rose to Sh464 billion from Sh410.3 billion in 2020," read the report. "The total amount of credit advanced by industrial financial institutions increased from Sh1.096 billion in 2020 to Sh1.395 billion in 2020." These improvements were attributed to an increasing demand for loans and advances due to easing of Covid-19 pandemic restrictions "which revived businesses". Projects funded by these institutions increased from 320 in 2020 to 328 in 2021.
Employment in the EPZ enterprises expanded by 18.2 per cent to 66, 600 persons, bucking the trend after a contraction in 2020. Total sales by EPZ enterprises increased by 21.5 per cent to Sh98.7 billion in 2021.