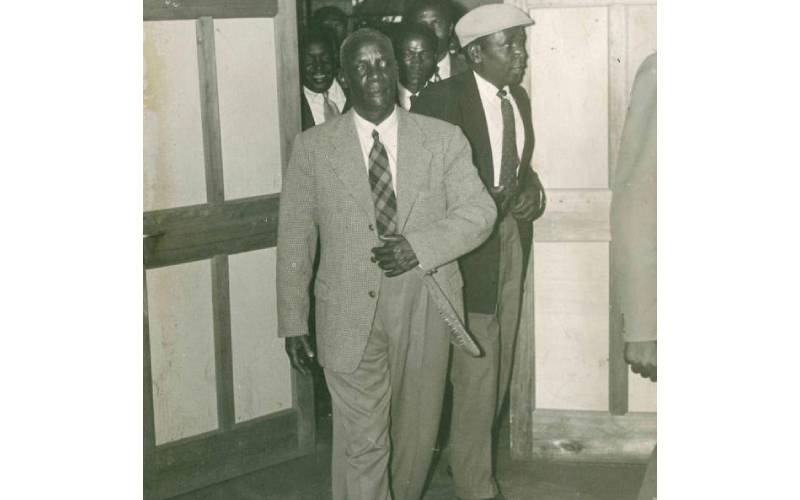 Harry Thuku was an eccentric man who wasted no time in creating a ruckus whenever he felt aggrieved by the colonial authorities.
He especially loathed the way the authorities collected both the hut and poll taxes with a special disdain for the oppressive ways in which women were made to work on white farms. And while the colonialists looked for any opportunity to suppress his activism, the women loved him for championing their cause.
For his troubles, the authorities arrested him on March 14, 1922, and locked him up at Central Police Station, Nairobi. A day later, an infuriated black population numbering about 7,500 protested his arrest.
It was here that Muthoni Nyanjiru from Weithaga, Murang'a, lifted her dress to the shoulders, challenging the men who were chickening out to take off their trousers and hand them over to the women. Fearing that the protesters would storm the station and free Thuku and other agitators, police shot into the crowd, killing 21 and injuring hundreds.
Fast forward and with the clamour for independence rising a notch higher in subsequent years, Thuku headed several political outfits, including the Kikuyu Central Association, a forerunner of the Kenya African Union (KAU), which later morphed into Kanu.
It was only fitting that when the latter formed the government in 1963, Thuku would be over the moon, his struggles coming to fruition. But as the country made preparations to celebrate its liberation from Britain on December 12, 1963, Thuku, against all expectations, had other plans—to spend the day on his farm in Kambui, Kiambu. But why?
According to Harry Thuku: An Autobiography, colonial chiefs had barred him from planting coffee in a particular section of his farm, insisting that only beans could be grown there.
So, while everybody was euphoric about the Independence Day celebrations, Thuku and his wife, Tabitha, spent the day planting the once "forbidden fruit".
He wrote: "It was very heavy rain at the time, and I could see that many people would be losing their shoes at the stadium. So I told my wife, 'Now is the time, everybody—government, agriculturalists, and all people—have their eyes fixed on the independence stadium. We have in fact received our political independence whether we actually go to the stadium or not. We shall therefore celebrate our independence by planting our coffee where it is forbidden."
About 15,000 coffee seedlings were planted.
As he put it, having fought for Africans to be allowed to grow coffee since 1921, it was only fitting that he celebrated the newfound freedom by actually planting coffee.