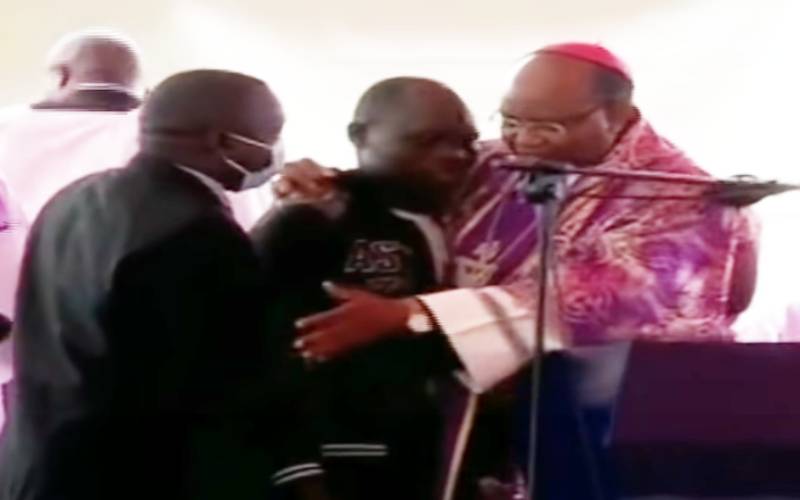 Catholic Archbishop Anthony Muheria says it was the Holy Spirit's intervention that enabled him handle a man who broke protocol during Mwai Kibaki's State Funeral.
The archbishop was performing the final rites at Nyayo Stadium when a man, later identified as Allan Makana, dashed up the podium with security detail in pursuit. But Muheria pulled the man close, with the security men holding back, albeit temporarily.
"Allow me just two minutes to make a few remarks," the man, who had a Kibaki photo pinned onto his shirt, could be heard telling Muheria.
The archbishop embraced him calmly, patted him on his shoulder and shepherded him away. The security detail then carted Makana away, with the situation clearly deescalated.
"He is a son of our nation who is emotional at the loss of our president; treat him well," said Muheria, before he went on to lead the congregation in the final commendation.
Kenyans were impressed with the grace and compassion shown by the man of cloth, with social media flooded with messages of admiration for the archbishop.
When we spoke with him, Archbishop Muheria said that the spirit guided him.
"The Holy Spirit helps in such moments. We thank God," he said.
Muheria also said that his gesture was one that everyone should be accustomed to as a way of life and as a show of kindness to humanity, insisting that "we should not lose touch of who we are and (should show kindness to) the people who are needy".
Anthony Muheria, the Catholic Archbishop of Nyeri, is an engineer by training; he studied Civil Engineering at the University of Nairobi. After five years of working as an engineer, he resigned and went to the seminary to study priesthood.
He is the brother of Central Bank of Kenya Governor Dr Patrick Njoroge.
Muheria was ordained into priesthood on June 13, 1993 at the Don Bosco Technical Secondary Schooland in Embu County.
In 2003, he was elevated to the rank of Bishop. Former President Mwai Kibaki attended his ordination as Bishop of Embu Diocese.
On April 23, 2017, he was appointed the Archbishop of Nyeri Archdiocese