How Mwai Kibaki crushed old order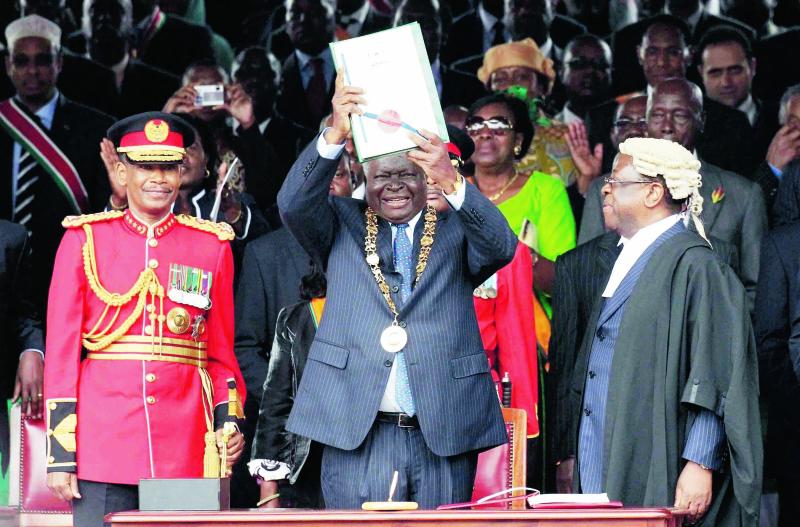 The historic commitment by the Mwai Kibaki government to offer Free and Compulsory Primary Education (FPE), will remain his most precious gift to a generation that would otherwise have seen millions miss out even on basic literacy.
That one decision expanded enrollment in 2003 to above the natural population growth. Yes, let us argue about standards and all, but when all our children are inside a classroom; not some inside and others outside.
Add to this the disentangling of public universities from the omnipotence of State, thus installing autonomy that guaranteed academic freedoms. Student and academic staff unions are no longer outlawed.
Private sector
The Kibaki government's economic system allowed all Kenyans to begin thinking for themselves, work and earn a living fair and square.
Kenya's private sector, from the heights of the economy right across to community enterprises and co-operatives, were symptomatic of the change in government's role from one of a predatory bureaucracy to that of an enabling catalyst.
Yes, corruption remains an unbeaten dragon but there is no doubt in anybody's mind that the ultimate success of an enterprise under Kibaki was determined not by its proximity to State House, but by its proximity to customers' hearts.
Infrastructure
The grand reconstruction of roads was a milestone. Airports got new upgrades, while others were scheduled for modernisation. Liberalisation of telecoms spawned a vibrant mobile communication revolution that dazzled the world with breathtaking innovations.
Water delivery systems were devolved to local accountabilities. Younger Kenyans may not have heard of an animal we used to call a 'cowboy contractor', so-called because they must have been tarmacking roads using cow dung, judging by the speed with which the roads they built were washed away.
The only regret we may have is that corruption was - and remains - our curse.
Leadership
The personality that Kibaki brought to the presidency brought new standards and redefined leadership. His gentlemanly mien and modesty, commonly interpreted as 'hands-off', re-humanised leadership, demonstrating that the presidency can be a normal job.
Yes, the president has to be an all-knowing, ever-wise, mysterious, shrewd, irritable and volatile genius who has the uncanny ability of giving 'fatherly advice' and blood-curdling threats all in the same breath.
Public service
The introduction of performance contracting, coupled with the revitalisation of boards of public sector enterprises slowly but surely tilted career mobility in public service towards a trajectory of meritocracy.
Yes, we can argue about the reliability of the performance-rating instrument or even the remedial measures we undertake for performance lapses.
But one thing is not in doubt; no permanent secretary or parastatal chief imagined they could retain their jobs under President Kibaki by cobbling together a choir to sing for him or gallivanting across the country as 'presidential entourage'.
Regional politics
Whilst it may be contestable whether Kenya is an island of peace anymore, it is, however, not in doubt that Kibaki's Kenya reinforced our sovereign influence in the region, and our neighbors became better for it.
Besides being a model centre of excellence in specialist fields - including private education, healthcare, aviation, medical and agricultural research, telecoms, legal and financial services - Kenya also remains the most hospitable destination for those looking for refuge, and those seeking solutions to intractable conflicts.
Kibaki refreshed Kenya's diplomatic means to resolving governmental conflicts. Despite his resistance to have his name decorated nationally, he submitted to Tanzania's urge, where a Kibaki Road was unveiled, rekindling the brotherhood of the founding fathers of pan-Africanist spirit.
New Constitution
The Kibaki government revived the constitution review process that had previously been cancelled. In addition, the government provided facilitation by way of money and representation all the way up to promulgation and implementation.
Kenya had a long history of constitutional amendments. The difference this time round is that the 2010 Constitution is pro-people as opposed to the 38 odd amends done by previous administrations that were largely anti-people.
Political liberties
Perhaps the most remarkable asset that the Kibaki administration bequeathed Kenya is the bountiful and flourishing freedom of thought and general respect for human rights, which came well ahead of the enactment of the 2010 Constitution.
Denial of basic freedoms and blatant abuse of human rights had been the one 'service' that successive administrations since independence delivered with brutal consistency.
Whilst it is easy to argue that Kenyans fought for every freedom they have, it is also true that good leaders nurture that spirit, while bad ones will always seek to take it away.
We no longer look over our shoulders when we speak, and the decades-long fight to free political prisoners, attain press freedom and other basic freedoms moved on to the fight for higher freedoms including access to basic needs as basic human rights. I served in President Kibaki's cabinet from 2008 to 2013, and not a single day did I fear speaking out my mind on myriad issues, including challenging colleagues in Cabinet, particularly over graft or abuse of office. In fact, I believed that the President discreetly encouraged it by his "indifference".
Freedom struggle
As the world – from the Caribbeans to Pacifica – hailed Mau Mau's heroic struggle against colonialism, post-independence administrations outlawed the dignity of freedom fighters and their organisation.
President Kibaki not only lifted the ban on Mau Mau, but he also decorated and facilitated recognition and compensation of veterans.
When we see Dedan Kimathi and Tom Mboya's monuments in the capital city, we see Kibaki's reincarnation of our beloved heroism. This speaks volumes and his value for virtuous sacrifices for Kenya's sovereign pride.
For your modesty, tolerance, restraint, brilliance and focus for our beloved motherland Kenya, fare thee well scion of the gallant county of Nyeri. Where cometh another?
Kwaheri Mzee Mwai Kibaki.
The writer is a former Mukurwe-ini MP and aspirant for Nyeri Senate seat.