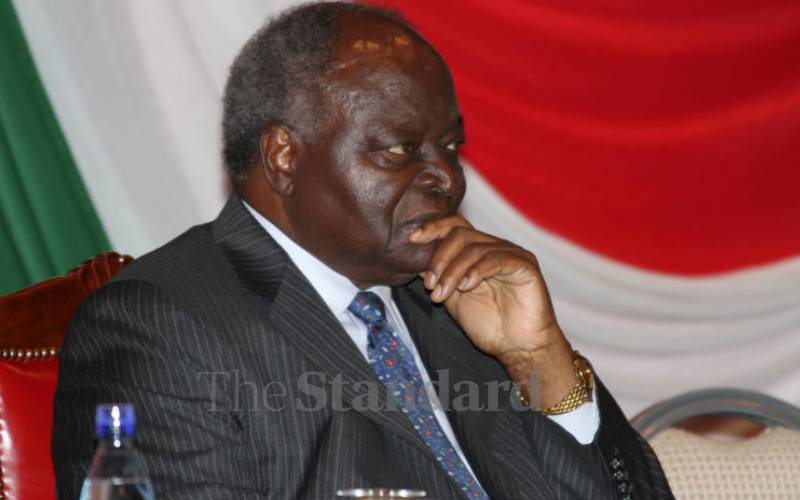 Mwai Kibaki's lowest moment was that evening of December 30, 2007, when he hastily took his second oath of presidential office. It stood in stark contrast with the frenzied drama that typified hope for a new nation when, five years earlier, Kenya's brand new third president took the oath of office.
At the earlier event, he spoke of his renewed hope and strengthened belief in the greatness of his country. He accepted, with humility and gratitude, to be Kenya's chief servant, in his own words, for the next five years. Despite the rushed nature of the event and the mishandling of retiring President Daniel Arap Moi, the December 2002 parade in Uhuru Park, Nairobi, was an assembly of love, courage and hope.
The December 2007 swearing-in ceremony was the converse. Yes, like 2002, it was rushed. Yet, it was an indecorous ceremony. It was conducted at the crack of twilight, in the highly barricaded enclosures of State House, Nairobi. The air was grim and panicky. A bemused President Kibaki stumbled over his words. He ran them into each other without skill or method. He especially lurched in his Kiswahili delivery of the oath of office. The expression "kazi zangu za urais (my work as president) skidded into awkward space. In a literal slip of tongue, it was rendered as "my wrong activities," before the slipup was quickly corrected.
Meanwhile, anxiety and discontent was building up in the slums of Nairobi and in diverse parts of rural and peri urban Kenya. Disillusioned citizens were crying foul over a perceived stolen election. The State had barred live TV broadcasts for more than 48 hours. The airwaves had broken down at a time when President Kibaki was trailing ODM's Raila Odinga by nearly one million votes. And when broadcasts returned, it was to present a shaken president, taking what bordered on a secret oath, his idiom incorrect.
In a rapid metamorphosis of disaster, tension surrendered to violent despair. Despair morphed into chaos. The country burst into fire. The political opposition stated that it did not recognise the newly sworn-in person as president. Raila called for mass action across the country. The Kenyan pot began boiling over on a scale and magnitude never witnessed before in the history of the independent nation. Tied in a double-knot with it was President Kibaki's more than half a century record of unsullied political history. What went wrong?
At the start of the Kibaki tenure, international social barometers judged Kenyans as the happiest people on earth. Yet things deteriorated so steadily after the inauguration of the third president. It turned out that politicians had made many behind-the-scenes deals that the country knew nothing of. These deals orbited around sharing of political power and portfolio in government, with Mr Odinga as a major player and expectant too. Apparently he had been promised a new office of prime minister, to be created specifically for him. But, now that Kibaki was home and dry, such verbal promissory notes and sundry agreements among gentlemen could be ignored.
Early signs
Indeed, the signs came quite early. Soon after the Electoral Commission of Kenya (ECK) pronounced Kibaki president-elect, everything about him changed. First, a heavy security cordon was thrown around his house in Nairobi's Muthaiga. His political teammates, who had accessed him with ease, were now being turned away at the gate to his private residence. Among them were Moody Awori (later appointed Kibaki's second vice president) and Prof Anyang' Nyong'o, also later called to the Cabinet.
These people had marketed Kibaki most robustly, even as he recuperated in a wheelchair from the effects of an election-related accident. It appeared that their usefulness had been expended. It was time to exercise power. This required unshackling of the new president from people who might think that he owed them political and moral debts. Thankfully, some still found their way into Cabinet and other places in the public service. But the new order was completely against expectation, and with it came seeds of discontent.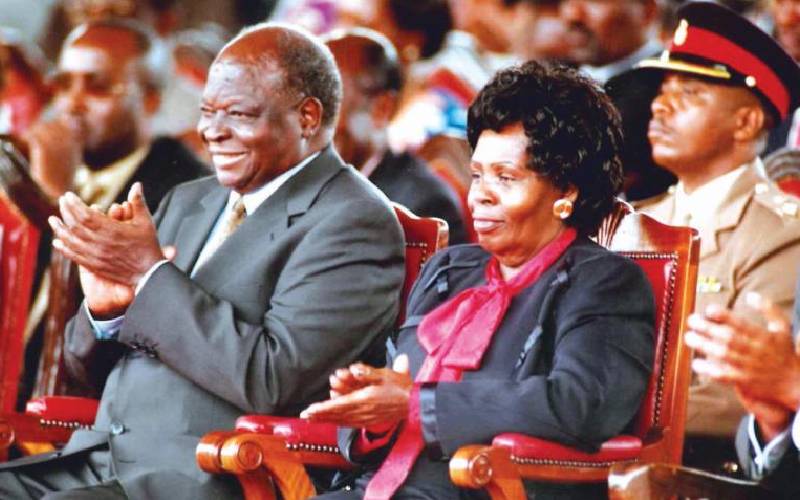 Moreover, a new ring of homeboys, hitherto unknown as a composite unit, now formed around President Kibaki. It included such personalities as Matere Kereri, Stanley Murage, Kiraitu Murungi, Chris Murungaru, David Mwiraria, John Michuki, Joe Wanjui and Nick Wanjohi. There were also homegirls, most notable among them Martha Karua, Njoki Ndung'u and the first lady, Lucy Kibaki. Also pulling ambiguous strings was Mary Wambui. It was perhaps in part the influence of the home team and his own partial indisposition after the accident that diverted Kibaki's attention from what the rest of the country expected of him, away from home groups.
The Raila group began grumbling in the open about betrayal in appointment of the Cabinet and other public appointments. Unfortunately for them, the country was so tired of strife during the last years of the Nyayo regime, that it did not want to listen to what was taken for whining. The people wanted Kibaki to be given the chance to begin living up to his inaugural promises. There was faith in Kibaki's inaugural words on the role of government and definition of the character of his future government. That was what counted.
"Government exists to serve the people and not the people to serve the government. I believe that government exists to chart a common path and create an enabling environment for citizens and residents to fulfil themselves in life. Government is not supposed to be a burden on people," Kenya's new president declared, and he resonated with the people.
LDP MPs in Narc were behaving in a manner that suggested they wanted to burden the people with the load of paying for a bloated government. Opinion and editorial pages asked them to shut up, in spite of the fact that they constituted the single largest component in the Rainbow Alliance in Parliament. They had polled 59 of the alliance's 125 seats. The others were 39 for President Kibaki's Democratic Party (DP), 21 for Michael Wamalwa's Ford Kenya, and six for the National Party of Kenya.
It was instructive that the number of DP's seats in Parliament remained exactly where it had been in the previous House. And, although badly ravaged, Kanu with 64 seats remained the single most populous party in the whole House. Kibaki, accordingly, had a lot to be grateful for, to his partners in Narc. Things, however, rapidly took a different turn, as those close to State House seemed to develop quick appetite for sleaze. In the midst of Goldenberg scam investigations, Kenyans began hearing of a new scam named Anglo Leasing, under the new president's watch.
War on corruption
What had become of the president's inaugural message when he said, "Corruption will cease to be a way of life in Kenya and I call upon those members of my government and public officers accustomed to corrupt practices to know that there will be no sacred cows under my government."?
The public had taken Kibaki literally when he invited all to be enjoined in the war against corruption. Citizens had even gone out of their way to arrest bribe-taking traffic policemen and handed them to the law.
Enthusiasm about the war on corruption fizzled out as narratives of Anglo Leasing continued to confound the country. John Githongo, headhunted from Transparency International to be the president's adviser in the war against corruption, resigned in a huff, while on a foreign trip. The anti-corruption czar went into exile, citing danger against his life, from persons close to State House. Fingers were pointed at specific people in government. Pressure mounted for them to resign. It was only under extreme public outcry, however, that a handful did so. One of them, Prof George Saitoti, was however soon brought back.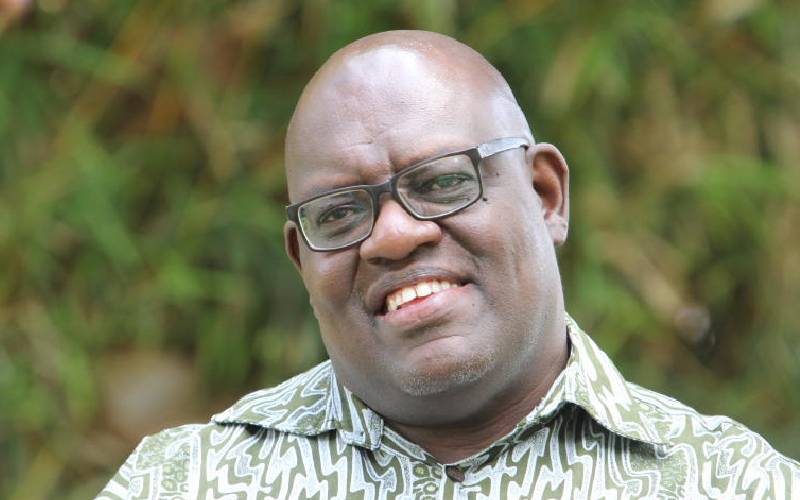 The matter of constitutional reform, however, became the foremost bone of contention in the first term of the Kibaki government. The new government had promised Kenyans a new Constitution within the first 100 days. It did not come to pass. Instead the government was playing hide and seek on the matter.
The all-powerful Transport Minister, John Michuki, stated in public, "We have no need for a new Constitution now. We wanted these changes while Moi and Kanu were in power. Exercising power is like liver juggling. You have to juggle from one hand to the other, to keep the balance. We wanted to have at least one of the two positions between president and prime minister. Now we are in power and there is no need for that."
The new date for a new Constitution was moved to June 1 of the following year, 2004. Still no efforts towards that were forthcoming. With unceasing pressure from an internal opposition within Narc (led by Raila) and externally from civil society, Kibaki sensed danger. He reached out to the Opposition outside Narc for a working partnership. Having failed to rope in the official leader of the opposition, Uhuru Kenyatta of Kanu, he nonetheless raided Uhuru's party and, on the day when the new Constitution should have arrived, he appointed a number of ministers from Kanu in a Cabinet reshuffle, on June 1, 2004. He also reached out to Ford People and appointed its leader, Simeon Nyachae, and a handful of others into his government.
LDP was neutralised but not silenced. It was now its turn to find new partners. Mr Odinga reached out to Mr Kenyatta and his Secretary-General, William Ruto, for an alliance against President Kibaki in the push for a new Constitution. They were only too glad to join in. Together with civil society, they pushed President Kibaki to allow the constitution review process that had stalled in the last few days of the Kanu government in 2002 to get back on track.
Constitutional review
When the Chairman of the Constitution of Kenya Review Commission, Prof Yash Pal Ghai and his secretary, PLO Lumumba, rose to present the draft Constitution to Attorney General Amos Wako, Justice and Constitutional Affairs Minister Kiraitu Murungi led a section of the delegates to walk out in protest. Paradoxically, they did not like, in the draft, some of the things they had advocated for in their days in the Opposition, in the President Moi days. Key among these was the introduction of the position of prime minister and transfer of some of the presidential powers to the new office.
Subsequently, it was a much watered-down draft that, after several interim interventions, was put to a public plebiscite in 2005. It was resoundingly defeated in what was called the banana versus orange contest. A resentful but cool president Kibaki dismissed from his government ministers who had voted against his draft constitution, including Mr Odinga, William ole Ntimamah, Anyang' Nyong'o and Kalonzo Musyoka.
The occasion marked the real start of the tensions that would eventually burn Kenya in 2007. The Orange Democratic Movement (ODM) was born, Mr Odinga its unofficial leader, its mission to remove President Kibaki from power. Its method was popular democratic revolt via the ballot. The die of fiery contestation and drive towards Armageddon was cast.
Dr Muluka is a strategic communications adviser. www.barrackmuluka.co.ke