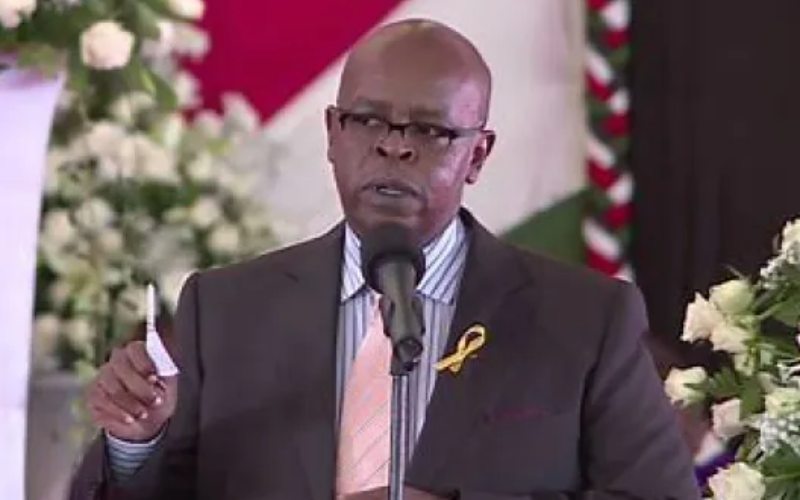 President Kibaki's son, Jimmy Kibaki has talked to the media for the first time since the demise of his father on Friday, April 22.
In an interview with ntv on Monday afternoon, Jimmy said that his father had been unwell for the last three years, owing to his advanced age.
"I can say that my father (the late former president Mwai Kibaki) has been unwell for about three years. This was mainly because of his advanced age," Jimmy noted.
Despite his deteriorating health condition, Jimmy says the former Head of State always advised them to be patriotic.
"He always reminded us that we are Kenyans as well as our duty to the country. He would always urge us to contribute to the development of our country," the former president's son added.
Moreover, Jimmy adds that his father's health became bad in the last three months but in the last month things moved from bad to worse.
"My father has been there all my life, he has been a huge presence in my life. It will hit me when he burry him that he is no more. His priority was always his family,"
After retirement from office in 2013, Jimmy says his father took his time to focus on himself and his family, especially the grandchildren.
"I was born in 1963 at a time he was active in politics. He retired 50 years later and for the first time, I had him all to myself. I could visit him anytime at home or in the office. All he wanted was to focus on his family, especially the grandchildren," Jimmy reiterated.
Then went on "This man has been in politics since I was born and he used the opportunity he had to better the lives of Kenyans. He was a selfless leader and this is a clarion call to aspirants for public office. Public service is about serving the people,"
On whether he is planning to follow in his father's footsteps in politics, the 58-year-old businessman promise to make public his political ambitions after the funeral.
"I have been under pressure for the last 5 years to join politics, especially by people who miss 'mzee' in politics. Now that I am the political face of the family I might consider joining politics. We will discuss after the sendoff maybe next week we will have a detailed sit-down," he promised ntv reporter Kennedy Murithi.
Jimmy's wife Caroline has also eulogized her father-in-law as a great leader, father, grandfather and mentor to her and her family.
"For now, we are trying to navigate to the next stage of our lives without him, especially for our kids. I will remember his great leadership and through Jimmy, we hope to fill the void," Caroline said.