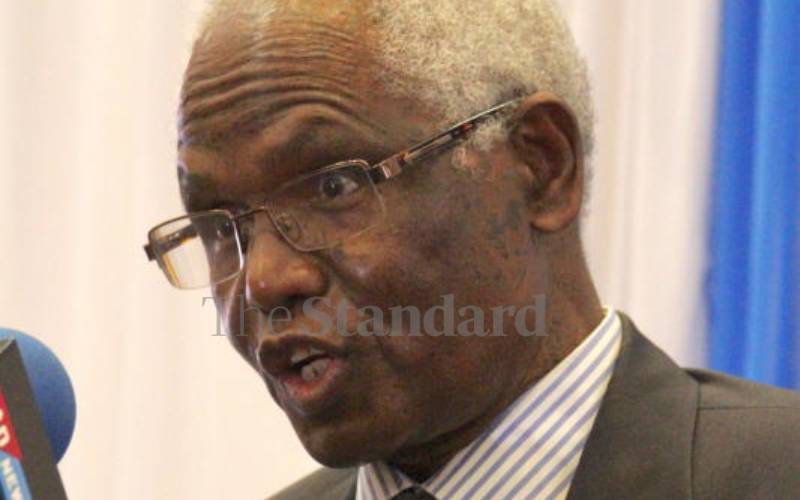 Former Head of Civil Service Francis Muthaura yesterday mourned President Mwai Kibaki as the founder of modern Kenya.
Muthaura said Kibaki had been instrumental in conceptualising the country's Independence constitution and the economic foundation of independent Kenya.
"We have lost a father of modern Kenya. His history is synonymous with that of the country. He was involved in the creation of the country's first manifesto and he participated in the drafting of the Constitution," Muthaura said.
He said Kibaki leaves a mark in Kenya's history for having delivered Kenya's second Constitution, which paved the way for devolution.
"The Constitution entrenched democracy, human rights and freedom of expression in this country. It brought about devolution," he said.
One of the memorable moments, Mauthaura recalled, was when he joined Kibaki as the results of the 2007 elections were being streamed and opposition chief Raila Odinga was leading by a big margin.
"Kibaki was prepared to accept the results and remained very calm and later agreed for the division of the Cabinet on a 50-50 basis even when his allies argued that he had won," Muthaura said. He said under Kibaki's stewardship, the government came up with the Vision 2030 development blueprint.
"Vision 2030 was a long-term development strategy for this country." During the time, the idea was to realise continuous growth of above 6 per cent. In fact, the target was three to 10 per cent but he left at one of the highest economic growth rates of 7.1 per cent," the former head of Civil Service said.
On education, Muthaura said primary schooling became free and enrollment became almost universal. Kibaki, he said, also doubled the secondary school capacity and increased public universities from six to 22.
"Secondary schools more than doubled and he increased the universities from six to 22. Today, anybody who wishes to go to university can do so, unlike in the past when this was just a reserve for the rich who were sending their children to Europe and India," he added.
"As Finance minister, he oversaw the formulation of Kenyan development strategy and the broad based development that encouraged private sector development in the country," he noted.
He said Kibaki will long be remembered for his contribution towards the realisation of economic growth.