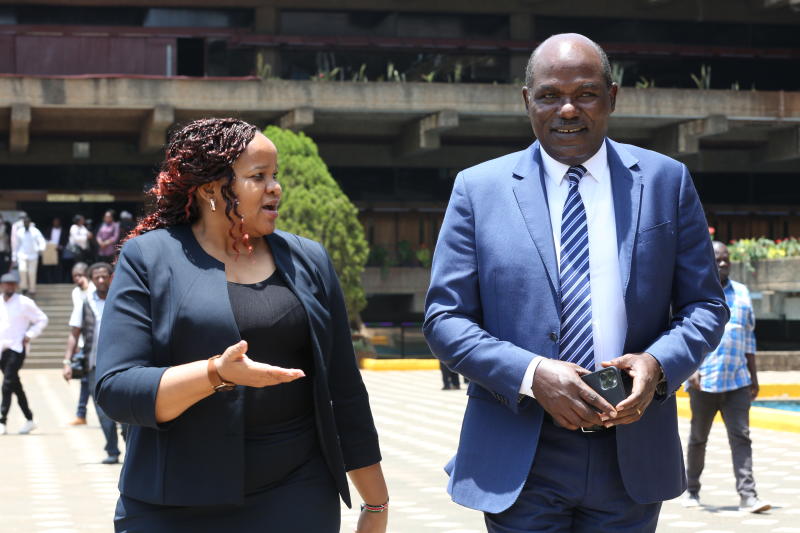 The electoral commission has handed a reprieve to aspirants seeking elective seats in the August 9 polls but have active court cases.
The Independent Electoral and Boundaries Commission (IEBC) said it cannot bar any politician with integrity issues from contesting in the General Election. It said its hands were tied from locking anyone out based on a High Court decision in 2013 which cleared Mr Uhuru Kenyatta and Dr William Ruto ahead of that year's election.
Despite facing charges of crimes against humanity at the International Criminal Court (ICC), the two were cleared to run as President and Deputy President, respectively.
Through an affidavit sworn by the commission's director for legal and public affairs, Mr Chrispine Owiye, IEBC said that it had no reason to depart from or contradict the judgment which found that any accused person is presumed innocent and can only be locked out from contesting if convicted in a court of law.
Said part of the affidavit: "The commission understands the court's decision in the case against President Kenyatta and DP Ruto that we must strike a balance between the right of an individual to contest in an election and the presumption of innocence of any accused person".
The 2013 case against Mr Kenyatta and Dr Ruto was filed by the International Centre for Policy and Conflict. A five-judge bench of the High Court declared that the Constitution protected their political rights to contest and that they were presumed innocent unless convicted by the ICC.
It is the current case, IEBC said it was relying on that judgment in response to a suit by activist Okiya Omtatah, who is seeking to bar politicians with questionable integrity and those facing criminal charges from contesting in the August polls. The commission's submission will come as a relief to politicians facing criminal and corruption charges in court and have been cleared by their parties to contest for various seats.
Mr Omtatah, in his suit, argues that IEBC has the power to bar politicians with tainted characters or records from contesting. He wants the court to order them to implement constitutional provisions on leadership and integrity.
According to him, allowing persons with a tainted past to vie for public office poses a threat to Kenya's constitutional order and electing leaders who have a history of corruption is detrimental to the country's good governance and the war against graft.
However, IEBC in its response, said it was the duty of the Ethics and Anti-Corruption Commission to give it records of integrity of all candidates even though such records are not conclusive in blocking someone from contesting.
"We might have the integrity records on an individual but unless it is backed by an order of court or quasi-judicial body, it is not possible to block such candidates from contesting in the election," said Mr Owiye.
He also defended the commission over claims that it had not developed a code of conduct to guide politicians during election periods, arguing that the courts were to blame for allowing rogue politicians to get away with their wayward conduct.
"It is the same court that has sounded the death knell on our attempt to enforce the code of conduct against politicians and unless the courts give directions, we shall abide by what they have directed," said Mr Owiye.
The electoral commission's position comes just days after the Director of Public Prosecution, Mr Noordin Haji, stated that his office had suspended criminal proceedings against some politicians until after the August 9 elections to give them time to campaign.