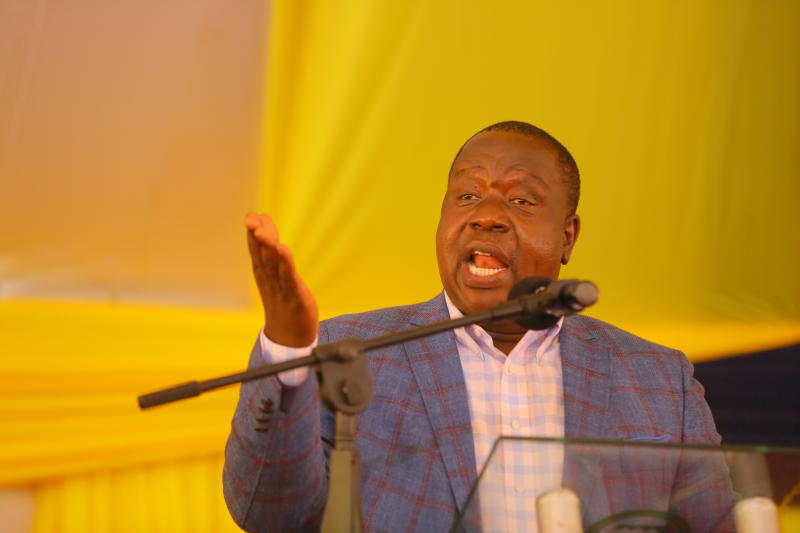 The government has expressed concern that an unusually high number of economic criminals and their accomplices may buy their way into Parliament and county assemblies.
Interior Cabinet Secretary Dr Fred Matiang'i made the revelation at a gathering of bishops and senior clergy of the Anglican Church in Nairobi.
He said intelligence pointed to a possibility of up to 40 per cent of elective seats being won by criminals relying on bribery and questionable funds. "If we are not careful as Kenyans, by the time we are done with this electoral cycle, we would've laundered criminals into our institutions."
He added: "These include money launderers, "wash wash" players, drug dealers and others who can access large sums of money."
CS Matiang'i warned that electing criminals will expose the country to bad laws and also make it hard to fight corruption.
Such leaders, he said, are likely to support laws that favour crime and that weaken oversight agencies.
The CS also drew linkages between economic crimes and early campaigns, saying only such activities could fund prolonged political rallies and heavy expenditure.
"There is a time we (Kenya) were a subject of discussion at the British House of Commons because some companies associated with gambling were used as conduits to launder money," said the CS.
"These are the only people who have the kind of money that they give around like that to bribe voters."
The CS said the disregard of laws regulating campaigns and abuse of social media are among serious threats to a secure election.
He faulted the IEBC and other agencies for failing to strictly enforce campaign regulations.
However, Mr Matiang'i said the government will not shut down the internet before and after the polls.
"We have observed an exponential rise of incitement on social media, but we are a democratic state which guarantees freedom and access to information," he said.
The CS urged the church to enhance voter education to help Kenyans make informed choices and hold their leaders accountable.
He said the threat of corruption and other pertinent issues were not being adequately addressed by the current political line-ups.
"The voter turnout in the primaries is indicative of the public's attitude towards politics. You see big rallies but that doesn't translate to people lining up to vote."
The CS cited the recent hoarding of fuel by unscrupulous private companies, saying the situation was fuelled by the collapse of the National Oil Corporation of Kenya (NOCK) over corruption.
Dr Matiang'i criticised the misuse of technology, saying it has exacerbated the spread of hate speech and negative ethnicity.
Information and Communication Technology CS Joe Mucheru, who was also present, said many parts of the country have access to a reliable phone network.
The ministry is working closely with the IEBC to ensure all polling stations are reliably covered to enable them to transmit poll results electronically.
"Universal Service Network coverage has improved from 75 per cent during the last general election to 96 per cent internet coverage this year," he said.
CS Mucheru said the government will not interfere with the IEBC transmission of election results or access to the IT servers.
On election preparedness, Dr Matiang'i said about 15,000 police officers and some 2,500 police reservists have been recruited to address personnel gaps.
Additional 2,720 vehicles have been leased to enhance officers' mobility.
The event was also attended by Attorney General Kihara Kariuki and Inspector General of Police Hillary Mutyambai.