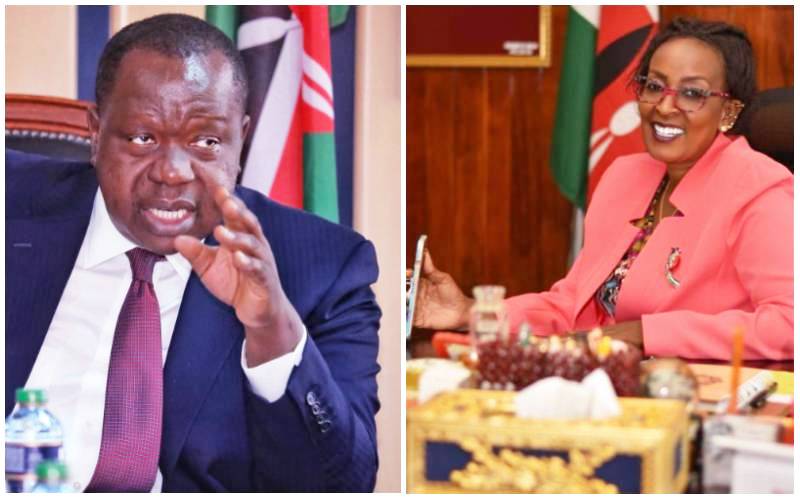 Interior Cabinet Secretary (CS) Fred Matiang'i has said he once called someone a "fool" for exhibiting ignorance after the person questioned why the CS deployed a woman to lead Central Kenya as regional commissioner.
The current Regional Commissioner for Central Kenya is Esther Wamuyu Maina, who was appointed to the position on January 12, 2022 following a reshuffle that involved six regional commissioners and two county commissioners.
Maina replaced Wilfred Agage Nyangwanga, who was moved to the Office of the President Headquarters.
Prior to moving to Central Kenya, Maina served as Western Kenya Regional Commissioner since August 2020.
Before taking up the posting at Western Kenya, she served as the county commissioner for Embu, Kiambu and Machakos counties.
Addressing the National Chiefs Delegates Conference in Nyeri County on Wednesday, April 13, Matiang'i said he was surprised when a man, whom he didn't mention by name, questioned why the Interior ministry posted Esther Wamuyu Maina, a woman, to Central Kenya, which is deemed to be a "key" administrative region in the country.
"Some other guy was asking me why I deployed a woman to serve as Central Kenya Regional Commissioner. I told him: 'because you are a fool, you'll never understand'. Yeah!" Matiang'i said.
The minister heaped praise on Maina, saying her work ethic is commendable, and that she deserves the position.
"She (Maina) is one of our best regional commissioners, and when I came to the Ministry of Interior, she was serving as the County Commissioner for Machakos. In fact, I met her before joining the Ministry of Interior. [During my tenure as Education CS], we were opening containers with Esther at 3am in Machakos. I could see how she was working in the field," said the CS.
Matiang'i said in all the senior administrative positions Maina has held, she's "excelled out there in the field".
"The beauty about national government administration is that you can't survive if you are not capable [of doing good work] because you prove yourself through the work that you do," said the CS.
Anti-gender-based violence activists, the church and Central Kenya residents welcomed Maina's posting to the region in January.
The Centre for Community Empowerment Director Jane Kamwaga on January 21, 2022 said the appointment of a woman regional commissioner gave Central Kenya women hope in tackling social injustices.
"Being an electioneering year, the administrator should work towards protecting female aspirants from bullying, among other threats during the campaigns," said Kamwaga.
A Kirinyaga based church leader Samuel Kimata said: "We have a mother figure who will require support to implement programmes initiated by both the national and county governments."
Maina has been a crusader against gender-based violence, illicit brew and female genital mutilation.
Matiang'i, in his speech on April 12, said the national government has a clear mechanism of rewarding senior commissioners who do a commendable job, and that most of them usually rise up the ladder.
"Look at all our eight regional commissioners, they are not watu wa kuchezea," he said.
The CS also took the opportunity to express his appreciation for Nyeri County Commissioner Abudulahi Galgalo, saying he "love this man".
"I look at some of my colleagues, like the County Commissioner for Nyeri [Abdulahi Galgalo]… I love this man; we have done a lot of good things with this man. And I was telling him that he should not worry because we have transferred him to Nyeri… He is probably one of the few county commissioners who, when there are issues in certain parts of the country, we deploy him there. This is because he is experienced, is focused, is a sharp guy and gets the results. Because of that, we are happy," said the CS.
Before being transferred to Nyeri on January 12, Galgalo served as the County Commissioner for Embu. Upon his exit from Embu, he was replaced by Eddyson Nyale, from the Office of the President.
The chiefs' convention was attended by, among others, the county commissioners, regional commissioners and police.
Matiang'i said he was proud of leading the team as their minister for five years, describing the administrators as a dedicated group.