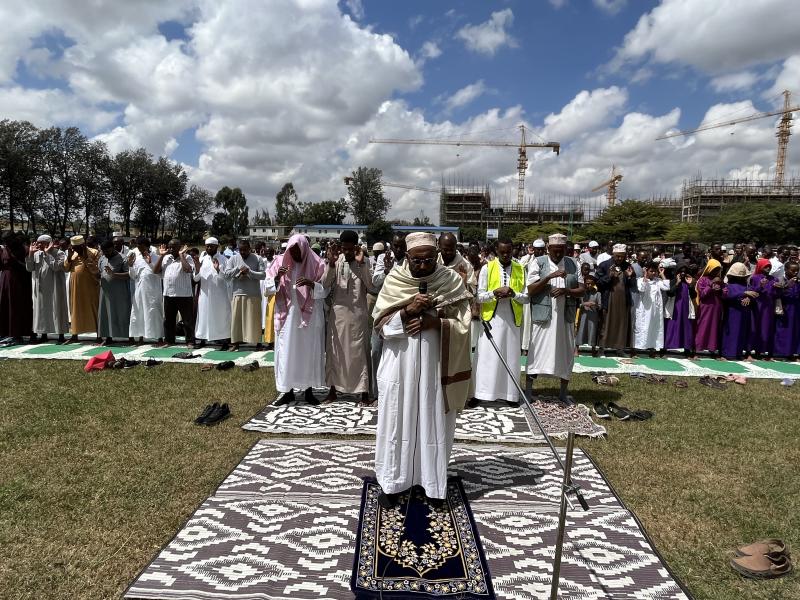 As drought and water shortage bites, Muslims have not forgotten the suffering most Kenyans are going through even during the holy month of Ramadhan.
Last Sunday, Muslims congregated at Sir Ali Muslim Club in Nairobi and Tononoka grounds in Mombasa to hold special prayers for rain.
During the ceremony commonly referred to as Salat Istisqa (prayer for rain), the pious, their clerics and leaders gathered in open ground and prayed hard in a gesture of supplication to Allah for rain.
According to a report released by the Intergovernmental Authority on Development, at least 3.5 million Kenyans are in desperate need of food assistance due to drought.
During the occasion, religious leaders led by Supreme Council of Kenya Muslims (Supkem) Chairman Hassan Ole Naado explained that they were holding the special prayers to seek God's intervention so that regions that were going through a difficult season of drought would experience showers of rain.
"When such a situation arises, Muslims gather to pray for rain and also give charity to seek His mercy," Ole Naado said.
The Supkem chair added that many people have lost their source of livelihoods and appealed to the government to suspend major projects in order to save the citizens first.
Addressing the gathering, Sheikh Abdullatif AbdulKarim, who led the Nairobi prayers, urged the faithful to continue praying to God for rain, noting that only the Almighty has the power to make the rain falls.
In Mombasa, Sheikh Omar who led the prayers implored, "O Allah, shower upon us abundant rain, beneficial not harmful, swiftly with no delay."
The congregants also prayed for peace and security to prevail as elections near.
Kenya National Muslim Advisory Council, who coordinated the event in Mombasa, said through their national chairman Sheikh Juma Ngao that Kenyans should not allow the highly charged political environment to lead to chaos.
"We appeal to the political class to keep from acts of lawlessness in their campaigns," said Sheikh Ngao.
Sheikh Omar urged Kenyans to continue praying for peace.
Mombasa clerics advised the media against allowing politicians to use its platforms to spread hate.
"During this Holy Month of Ramadan, let us unite," said Sheikh Zuberi Noor, former waqf commissioner.
The religious leaders also urged their colleagues to continue to serve as agents of peace, and appealed to the rich to give charity during the fasting period.
Since 2020, most parts of the country have received little or no rainfall, and this will be the fourth season in a row that rains have failed to meet traditional expectations.
According to the United Nations Office for the Coordination of Humanitarian Affairs (OCHA), more than 90 per cent of open water sources in Kenya's arid and semi-arid lands have dried up, with the remaining ones expected to last only one to two months.
Hundreds of wildlife have been driven from their natural habitats into private farms in search of water and pasture as a result of drought.
The Kenya Meteorological Department has already issued a warning about poor rainfall distribution for the remainder of the March to May rainy season, blaming it on low pressure in the southern hemisphere and high pressure in the northern hemisphere.