Debts to take Sh6 of every Sh10 collected from taxes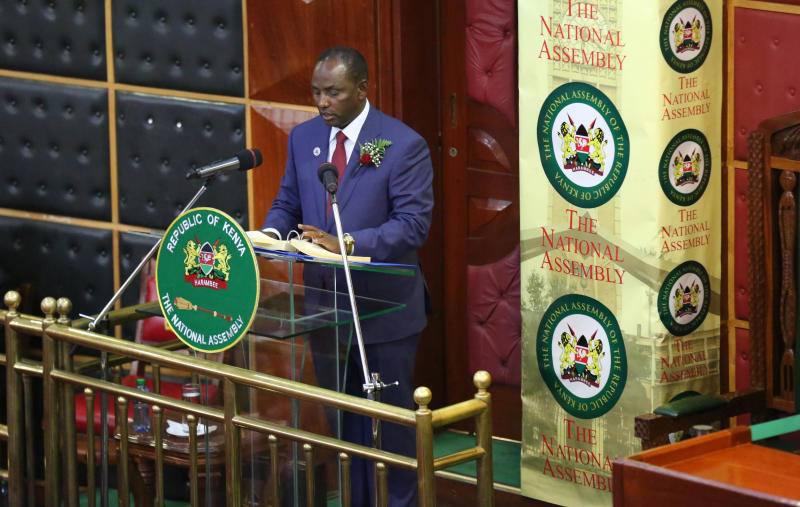 For every Sh10 that will be collected as tax, Sh6 will be used to repay loans starting July this year, highlighting life of a country that is living beyond its means.
National Treasury Cabinet Secretary Ukur Yatani yesterday unveiled a Sh3.32 trillion Budget that will once again see the government turn to debt to finance a deficit of Sh862 billion, which is likely to burst the current debt ceiling of Sh9 trillion.
Mr Yatani's projections show that spending on principal and interest on public debt will hit Sh1.36 trillion, an equivalent of Sh113 billion monthly, compared to the current financial year where the Treasury expects to spend Sh1.15 trillion.
The Sh1.36 trillion debt servicing burden will be in the period Treasury projects that ordinary revenue collections from taxes and levies will be Sh2.14 trillion. This means that for every Sh10 that will be collected by Kenya Revenue Authority (KRA) from taxpayers, about Sh6 will be going to service debts, which in December 2021 stood at Sh8.21 trillion.
About 52 per cent of Kenya's debt is held in foreign currencies and Treasury reckons this poses an additional debt servicing burden in the event of depreciation of the Kenya shilling.
"Exchange rate depreciation could lead to an increase in debt service beyond what is budgeted for in the Consolidated Fund Services," says Treasury in the Budget Policy Statement.
The shilling has been losing ground against the dollar and opened yesterday exchanging at Sh115.19 against the US currency compared to Sh108.6 in a similar day last year.
But Treasury is confronted with the challenge of cutting dependence on debt and raising more money through taxes without increasing the burden on a population that is already grappling with the rising cost of living.
The debt servicing burden will worsen to Sh1.685 trillion in the financial year starting June next year, underlining the tough test that will face President Uhuru Kenyatta's successor.
Both Mr Raila Odinga and Deputy President Dr William Ruto, the leading candidates in the race to succeed President Uhuru Kenyatta in August, have been promising increased allocation to counties, which could swell the budget size further. Mr Yatani's office is pushing for a law change to allow it to increase the borrowing limit from Sh9 trillion to an anchor of 55 per cent of gross domestic product in net present value terms.
Implementing the Sh846.1 billion borrowing plan in the 2022-23 Budget that starts July 2022 is, therefore, hinged on the passing of this proposal to avert a situation where borrowing will exceed the allowed threshold.