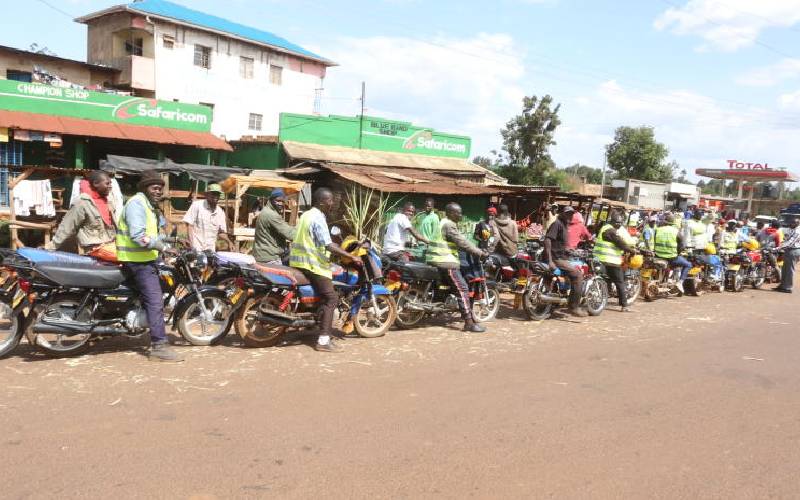 The fuel shortage is getting worse in some parts of the country with at least one person reported dead in Kakamega County.
Mr Peter Kweyu, a boda boda rider from Mumias West constituency died on the spot after a speeding lorry ran over him at Munami along Busia–Bungoma road on Monday night.
He was returning home from Uganda, where he had gone to search for fuel in the company of two others who are recuperating at St Mary's Mission Hospital in Mumias town.
"His motorcycle's tyre burst while he was cruising along the route, unfortunately, the lorry rammed into him," said Benard Olunga, the deceased's friend.
Mr Olunga decided to accompany Kweyu to Uganda "after he called to inform us that there was cheap fuel being sold across the border."
"We managed to cross the border into Uganda and bought fuel, I was arrested at the border on our way back by Uganda police officers but Kweyu and two others managed to evade the security agents. I was released later but could not reach Kweyu on phone," he said.
Mr Olunga says he was shocked when a police officer answered his call "after I had made several attempts to reach my friend."
"The officer told me to rush to the scene and pick the body of my brother. The body lay near one of the Jerrycans containing the fuel we bought in Uganda."
Ms Irine Lukungu, 38, said his brother, Kweyu decided to go to Uganda to look for fuel after he failed to get the precious commodity in Kakamega town.
Pamela Kweyu, wife, said Kweyu left early in the morning before everyone else was awake. "My husband told me he was rushing to Uganda to collect fuel and that he would be back soon, it never occurred to me that it would be the last conversation," she said.
Matungu sub-county Police Commander Joseph Cheruiyot promised to share details about the incident later, adding that the body was taken to St Mary's Mission Hospital.
In Kisii town, some fuel filling stations resumed operations yesterday morning. Long queues that have been common at stations had reduced with National Oil, Shell, Tosha and Total fillings stations dispensing fuel.
Petrol retailed at Sh150 down from Sh170 at most filling stations and boda boda riders also adjusted their charges accordingly.
Earlier, they were charging Sh200 from town to nearby estates.
Mr George Osano, a boda boda operator in Kisii town said he was forced to queue at Total Petrol station deep into the middle of the night.
"I was in the queue for three hours. I wasted the whole day Monday going round the town in search of petrol."
James Ondimu was forced to abandon his car at Shell petrol station in Kisii after he was promised that the tanks were to be filled Tuesday morning. "I had no option but to leave my car at the filling station. Luckily I was able to fuel mine by 7am on Tuesday."
The situation was different in Nyamira as a number of motorists were forced to refuel in Kisii town. Nearly all filling stations in Nyamira town remained closed for the better part of yesterday.
Some individuals took advantage of the situation and were selling petrol in Jerricans at Sh300 per litre. In Kisumu, some boda boda riders said they were storing the highly flammable gasoline in their houses.
Antonio Ober from Obunga estate in Kisumu bought 40 litres of petrol from different stations and was selling it to his colleagues at Sh200 per litre.
In Turkana, acute fuel shortages continued to bite, paralysing transport in Lodwar, Lokichoggio, Kakuma Kainuk, and Kalokol yesterday.
Residents claimed that cartels are taking advantage of the situation to exploit them.
The busy Lodwar Lokichoggio highway had few vehicles. Boda Boda Operator in Lodwar Peter Erukudi said they have resorted to parking their motorbikes due to lack of fuel.
"We are unable to operate because there is no fuel in the entire region. We fear our motorbikes which we bought on credit will be repossessed. We do not know when the situation will normalise," said Erukudi.
Outside Lodwar town, some business people were selling petrol at Sh300 per litre while at Kalokol, the price had shot to Sh600 per litre.
Turkana Independent Petroleum Outlet Association Chairman Mohammed Hajji said more than 20 petrol stations have been shut down due to a lack of fuel.
In Embu, a fistfight ensued at a gas station when motorists physically engaged one another after some tried to jump a queue.
Michael Nyaga a boda boda operator said he had not worked for more than three days after his motorbike ran out of fuel.
"I arrived here at 4am when I heard that a fuel tanker was coming but it has taken me close to 10 hours and I have not lost hope. I have not been able to provide for my family as usual," Nyaga said.
When the fuel tanker arrived at around 11am, hundreds of motorists who had gathered at the station broke into songs and dance. "When I reported to work, I found people queuing even though we didn't have fuel," said one of the attendants at the station.
Safety was not observed as the residents-only moved a few steps to allow offloading.
It took the intervention of police officers to man the motor vehicles and human traffic that had built up at the station.
Motorists also came from as far as Kirinyaga County, with many complaining that they had run into huge losses owing to lack of fuel.
-Reporting by Sharon Owino, Eric Abuga, Benard Lusigi, Lucas Ngasike and Muriithi Mugo