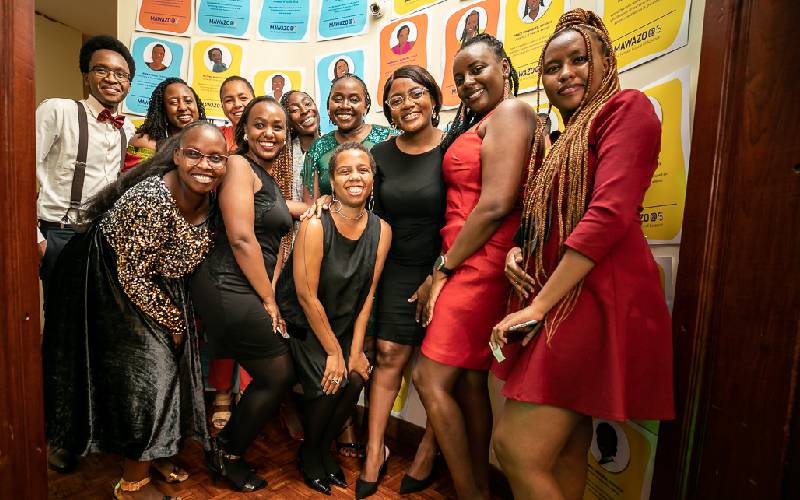 As the world marks International Women's day, empirical evidence shows that, globally, women remain underrepresented in research and as a scientific field.
According to the latest UNESCO Institute of Statistics database, only 31 per cent of women within Sub-Saharan Africa are scientists. As a result, women remain locked out of policy and decision-making processes on paramount developmental issues affecting the continent and their lives.
The Mawazo Institute is a women-led African organisation based in Nairobi, Kenya supporting early-career women researchers as they work to find solutions to local and global development challenges.
"We need more women voices in these spaces. Enhancing their representation will enable them to take spaces not just in the public sector but also in other industries", says Fiona Moejes, the CEO and Director of Programs at the Mawazo Institute.
Fiona says she is motivated by the opportunity science presents to understand and improve how we live with our natural environment. She has a background in developing and implementing multi- and transdisciplinary projects focused on marine biotechnology, sustainable aquaculture, with a strong focus on microalgae and seaweed, and community-led marine conservation in the Comoros and Kenya.
According to Fiona, the Mawazo Institute which was founded 5 years ago, is mentoring and training women in Agriculture, science, public health, space astrophysics, women studies among others.
"I strongly believe in the need for diversity to drive innovation and ensure impact, and we are glad it's getting broad. Our main aim is to build the capacity of these women so that they be able to compete on a global level," says Fiona.
Fiona says that as women move up the ladder they are left out of decision-making processes, something she thinks needs to change.
The Mawazo Institute gives grants to women who are pursuing their PhD and are below forty years old, to facilitate their research.
"They have to be African and pursuing PhD from Universities in Kenya, Uganda, Tanzania or Rwanda. They must also show that their research is geared towards African development", says Elaine Mungai, the program manager for Mawazo Institute.
So far,52 women have benefited from the Mawazo Institute programme since its inception.
31-year-old Judy Ngina is a beneficiary of the programme and she says being part of the Mawazo Institute has been an eye-opener for her.
"I have received mentorship not just for my research but also in my career progression and I would recommend it to any woman below the age of 40 and has registered for their PhD studies", says Ngina.
Ngina who is pursuing her PhD in Gender relations in Climate-Smart Agriculture for improved household food security in Kenya is of the opinion that women need to be given more chances to make decisions that affect their lives and that of people around them.
"We need women on the table, and we need them to be part of decision-making processes. Issues like climate change and food security are interconnected and you find that many women want to do farming. But they do not have the chance to own land, which is majorly owned by the men...the question is, can these women own this land so they can be able to actively participate in climate-friendly activities for a better future?"
According to Dr Joy Kiiru who is a senior lecturer at the University of Nairobi and the Deputy Board Chair of Mawazo Institute, women need to be given equal rights and opportunities for society to thrive.
"Africa needs many more women who are doctoral authors, but we find that women enrol less for their PhD studies and take longer to complete. They also tend to publish less.l", she says.
Dr Kiiru adds that "We are facing serious imbalances in post-secondary education in Sub Saharan Africa which is at 7 per cent compared to the global average which is at 42 per cent."