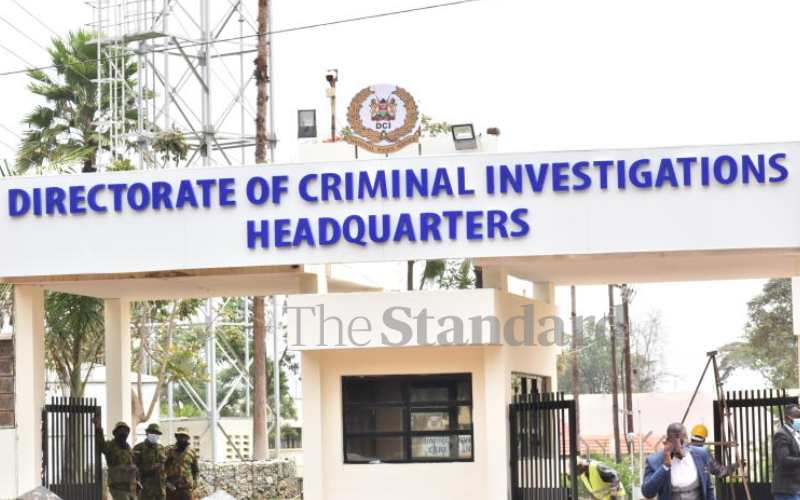 The completion of the ultra-modern forensic police laboratory at the DCI headquarters is expected to be a game-changer in fighting serious crimes such as murder, rape, robbery with violence and arson.
President Uhuru Kenyatta was on Monday scheduled to commission the laboratory before it officially starts receiving samples from investigators but the ceremony was postponed at the last minute. A new date is yet to be set.
"The forensic laboratory will go a long way in supporting the DCI to achieve its mandate in delivering on its core functions of detection, prevention and investigations of crimes," said Hillary Mutyambai, the Inspector General of Police.
One of the biggest obstacles to the delivery of justice has been the failure by police to link suspects to crimes, which remain prevalent even after Kenya achieved the police to civilian ratio of 1:450 as recommended by the United Nations.
Investigations into serious crimes like murder, arson and rape have been slowed down by a lack of police capacity to analyse samples and other forms of evidence collected from crime scenes. However, this is set to end once the National Forensic Laboratory on Kiambu Road is officially commissioned.
The lab has 10 specialised forensic units that complement each other. The different units will deal with fingerprint identification, forensic document examination, ballistics, forensic chemistry, forensic biology, imaging and acoustics, evidence management, crime scene investigations, digital and handling of bomb and other hazardous materials.
Cases involving DNA testing will also be speeded up.
In 2019, for instance, the case of Sharon Mathias and Melon Lutenyo, the twins who were separated illegally at birth, took long to conclude due to delays in analysing DNA samples. Such cases will now be resolved quickly.
Like in the twins' case, DNA sampling used to take a minimum of three weeks, sometimes longer, until two years ago when three modern laboratories were equipped to compliment the work done by the Government Chemist in conducting such tests. The laboratories are in Nairobi, Mombasa and Kisumu.
Before that, most DNA samples were taken abroad for analysis, leading to a backlog, and in the process, delaying justice as unresolved cases piled up, making the public lose confidence in police investigations and, by extension the courts.
With the completion of the forensic lab, whose construction work started when Mwai Kibaki was President, it will be easier for police and courts to deal with paternity disputes, identify and convict criminals and exonerate persons mistakenly accused or convicted of various offences. The project was initiated when Daniel arap Moi was President.
However, in 2003, it was at the centre of what came to be known as the Anglo Leasing scandal, in which money was paid to phantom companies but no work was done.
Under President Uhuru's administration, the project was resurrected and awaits commissioning to aid in such work as DNA sampling.
In criminal investigations, DNA evidence collected from a scene of crime can now be more easily matched with a suspect's DNA profile. The faster the DNA process, the higher the chances of timely conclusion of investigations and prosecutions.
Traditionally, the police have relied on the Government Chemist, who receives all the samples and exhibits collected from scenes of crime. However, his office has never been adequately equipped, leading to slow processing of the samples. Again, evidence had to be examined based on the date it was submitted.
According to the Economic Survey 2021, the number of people reported to the police as having committed crimes against morality increased by 21.2 per cent from 7,064 in 2019 to 8,565 in 2020.
The survey released last year by the Kenya National Bureau of Statistics (KNBS), shows that in 2020, 973 suspects were arrested for rape while 6,801 were arrested for defilement. Others were; indecent assault (267) and abduction (70). During the same period under review, the number of persons reported for having committed homicides went up by 11.3 per cent from 2,240 in 2019 to 2,494 in 2020. About 1,781 people were killed in 2020 compared to 1,527 murdered the previous year.
"Persons reported to have committed murder and manslaughter accounted for the highest share of homicides at 75.3 per cent during the period under review followed by persons reported to have caused death by dangerous driving who were 290, and they accounted for 11.6 per cent of persons reported to have committed homicide," says the survey.
Without the assistance of forensic science, suspects linked to homicides are likely to end up being left off the hook due because the law has set a high standard for evidence "beyond reasonable doubt".
The courts and public prosecutors have frequently blamed the police for conducting shoddy investigations into such cases. The new laboratory, which maintains a DNA Index System, will help investigators seal gaps that weaken such cases.
It will also assist the police in identifying the dead, meaning that bodies dumped in rivers can in future be easily identified.
Directorate of Criminal Investigations (DCI) boss George Kinoti said the laboratory will be manned by highly qualified detectives. "The officers are deployed according to their respective areas of specialisation. They have also received extensive training locally and internationally," he said.