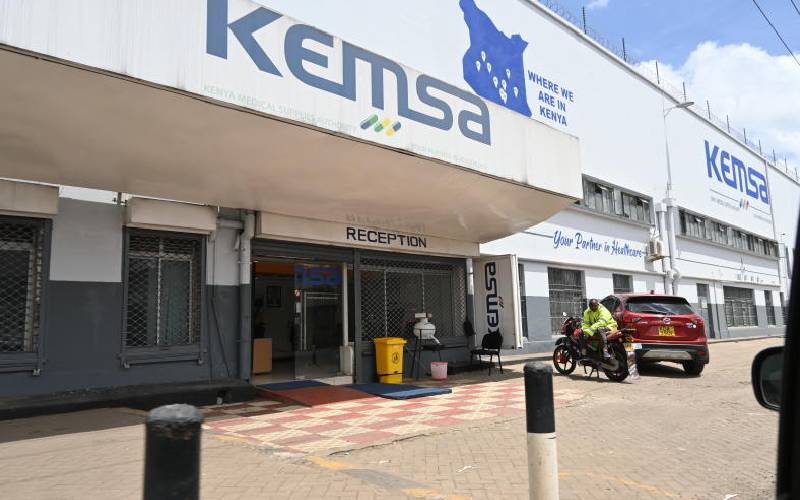 Some 29 senior managers at the troubled Kenya Medical Supplies Authority (Kemsa) were on Friday sent on a 45-day compulsory leave.
The managers were sent packing two weeks before a February 24 court ruling on a case challenging intended sacking of over 900 Kemsa staff following the Sh7.8 billion scandal involving purchase of items for use during the Covid-19 pandemic.
A number of staff who spoke to the Sunday Standard said on Thursday, 29 senior employees were called for a meeting by the board in Embakasi, where they were forced to sign leave forms.
The senior managers were then called to their offices and forced to clear their desks under the supervision of police officers.
Operations at the medical supplies firm have now been taken over by 10 officers from the Ministry of Health, six from the Moi Teaching and Referral Hospital (MTRH), two representatives from the ICT Authority and one representative from the Attorney General's office.
"The board members told us they looked across board and saw that people have not taken their leave days and we all needed to as it was the best way to save on meagre company resources," said a source.
"What was suspicious was the letters they handed us were drafted to read as if we were the ones asking for the leave days and allowance. They were also too generous and gave us 45 days, more than anyone has accrued in this financial year," he added.
Another source read malice in the board's actions, ahead of the February 24th ruling.
"We moved to court last year because we were questioning why the agency wanted to declare us redundant yet we did not play part in procurement of goods where cash was allegedly lost. Now we feel that the board is trying to pre-empt the upcoming judgement," said the source.
Confirming the developments, lawyer Nelson Havi termed the actions by the board as "disobedience of a court order and impunity" on the part of Health CS Mutahi Kagwe.
"There is a court order stopping the intended declaration of redundancy. That notwithstanding, these notices that have been issued to senior management are a clear indication of intention to terminate their services despite the fact that the matter is in court," said Havi.
On November 4, 2021, the Kemsa board issued redundancy letters to all employees and sent the staff on compulsory leave for 30 days.
Before the lapse of the leave days on December 4, staff moved to court and obtained stay orders, which forced the board to send all employees on another 45-day leave.
In January, the hearings were done and the judge was set to issue a ruling in two weeks.
Another source said before employees proceeded on leave last year, Kemsa was owed approximately Sh1.1 billion but the figure has since surged to Sh6.4 billion, since staff charged with debt collection have been at home for the past 105 days.
On its part, Kemsa confirmed sending staff on leave terming the move as part of a human resource management strategy aimed at reducing leave days' liability.
Through a statement, chairperson Mary Mwadime said the board had mapped out all affected functions, and competent officers have been appointed to handle the roles in an acting capacity under acting CEO John Kabuchi.
"It is instructive to note that the transformation journey can be derailed by the continued accumulation of leave days. As mentioned above Kemsa board has not fired a single employee," said Mwadime.
She also defended the agency against claims of non-payment, saying that Kemsa is currently owed Sh6.4 billion, and it owes its creditors Sh4.5 billion.