When packing a pistol to a political rally was in vogue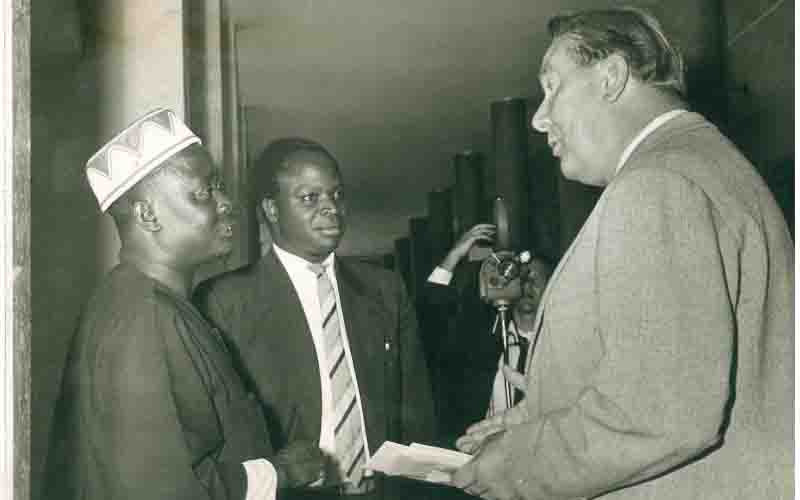 Every five years a malevolent spirit is unleashed upon Kenyans who are fed on a diet of foul talk, fake promises garnished with a dose of violence. In most cases, this spirit is nourished by lords who aspire to be the people's servants.
But if you thought this type of madness started with the current crop of politicians, you are mistaken. Apparently, Kenya's democracy has been nurtured by liberal doses of violence, which started even before it became a republic.
In the build up to one of Kenya's most contested elections in 1962, Michael Blundell who had represented settlers and served as a minister, was now a minority leader. Some of his voters were upset and the most radical even hatched plans to kill him.
On one occasion, Blundell was scheduled to address a rally in Kinangop when he was tipped by a journalist that there was plot to kill him.
"Just as I was leaving the house the telephone rang and a member of the press corps told me that a man called Jim Hughes, an extreme right winger and an expert with a pistol, was going to shoot me. I could not fail to attend or postpone the meeting. So on arrival I asked two strong supporters one retired army brigadier and the other a tough farmer to sit on either side of Hughes."
The plan was in the event the assassin tried to draw his pistol, the two bodyguards would grab and disarm him.
All went well at the Kinangop rally as Hughes did not turn up. Unknown to Blundell, his wife had also heard of the assassination plot and had prepared for any eventuality.
He later learnt from her that she had attended the rally armed. She had gone to the rally with a pistol concealed in her bag.
"… and as she spoke, she opened her hand bag and there was her short barred 38 revolver. I gaped at her in astonishment as she told me she had heard that I was to be tarred and feathered and was determined to prevent it," Blundell gives these anecdotes in his memoirs, A Love Affair With the Sun.
Those were heady days as Blundell had earlier in his campaigns been pelted with rotten eggs by extremists who thought he had sold out their dream of a White Man's country to Africans.
The political atmosphere then was such that spouses of colonial settlers had to learn to shoot and carry pistols. At one point, the colonial settlers planned to abduct a governor and overthrow the government because they felt state policies were unfavourable. Such has been the nature of Kenya's politics.