Ms President Season 2 kicks off amid calls for more women representation in politics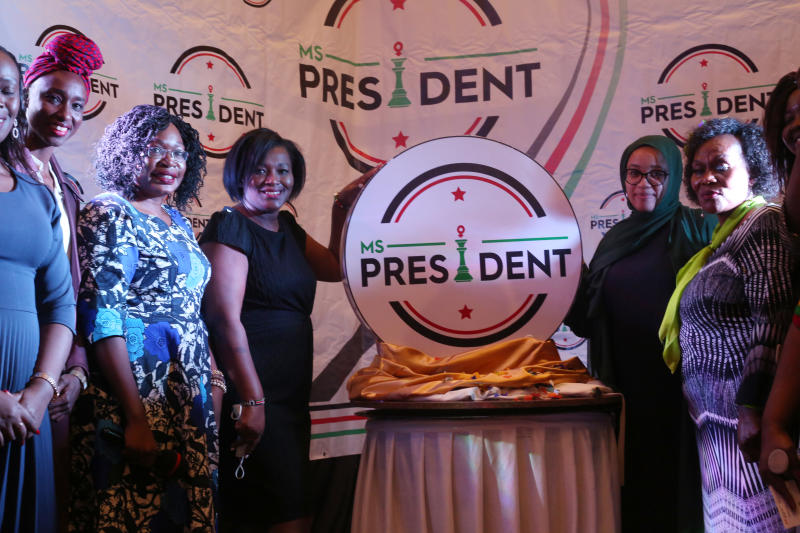 The second season of the reality TV show, Ms President, was launched yesterday.
The show seeks to portray to a national audience the capacity and ability of women to lead effectively.
The series showcases intelligent and articulate women who are "presidential" with the aim of increasing the chances of women in Kenya taking up leadership positions.
Gender and Public Service Chief Administrative Secretary Racheal Shebesh, who was the chief guest, said the government was ready to support the show. She called on political parties to reward women who work hard with nominations and ensure they sit at higher positions in the party, including at elections and disciplinary boards.
The show's judge, Zippy Okoth, told The Standard she was happy the series has produced leaders, not only in the political circles but also incorporate.
"It brought many hopes to live with imagined possibilities, some of which became a reality not only for participants but also for the audience," said Dr Okoth.
"This is an election year, and I am glad to note some of the participants have fronted their names for various political seats. In fact, many are already holding positions and more are rising to stand in leadership roles because they got strength from the show."
Okoth said she believed Season Two would bring impact not only on political leadership, but on many fronts not just at the grassroots, but in top management levels as well.
Other participants who have assumed leadership positions include Irene Mayaka, who is a Nyamira MCA.
The First Season, held in 2019, had over 1,000 contestants. However, only 70 made the cut to join the academy.
Nereah Oketch, a nominated MCA for Homa Bay County, was the first Ms President.
Finalists also got a chance to be invited to State House, where they had discussions on the state of the nation with President Uhuru Kenyatta.
This year's prize money is Sh2 million, Sh1.5 million for the second runner-up and Sh1 million for third place.
The show will also air on vernacular and national radio stations.
"We will be accepting entries until end of February. Applications will be reviewed till mid-March," said Simon Gichia, Projects and Media Officer at Media Focus On Africa.
"From mid-March, there will be auditions in selected counties, followed by an academy and filming. In May, the show will air, however, winners will be unveiled in September," he added.
This season will also involve teaching participants how to create short films that will be available on TV and online platforms. The films will focus on women agenda among other issues.
"We shall also mentor and train women in politics and other sectors beyond the academy," said Gichia.
Although they expect many applicants, the academy hopes to work with only 40 candidates.
Unlike 2019 where the show was open to candidates with Form Four certification, this edition will only feature participants with a diploma and above.
Jemimah Kutata, a champion of inclusion and disability and participant in the first season, called for a conducive environment for participants with disabilities.
"Let us be clean, just use facts, don't abuse even when abused, let us be the ones to monitor these threats and gender-based violence cases if there will be," said Joyce Mutinda, National Gender and Equality Commission Chairperson.
Dr Mutinda also cited a lack of gender equality and representation in the appointment of Cabinet Secretaries.
"There are 21 Cabinet Secretaries with only seven women, that is one-third women and two-thirds men," she said. UN Women Deputy Country Director Rukaya Mohammed also weighed in on the underrepresentation of women in political leadership in Kenya, Africa and globally.
She said women in Kenya continue to remain underrepresented and excluded in most processes, going by the little number in national and county assemblies.
Acting Canadian High Commissioner to Kenya David Da Silver echoed their sentiments, adding that women can be anybody if given equal opportunities.
"They are pillars of our community and uniquely understand the challenges that a country and community face, and when they are in positions of power, the mentioned areas thrive," he said. Canada is among the sponsors of Season 2.
Youth Affairs and ICT CAS Nadia Abdalla, who was a participant in Season One, lauded the show for its fruits. She urged women to be smart, capable and articulate.
"This is because everywhere we go, people look at us first as women before believing in our capabilities," she said.
"The show unlocked talents and gifts that women have. I am proud of myself because I didn't let myself go after discouragement by judges. I urge women to preach peace come the General Election," Abdalla said.
European Union of Head of Delegation Henriette Geiger said women participation in politics faced many obstacles which explained the underrepresentation in Kenya where the two-thirds gender parity constitutional requirement is yet to be met.
She lauded the Ms President Show, saying it was worth investing in because it supports women empowerment and more have become good leaders in the community and appointed in political leadership as a result of the show.
Ms Geiger said the EU was already doing a lot to support women empowerment with their actions on gender, which are guided by the European Union Gender Equality Strategy 2022 to 2025.
She said the strategy action plan has a key commitment that said 85 per cent of all its development cooperation action had to contribute to gender equality and women empowerment by 2025.
''It's important to note that it's not only binding to EU institutions but to all member state corporations,'' she said, appreciating the Canadian Embassy for contributing the lion's share sponsorship of Season 2.
Ms Geiger also called for more media visibility for women as it would give them a voice.
House to convene over HBC motion
National Assembly Majority Leader Amos Kimunya and his Minority counterpart John Mbadi wrote to Speaker Justin Muturi seeking to reverse the decision.