Little-known man from Emusanda village wants to be 5th president at 75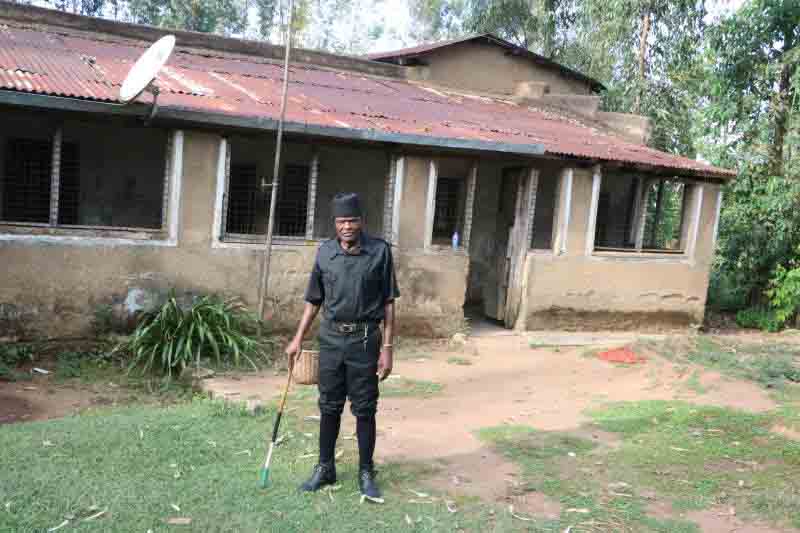 Eliab Imbiakha, a little-known man from Emusanda village in Kakamega County, has declared he will contest the presidency as an independent candidate in August.
From his unique manner of dress to pedantic code of conduct, Imbiakha speaks with an assuredness that comes from experience.
In 2017, Imbiakha made an application to the Independent Electoral and Boundaries Commission (IEBC) seeking to vie for the presidency, but the approval came late.
"I may not be educated, neither am I rich, but we must defend our rights and freedoms. With support, I will contest the presidency in August this year," says Imbiakha.
Dressed in military-style fatigue, Imbiakha's outfit has additional colourful decorations with a wide double-strap brown leather belt, black boots, green and white knee-high socks. He also dons head gear that resembles a beret, and attire with a black, green and white theme.
"These colours represent the original Ford party under Martin Shikuku. The party was formed in 1991 by Shikuku, Shamalla Japheth and I," Imbiakha says of the Forum Of Restoration of Democracy party.
He flips through the greying pages of his notebook in which newspaper cuttings of news stories and pictures of opposition leaders in Kenya have been pasted.
Imbiakha was born in 1945 and schooled up to Class Five at Ingotse Intermediate School, where he dropped out in 1960. His mother died in 1957, and his father in 1964.
"Even while dad was alive, life was tough. I was forced to look for employment as a houseboy. I was lucky to find work in Eldoret in 1963, but left in December, the same year."
In 1964, he was again employed as a houseboy at Majengo in Vihiga County. However, as he says, "I had gone through enough trouble and decided to seek greener pastures in Kampala, Uganda."
"Equipped with my first salary of Sh15 in September 1964, I took the OTC bus from Kakamega to Kampala. The money was just enough for the fare, and nothing else. On arrival in Kampala, I can assure you I became the first street boy in East Africa. For three days, I roamed the streets of Kampala, hungry with nowhere to sleep," Imbiakha reminisces.
However, on the third day, he overheard some boys conversing in his mother tongue.
When he approached them for assistance, they informed him that they were altar boys waiting to bid goodbye to one Eshitemi Tsisichi, a Kenyan missionary who had offices at Kigumba Mission in Uganda.
"When Tsisichi finally came, he offered me food and put me on a bus back home," says Imbiakha, adding that by the time he went back home, he had fallen in love with Tororo and made a note to return one day.
"Unfortunately, my father died that year. After his burial as custom demanded, I was given a cow, which I sold for Sh150 and headed back to Tororo, Uganda. I took driving lessons in 1966 and came back," he says.
He travelled to Mombasa in 1969 but could not find work, so he went back to the village.
"From 1969 to 1979, I was involved in sand business. In 1979, I found work as a driver in the Ministry of Works. It was in the course of that work that I met Martin Shikuku and gained interest in politics," he says.
At Shibuli market along Kakamega-Bungoma highway where Imbiakha has a modest office, he is fondly known as 'prezzo'. He says he will vie for the presidency even if the only vote he gets is his own.
"All these people who seek the presidency are corrupt and selfish. I cannot cast my vote for them.
If I vote for the corrupt, God will take me to task. So, I would rather vote for myself. Today, people have corrupted the meaning of 'opposition' to enrich themselves at the expense of poor oppressed citizens," he says.
Imbiakha believes that only a total overhaul in leadership, from ward representatives to the presidency, will change the fortunes of Kenya.