Ntombura: I am still Methodist Church of Kenya bishop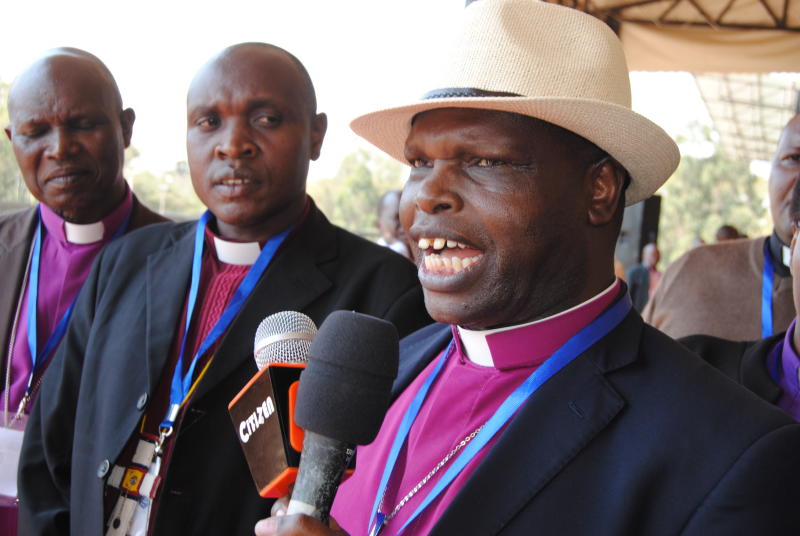 Bishop Joseph Ntombura has maintained he is still the head of Methodist Church of Kenya.
In a statement, Bishop Ntombura condemned an attempted bid to cause chaos in the church by a section of the leaders.
''There is nothing new they are bringing here. The same old story which they have taken all over to court, Director of Criminal Investigation(DCI) and our partners and they have not succeeded because all is false,'' said Ntombura.
He accused the faction of breaking into his office when he was away for official duty.
''They broke into my office through the back door. I thank God they were arrested,'' said Ntombura.
The bishop also condemned a move to install interim leadership saying he is fully in charge. He said that there is no such position in the church's constitution.
The bishop assured church members that he is in total control, adding that his administration has taken measures to resolve the problem once and for all.
"They will know that there is a God who cares for His people. It's not a cooperative society for political drama anymore," he said.
In a press conference held on December 15 in Nairobi, the faction claiming to be the interim leadership led by Dr Stephen Kanyaru stated Bishop Ntombura was ousted as Presiding Bishop and as President of the Africa Methodist Council.
They claimed this was done by delegates on December 3, at the Methodist Church Center in Lavington, Nairobi.
However, a few days later in a paid-up communication in local dailies, Ntombura's administration denounced the interim leadership. The notice listed eight defrocked ministers and seven excommunicated members.
Among those listed as defrocked ministers in the advert are Dr. Charles Makonde, Jacob Ibuatha, Maingi Ruaria, James Muriki, Ronald Nzai, Richard Abio and Cosmas Tuji.
The excommunicated members are Dr. Gerishon Mwiti, Goeffrey Kathurima, Dr. Gladys Mwiti, Hellen Kamencu, Kobia Michubu, Martin Muriuki and Mathews Kaburu.?
'The conference Standing Committee of the Methodist Church in Kenya wishes to notify all our esteemed members and the general public that the persons whose photographs appear above (Misheck Kanake, Dr Stephen Kanyaru and Isaiah Deye), as well as those whose names are listed below, ceased to be ministers (defrocked) and members (excommunicated) of the Methodist Church in Kenya,'' read the advert.
On Friday, a section of the church in Meru backed Ntombura.
Led by Kaaga synod Bishop Nicholas Mutwiri and Bishop Lawi Imathiu, they urged church members to ignore other groups led by Dr Kanyaru for what they called was undermining church leadership.
''This group that represents the 39,000 members of Kaaga synod are here to say that Presiding Bishop Ntombura is the official spokesperson of the Methodist Church in Kenya, East and Central Africa and also the spokesperson of the Africa Methodist Council,'' they said.
They also denied there is an interim leadership in the church, saying Bishop Ntombura is still in the office legally, carrying on with the work of the church in missions and planting churches.
''Kaaga synod members note this that every official communication will come through synod office through superintend minsters in their circuit and that is the message that you are to take it seriously,'' they said.