Mau Mau veteran, 97, who traps moles and porcupines for a living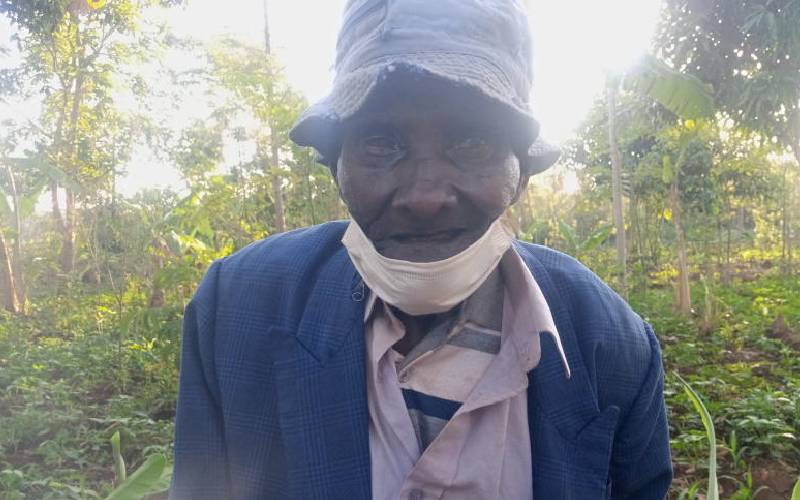 When Kamau Njoroge teamed up with Mau Mau fighters to agitate for Kenya's independence, he envisioned a country with more opportunities and better living.
If you told him that after attaining freedom he would end up trapping moles and digging out anthills for a living, he would have probably abandoned his mission and joined home guards in collaborating with colonial masters.
But Njoroge, 97, does not regret his sacrifice in fighting for independence and believes it is better to die poor but roam free from one area to another looking for distressed farmers who are being disturbed by moles or porcupines.
"Nothing gives me joy like freedom despite my poverty. Some of the people who collaborated with the colonial masters had a "soft life" sharing our secrets. I will be remembered for fighting for freedom," Njoroge said.
The freedom fighter remembers how he was jailed at Manyani detention camp after home guards "sold" him to the colonial masters.
He recalled how he was led by General Ihura and Matenjagwo to liberate the country from the hands of colonisers. Although he has never been celebrated or recognised for his efforts, at least his popularity in digging anthills and trapping moles and porcupines is unmatched.
He has been doing this for 71 years.
He discovered his talent of trapping and eliminating anthills when he was barely 27 and his consistency saw him become a legend in Kiambu and Murang'a counties.
He is happy that the job has earned him a little money to complement what he gets from the cash transfer programme.
"Although I receive stipends from the government, the money is not regular and I must go on with my normal work to live a meaningful life. At least I'm not a beggar and the society appreciates my work," Njoroge said.
Njoroge touts himself as a man with exemplary skills to detect the existence of an anthill and assures his clients that when he picks his jembe or hoe, nothing will be left unturned.
It is the same case when trapping rodents.
With age catching up with the old man, he fears that he will leave a vacuum in his field as he has not met a youthful man with an interest in tapping his wisdom and skills of hunting down rodents and eliminating anthills.
His only son does not want to learn the skills as he moved to Nairobi in search of greener pastures due to the negative perception of his father's job.
He charges Sh300-Sh500, which he says is not enough to build him a decent house.
Njoroge's neighbours have started efforts to build him a two-bedroom house since he lives in a makeshift structure.
They have called on the government to honour such heroes when they are alive.