Benson Imbatu: Killer cop's last call and history of short temper, violent episodes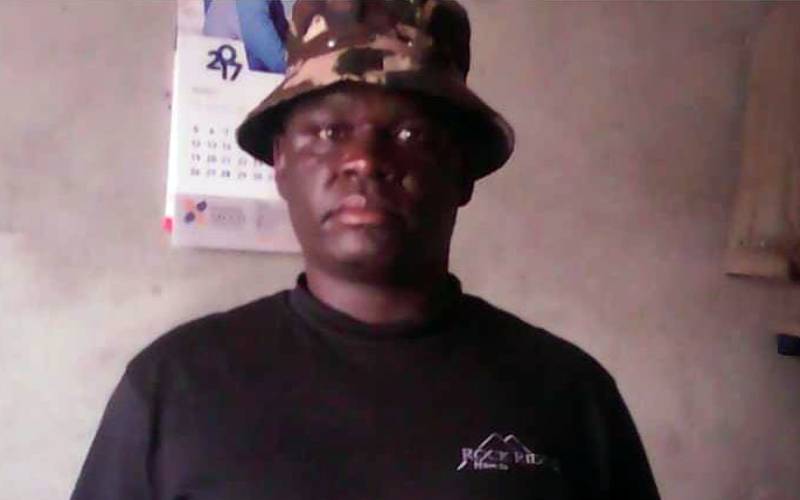 Police in Nairobi have traced the last person who spoke on phone to a police officer moments before he shot six people dead and killed himself.
Investigations show the last call by constable Benson Imbatu of the Kabete Police Station was to his cousin and lasted almost a minute and a half.
Imbatu reportedly told the relative that he had killed a woman he only identified as Carol, with who he was said to have had a relationship, and that he would eventually kill himself.
The 1.03am call did not, however, reveal why he had killed the woman, who he had been seeing for three months.
At the station where Imbatu worked for three years, fellow officers were still coming to terms with the death of their colleague, who Dagoretti police boss Francis Wahome described as hardworking.
The 53-year-old father of three kept to himself. Most of the officers who spoke to The Standard said he was a "quiet man, whose mind you couldn't easily read".
The colleagues also knew him as a man of short temper and kept away whenever he was in a foul mood.
The officers told of an incident in September when Imbatu and Carol got into an argument that saw him pull out her hair.
So vicious was the fight that Carol reported the incident at the station, but the matter was sorted out of court and the two reconciled.
"He is the kind of man you couldn't understand. At times a small joke would turn ugly even with his colleagues," said an officer.
They also recalled an incident in 2018 when Imbatu is reported to have attacked and injured a man who was engaged in a dispute over rent with his landlord.
Imbatu confronted the rent defaulter and punched him so badly that he had to seek medical help.
The matter is said to have been reported to the Independent Policing Oversight Authority and is still under investigation.
Residents of Gichagi area in Kangemi claim last Sunday, an angry Imbatu stormed into a bar the two owned, where he caused a commotion as he taunted customers with his gun.
He fired five bullets into the bar, destroying a TV set.
Residents said the matter was brought to the attention of his bosses. It is not clear whether action was taken.
After 31 years in service and seven years before his retirement, Imbatu's career and life ended tragically yesterday.
Wahome said he was not aware of the incidents. He also declined to comment on the motive of the shootings, even as Interior CS Fred Matiang'i announced that preliminary investigations pointed to a love triangle.
Speaking at the Administration Police Training college in Utawala at a memorial service for officers who have lost their lives in the line of duty, Dr Matiang'i said the Directorate of Criminal Investigations and the Internal Affairs of Unit of the police were investigating the matter.
The owner of the building where Imbatu began his shooting spree said the policeman arrived home a few minutes past midnight in the company of Carol and another officer.
"He dropped her at the apartment and thereafter took his colleague home. Several minutes later, he returned and demanded that he parks his vehicle inside the compound. The night guards told him that the parking slots were fully occupied. He got angry and told the guards to 'create space for me inside, or else I shoot you dead."
"It took a lot of convincing to make him park the car outside the compound," said the landlord, who requested anonymity.
"After parking his car, he stormed into the apartment. He was visibly angry. Minutes later, the guards said they heard a gunshot from one of the houses. Upon rushing to the scene, they found a fire had started engulfing Imbatu's house and the body of his girlfriend was on the floor."
Imbatu had already left the house.
The gunshot had attracted boda boda riders to the scene. As Imbatu made his way out, the riders attempted to question him, triggering a violent response.
While escaping, he shot two neighbours, who also died at the scene. Another boda boda rider, who had attempted to give chase, was also shot and died at the Kenyatta National Hospital (KNH).
Imbatu fired 26 bullets.
Police believe that Imbatu's range was triggered by the suspicion that Carol was cheating on him.
The tragic love story began in September when Imbatu met Carol, who worked at his favourite drinking joint.
He won her heart and she moved in with him at an apartment in Kangemi, where he had moved on November 12.
As their love blossomed, Imbatu opened a bar for Carol.
With time, mistrust started rocking their relationship.
All the while, however, Carol reassured Imbatu of her commitment to him, but the police constable still harboured reservations.
Last evening, Wahome said two other people, including a boda boda rider, were responding well to treatment at the KNH.
Yesterday, families of those killed flocked to the City Mortuary to identify the bodies of their loved ones. They called for justice for their kin, saying they didn't deserve to die in the hands of someone that is supposed to protect them.
Anjelina Kitetu, the widow of one of the boda boda riders, Gabriel Nguma, said he had called to say he was on his way home.
"I went out to look for him on the street where I heard he was among the people shot by the officer and taken to hospital. I went to the Kenyatta National Hospital but he was not there. We found him here at the City Mortuary," said a tearful Kitetu.
"I depend on him for school fees and my rent. What will I do and where will I go now?" said Mercy Kyule, a sister of the 51-year-old.
Another grieving family is that of Kelvin Ayieko alias Ambrose, a Kangemi DJ. He had left a friend's burial fundraising when he met the killer a few minutes past midnight. He was shot in the chest at close range and died on the spot.
"I'm very sad. There is nothing wrong that my brother did that made him get shot by the officer. I just want justice to be served," said Judith Jambi, his sister.
CS Matiang'i said the Government had enhanced counselling services for officers in the police service and the Prisons.
He also urged the public not to trivialise such incidents, especially on social media, noting that like any other members of society, officers are susceptible to mental health challenges including drugs and substance abuse.
He said there is a deliberate effort to destigmatise mental conditions so as to reach out to many people who require help.
[Additional reporting by Sirajurahman Abdullahi]