Who is Benson Imbatu, the policeman who killed 6 in Kabete? Here's his profile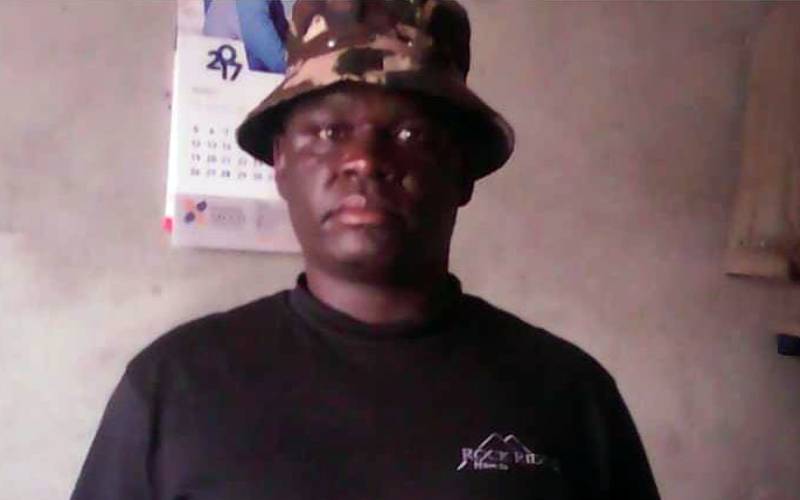 Fifty-three-year-old Benson Imbatu, who opened fire on seven people – killing five and injuring two – in Kabete on Tuesday morning, was a "quiet man, whose mind you couldn't easily read", multiple interviews reveal.
The police constable joined the service in 1990, and had, in a case now that appears atypical, maintained the same rank for 31 years. What changed in the three decades, were only his postings.
Imbatu previously served at the Inland Container Depot in Nairobi and the Presidential Escort Service during retired President Mwai Kibaki's reign.
He hailed from Idakho Village in Ikolomani, Kakamega County, where his wife-cum-mother of his three children live.
In Nairobi, his colleagues painted a picture of a "quiet man, who was unpredictable and occasionally exhibited anger problems".
"There was a day his girlfriend, whom he has since shot dead, accompanied him to his workplace, [Kabete Police Station]. A quarrel ensued between them. Enraged, Imbatu pulled her by the hair," his colleague at Kabete post, who spoke in confidence, told The Standard.
His temperament challenges played out in the wee hours of Tuesday morning if a statement by his landlord at J Heights Apartments in Kangemi is anything to go by.
The property owner, who spoke to The Standard on condition of anonymity, said Imbatu arrived home a few minutes past midnight in the company of his girlfriend, one Carol, and a police officer.
"He dropped his spouse at the apartment, and thereafter took his colleague home. Several minutes later, he returned and demanded that he parks his vehicle inside the compound. The night guards told him that the parking slots were fully occupied. He got angry, and told the guards: 'Create space for me inside, or else I shoot you dead'. It took a lot of convincing to make him park the car outside the compound," said the landlord.
"After parking his car, he stormed into the apartment. He was visibly angry. Minutes later, the guards said they heard a gunshot sound from one of the houses in the apartment. Upon rushing to the scene, they found fire had started engulfing Imbatu's house, and on the floor was the body of the police officer's girlfriend."
At the time, Imbatu had already left the house.
The loud gunshot had caught the attention of boda boda riders, who, out of curiosity, rushed to the scene.
During Imbatu's way out, the boda boda riders attempted to interrogate him, triggering a violent response. The cop reportedly shot one of them dead.
While escaping, he reportedly shot two neighbours, who also died at the scene. A brave boda boda rider, who reportedly, watched as the cop killed his colleague and two others, attempted to give Imbatu a chase, but the cop, reportedly, shot his pursuer, who died while undergoing treatment at the Kenyatta National Hospital (KNH).
Dagoretti Sub-County Police Commander Francis Wahome told The Standard that preliminary investigations suggest Imbatu killed his girlfriend out of jealousy.
A romantic relationship between Imbatu and Carol, that started three months ago, ended tragically in the dead of night.
According to Wahome, the moment of rage was triggered by the suspicion that Carol, a former barmaid, was allegedly cheating on Imbatu, who had invested finances and emotions in the youthful woman.
The tragic love story began in September, when Imbatu, a police constable at Kabete station, met Carol during one of his evening drink-outs. Carol was working as a barmaid at Imbatu's favourite drinking joint.
He won her heart, and she reciprocated by cohabiting with him at J Heights Apartments in Kangemi, a house he had moved into on November 12.
When the love grew fast, Imbatu opened for Carol her own bar.
With time, trust issues started rocking their relationship, gradually pushing it over the precipice, a love tale that was quickly growing into a precarious affair.
All the while, however, Carol assured and reassured Imbatu of her commitment to only him, but the police constable still harboured reservations, reservations that morphed into fatal jealousy.
Constable Benson Imbatu of Kabete Police Station was not on night duty on Monday, through Tuesday. He was not supposed to be in possession of his firearm, an AK-47 rifle of serial number 4915724. How he managed to have the gun, leading to the loss of six lives, including himself, is now a subject of investigation.
The Standard understands that Imbatu picked a quarrel with Carol few minutes to 1am.
During the heat of the moment, he reportedly fired a bullet into Carol's neck, killing her on the spot. Imbatu is suspected to have, thereafter, set the house alight and attempted to escape, coming into contact with his four subsequent victims.
Police said after killing the five (including Carol), the 53-year-old turned the AK-47 rifle on himself and fatally fired a bullet in his neck.
Authorities further said two other people, including a boda boda rider, sustained gunshot injuries and were taken to the Kenyatta National Hospital, where they are receiving treatment.
In a report filed at the Kabete Police Station by Imbatu's neighbour, Purity Cheruiyot, officers arrived at the scene minutes to 2am and recovered the AK-47 rifle, four rounds of ammunition and four spent cartridges.
Wahome, however, says Imbatu fired at least 20 bullets.
Bodies of the six, who died in the murder-suicide, were taken to City Mortuary as investigations continue.
Police said among the last people that Imbatu called before ending his own life, was his wife, who is based in Ikolomani, Kakamega County.
The call, which he made at 1am, lasted 106 seconds, The Standard understands.
(Additional reporting by Fred Kagonye)