Glowing tributes for tycoon Kibe as a visionary, mentor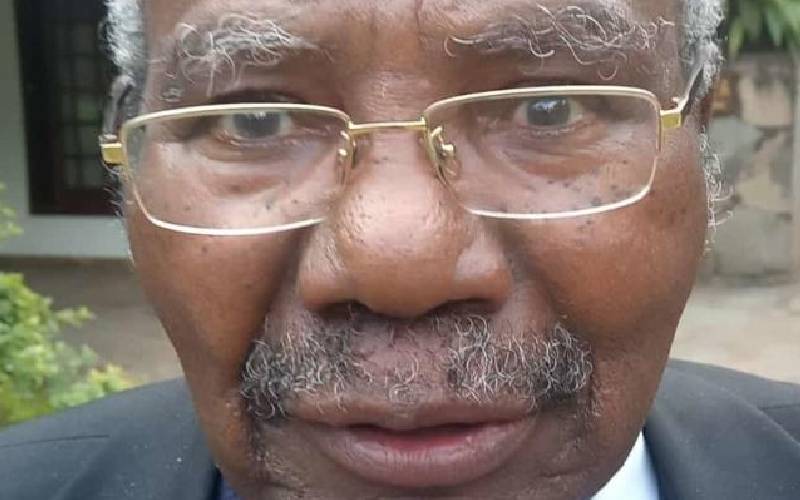 Joseph Gilbert Kibe was among former Permanent Secretaries who served in the first and second governments of presidents Mzee Jomo Kenyatta and Daniel Moi.
In Mzee Kenyatta's administration, Kibe served in various ministries as PS, including the Ministry of Water and Agriculture.
On Monday, Kibe was at the Mabanda Gatanga Water Scheme office, where he informed the board members after chairing a meeting that he was scheduled for a heart surgery on Wednesday.
However, the patriarch died while undergoing treatment at a Nairobi hospital. His son, Captain Gilbert Macharia Kibe, the Director-General of Kenya Civil Aviation Authority (KCAA), said the family is touched by the demise of their father.
"Mzee was a dedicated person who interacted with the community and had interests in water, health and education of children," said Captain Macharia.
Kibe's colourful career in civil service took a turn in 1979 when he became the first casualty of the Kanu regime.
He was sacked from the civil service after he was perceived to be allied to then MP George Mwicigi, now deceased.
In 1983, Mwicigi himself was ejected from Parliament by Kanu on grounds that he was in the group that was against the leadership of President Moi.
A by-election was called in Kandara with candidates being Kibe and Mburu Wanyoike.
In the entire campaign period, Kibe took the lead, but met resistance in the Ndunyu Chege area by a group allied to then Murang'a Kanu boss, JJ Kamotho, who questioned his background.
According to Kibe's former close ally, Meja Miki, the idea to get into politics arose after Mwicigi was banned from defending his seat in the by-election.
"The late Kibe was a darling to many as he had played a part in the many development projects in the vast Kandara Constituency and the elders encouraged him to vie," said Miki.
Established water project
In the 1970s, Kibe teamed up with Kandara leaders to establish the Kandara water project after he helped to construct an intake at the Nyaga area to serve the community.
Edward Wachiuri said Kibe had worked closely with Mwicigi and they introduced horticulture farming in Kandara and Gatanga, which is today earning the residents millions of shillings in returns.
"He stood firm and worked with the community despite his status, and for 15 years served as the chairman of Gatanga Water Trust," said Wachiuri.
In Murang'a County, Kibe was on the list of billionaires. He was appointed by the elders to chair the Eminent Persons Group of Murang'a.
Members of the group are Royal Media Services Chairman SK Macharia, Bishop Gideon Githiga, Maina Wanjigi, Amb Solomon Karanja, Muthoni Likimani, Nicholas Ng'ang'a, and Prof Lucy Irungu.
Transport and Infrastructure Cabinet Secretary James Macharia said Kibe was kind, humble and full of wisdom.
"Kibe was one of the icons of Kenya's Public Service, having served as PS in the early years after our independence. His dedication to service and patriotism has been unrivalled. Our thoughts and prayers are with Mrs Kibe and her family," said Macharia in his message of condolence.
Former Gatanga MP Peter Kenneth said the late Kibe was his close friend who mentored him.
"I requested him to steer the Gatanga Water Trust, a job he was passionate about when I was Gatanga MP. Kenya has lost a great son and a wonderful human being," said Kenneth.
Gatanga Water Trust members, led by JB Karanja, said Kibe was instrumental in establishing many water projects, including Ithanga, Kigoro and Rwegetha to fulfil the wishes of the people.
Kibe also served as the Vice Chair and Treasurer of the Board of Directors of Africa Harvest Biotech Foundation.
He was also the Chair of the Kenya Horticulture Crops Development Authority that transformed into the Horticultural Crops Directorate of Agriculture, Fisheries and Food Authority (AFA).
The billionaire had a special interest in financial investment and corporate governance, which resulted in his appointment as a director in over 10 private sector companies and non-profit foundations and trusts.
The tycoon managed to keep himself relatively anonymous by maintaining a simple lifestyle away from public scrutiny.