Survivor of gold mine tragedy recalls his close brush with death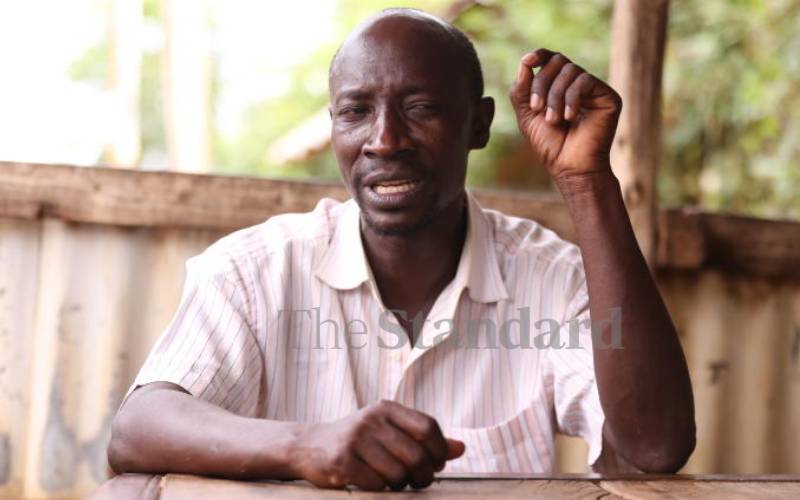 Tired, dusty, drained and emotionally overwhelmed but relieved after cheating death in a dark, tight and lonely collapsed gold mine.
This describes Livingston Odhiambo's ordeal.
From a distance, one can easily read the bittersweet relief on his face after escaping death by a whisker at the Abimbo gold mine in Bondo.
For 35 hours, Odhiambo, a father of four, had already resigned to whatever fate held for him and knew death was around the corner with each passing minute.
With his body beginning to take a toll on him after several hours without food or water and also the risk of the grumbling excavators involved in the rescue mission crushing him by mistake, Odhiambo knew coming out alive would be a miracle.
A few meters from where he struggled to stay alive, one of his colleagues was already dead and partially buried by the rubble.
"I could only see his legs. I tried to pull him to where I was but I was unable to rescue him," he said.
Several feet down, he could hear voices of some of his four colleagues trapped in another L-shaped crevice.
Odhiambo had tried to encourage his colleagues to hang on and claimed he spoke with the four who were beneath him for several hours until he was rescued.
And yesterday as search and rescue for six of his other colleagues continued, there was a sense of hope after he was pulled out alive.
When The Sunday Standard caught up with him at Bondo Police Station hours after he was rescued from the collapsed cave, Odhiambo was still in shock.
He narrated how he kept hope alive by encouraging his colleague partially buried by the rubble to hang on as rescuers struggled to reach their location until the voice of his colleague faded out.
"I am just lucky. I knew it was a matter of time before I also died," he said.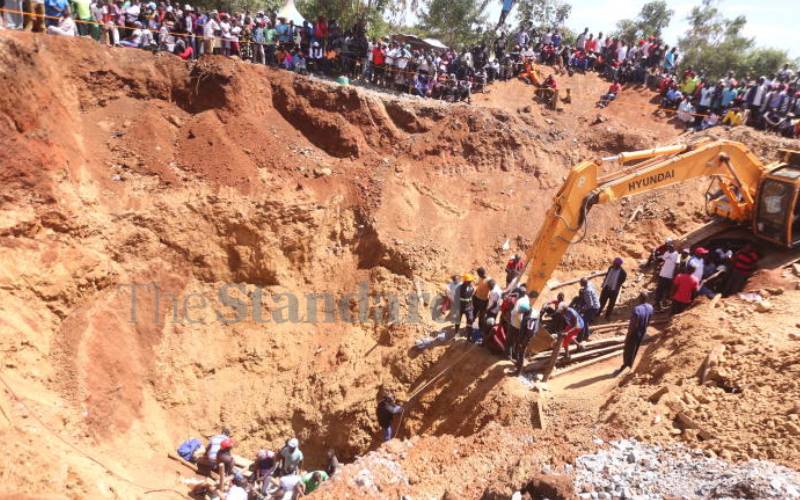 Odhiambo recounted how what had started as another ordinary day at work turned horrific moments after noon, when the mine they were digging, buried them alive.
He said they heard crashing sounds from above them. Before they could make any attempts to leave the mine, the walls had already caved in on them and blocked the single exit they use to access the mine.
"We were preparing to finish our shift before another group entered when the incident happened," he said.
The hours that followed turned into a battle for survival. His only goal was to get out safely and go home to see his family.
With time rapidly passing and his body beginning to grow weaker, he knew death was around the corner. But he held onto one thing: hope.
"I was praying and talking to my other colleagues optimistic that they would also get out," said Odhiambo.
Moments after the mine collapsed, Odhiambo managed to pull a long pipe they had been using to pump water out of the holes from the caves.
The pipe would turned out to be a blessing to him as he transformed it into a communication device and managed to contact rescuers outside through echo.
"Once I pulled the pipe, I was able to communicate with the rescuers who were outside," he said.
"I could also hear the excavator coming closer and would tell them when to stop," he added.
The pipe was used by authorities to pump air into the collapsed mine to keep the miners alive.
Yesterday, authorities were still relying on the pipe to pump air into the collapsed mine in an exercise they described as delicate.
"The place was hot but through the pipe, the rescuers managed to pump air and that is what saved me," he said.
By the time rescuers reached him shortly after Friday midnight, the body of his colleague had already been pulled out.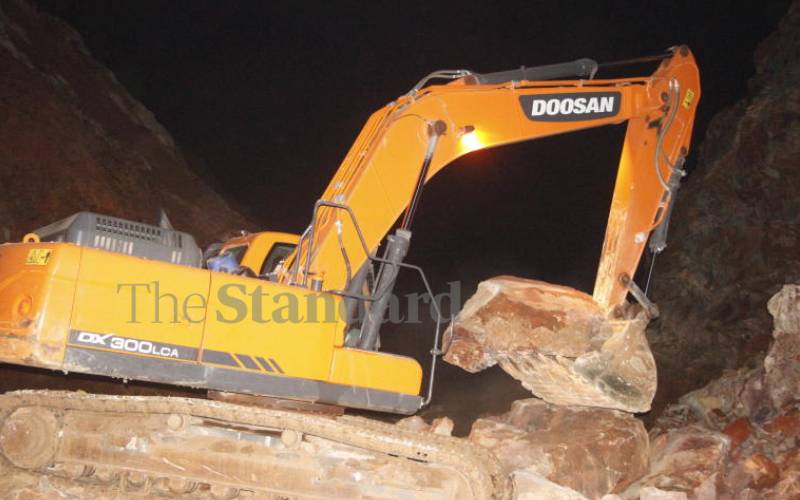 Odhiambo said he started the job about a month ago and has no intention to quit unless he finds an alternative. At his home, a crowd eagerly waited for him as they held prayers.
His mother, Esther Akumu, described his survival a miracle and said she had been unable to eat since the incident happened.
"I was optimistic that he would come out, I did not leave the place and only came home after he was rescued," said Akumu.
Yesterday, authorities were still racing against time to save other miners believed to still be trapped.
A family that lost two of their kin in a similar accident in the last three years were among those waiting eagerly to know the fate of their 20-year-old son, Kevin Onyango.
Onyango's family said he ventured into the trade less than five months ago. The incident only elicited fresh memories of the death of their uncle and brother in law in similar circumstances.
Witnesses said prior to the accident, the gold diggers had spent several hours inside the tiny hole digging and searching for the precious metal.
Area Deputy County Commissioner Richard Karani said they are optimistic they will rescue the workers.
He said an investigation would establish why the mine was operational after it was declared an illegal site.