Kenyatta: We'll create more room for persons living with disabilities
NATIONAL
By PSCU | December 3rd 2021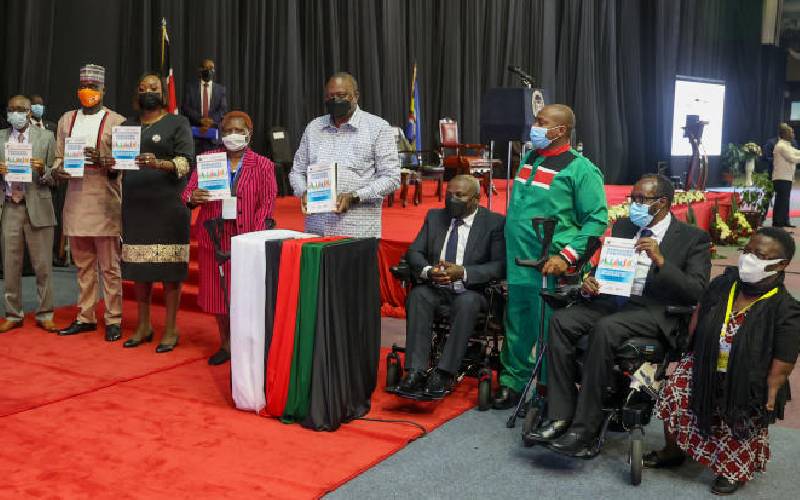 President Uhuru Kenyatta has pledged government support for Kenyans living with disabilities to participate fully in nation-building.
The president said his administration has increasingly been appointing persons living with disabilities to key positions in government as part of efforts to progressively boost their participation.
"I had the privilege as president to appoint two persons living with disabilities to our Court of Appeal... and many more across the length and breadth of our public service. I have appointed persons living with disabilities as principal secretaries, holders of constitutional offices, members of statutory commissions, and other senior positions in government," he said. The president, who on spoke yesterday at KICC in Nairobi where he led the country in marking this year's United Nations International Day of Persons with Disabilities, said people living with disabilities were increasingly taking up leading roles in many spheres of life including politics.
To ensure health rights of persons living with disabilities are safeguarded in the ongoing rollout of the universal health coverage programme, he directed the Health ministry to ensure rehabilitation services are part of the offering.
In addition, he tasked the ministries of health and education to grow the number of rehabilitation professionals in line with the ongoing decentralisation of services to all levels of the country's healthcare delivery system.
At the same time, he lauded Jomo Kenyatta University of Agriculture and Technology (JKUAT) for its comprehensive training programme for rehabilitation personnel, saying he was impressed by the growing number of students taking up courses at the institution.
He said the government, through JKUAT, had set aside 10 acres on which to set up Africa's first national centre of excellence in assistive technology.