Stop discriminating people living with disabilities, parents, guardians urged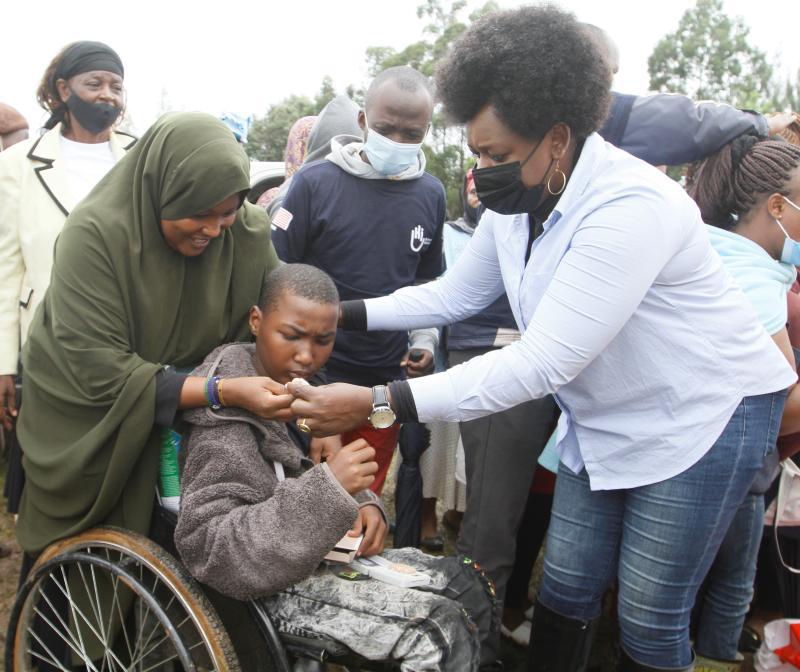 Parents and guardians have been urged to love and care for persons and children living with disabilities for them to live a fulfilling life.
''Parents and guardians kindly accept these children the way they are, love, embrace them and take care of them so that they can have reason to live well like other persons and stigma will end," said Sylvia Moraa Mochabo, Executive director of Andy Speaks For Special Needs Persons Africa.
Mochabo who is also Ms Africa Elite 2020-2022 said: "When you get a new born child with disabilities, accept them because it was God's plan that he or she is born like that.''
The calls were made at an event at Kasarani Primary School in Nairobi where the assessment and registration for National Council for Persons with Disabilities (NCPWD) disability cards was done.
The event, which was a partnership between Standard Group and Mochabo's organisation, was a precursor to the commemoration of the United Nations International Day of Persons with Disabilities that will be marked today.
Standard Group has always supported Andy Speaks in their various noble projects in the area of disability, especially in relation to children with special needs.
This year's theme is "Leadership and participation of persons with disabilities toward an inclusive, accessible and sustainable post-Covid-19 world.''
Ms Mochabo, who is also Queen of Africa 2022 and Ms Africa United Nation 2022-2022, said if parents and guardians embrace the children, neighbours will do the same.
She also called for the need to create awareness on invisible disabilities like autism, Attention Deficit Hyperactivity Disorder (ADHD), learning disabilities, epilepsy and mental health.
''We now need more awareness of these invisible disabilities, which is among the issues that what we champion for as an organisation. I am happy of this year's theme on inclusion since there are disabilities that are rarely talked about because most of them are neurological," said Mochabo.
She noted that there is also need to break the stereotype and stigma associated with such kind of disabilities.
At the event, people living with disabilities received various assistive devices and wheelchairs among other donations from various partners including Humanity & Inclusion and World Vision, who gave eight special wheelchairs for children with cerebral palsy.
Janet Ouko, Nairobi County Chief Executive for Education, Youth, Gender, Sports, Culture and Social Services said every disabled person should enjoy his or her human rights.
She raised alarm over the high number of people and children requiring diapers during the event.
''The numbers that have come here today requires diapers for adults and children is just worrying and that means there are high cases of cerebral palsy in the city,'' Ouko said.
Ouko said some 200 adults and 400 children in need of diapers were recorded yesterday alone, noting that the trend is worrying.
"I challenge health experts to look into that because there might be challenges of maybe at the point of delivery. On adults, it might be old people yet they have not been classified yet as people living with disability which maybe they get through accident or are just old,'' Ouko said.
Ms Ouko said the UN International Day of Persons with Disabilities celebrations will be held today at Kenyatta International Convention Center.
She also blamed the increasing persons living with disability and begging in the city streets and roads to be from Tanzania.
''For you to get support like the one we are giving today, you have to be registered with NCPWD and thus many are suffering on the streets with severe disabilities and neglected since they are not Kenyans and cannot register,'' said Ms Ouko.
She said these foreigners, some being used by human traffickers to collect money for them through begging that are painting a bad image to the Government that it's doing nothing to help persons living with disabilities which is not true.
The CEC said as the county they have done their part in and asked parents and guardians to bring the persons and children out to get encouragement and support that the County is giving.
Ms Ouko, who handed handed over 70 wheelchairs, 40 hearing aids, 60 white canes and 200 and 300 dozen of baby and adult diapers respectively, said they will c continue to lobby so that all buildings in Nairobi become disability friendly.
Kasarani Sub County Deputy County Commissioner Joseph Maina asked people living with disabilities to accept them themselves and visit government offices to know of existing opportunities like jobs and scholarships to improve their lives.