Former mayor Mwidani eulogised as great mentor, brave leader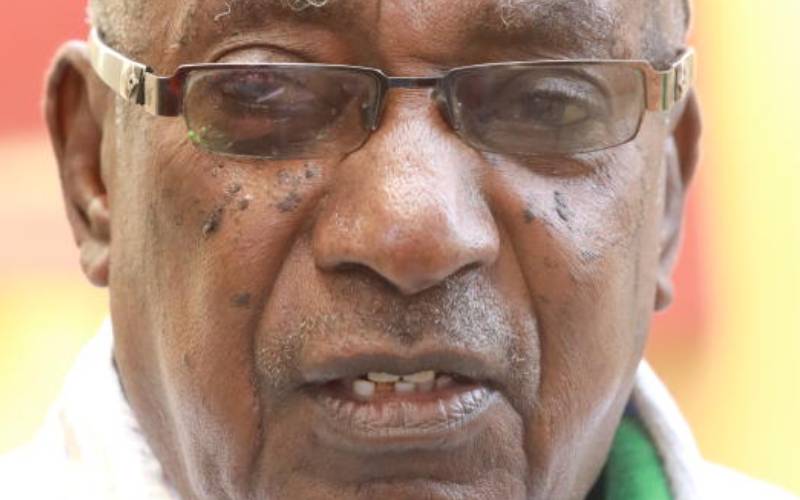 Former Mombasa Mayor Ahmed Shahame Mwidani is dead.
Mwidani who served as mayor between 1983 and 1997 died at the Pandya Memorial Hospital in Mombasa yesterday.
The former Port Reitz councillor who was mentored by former Cabinet Minister Shariff Nassir and who remained close to former President Daniel Moi's regime was eulogised as a leader who shaped and influenced Mombasa politics and touched the lives of many. Mwidani was buried at the Kikowani Muslim cemetery yesterday.
He voluntarily retired as mayor in 1997 and paved the way for then nominated councillor Najib Balala who took over in 1998 and quit in February 1999 following pressure from senior politicians including Mr Nassir.
Mwidani was credited for the employment of hundreds of residents and equitable distribution of resources as well as keeping city hall calm for more than a decade.
But critics blamed him for the bloated workforce at the Mombasa municipal council that forced his team to sell the Uhuru Gardens in the middle of the city to an influential businessman at Sh55 million to pay striking workers.
The businessman has since surrendered the public space to Governor Hassan Joho following public pressure and a push by government agencies.
Last month, former mayor Rajab Sumba told of how politicians led by the late Nassir and powerful businesspeople engineered his removal and his replacement with mayor Mwidani in 1983 after he differed with them over land reforms.
"I was branded as an ally of former attorney general Charles Njonjo who had differed with Moi's regime in the 1980s and councillors were mobilised to impeach me. I was replaced with mayor Mwidani," Sumba said.
Yesterday, Joho led residents in mourning mayor Mwidani describing him as a gallant son of the county.
"Mombasa mourns the loss of one of her gallant sons H.W Ahmed Shahame Mwidani who served as mayor in the defunct municipal council from 1983 to 1997. I extend my profound condolences and heartfelt sympathies to his family," Joho said.
Mvita MP Abdulswamad Nassir described the former mayor as a calm and visionary leader.
"I have today learnt of the death of Mzee Ahmed Shahame Mwidani who once served the great people of Mombasa as mayor. It is sad to have lost such a calm and wise leader who remains part of the history of a growing city. To his immediate family, I say pole sana (sorry)," Nassir said.
Changamwe MP Mr Omar Mwinyi said the former mayor shaped the politics and lives of residents over the long time he served.
"We are deeply saddened by the loss of former Mombasa Mayor Ahmed Shahame Mwidani. The former hardworking mayor shaped the politics and lives of Mombasa residents," Mwinyi said.
Mombasa businessman Mr Suleiman Shahbal said Mwidani was his advisor since he joined politics in 2013.
"Mayor Mwidani was my great advisor and supporter particularly in 2013 during my campaigns. His advice was invaluable to me. He also played a key role in leadership especially post- independent. He was a real gentleman and a man of the people," Shahbal said.