Prison boss, wardens and three re-captured convicts arraigned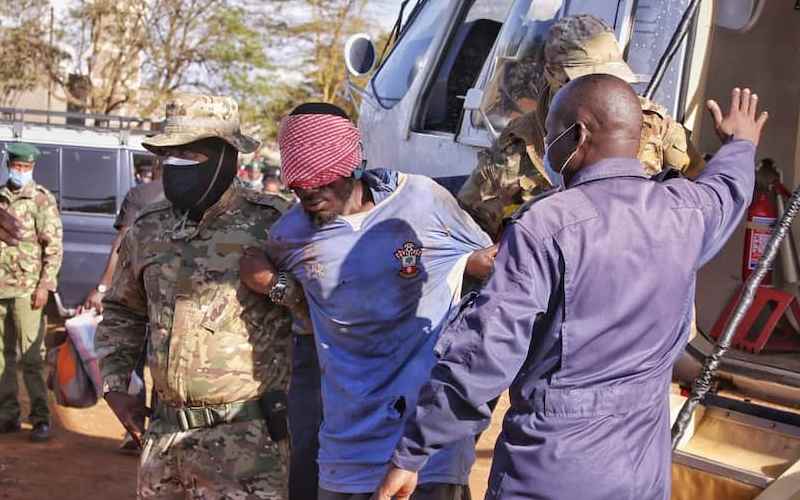 Kamiti Prison boss, Charles Mutembei, and 11 wardens accused of aiding the escape of three terror convicts have been freed on Sh300,000 and Sh200,000 cash bail, respectively.
Another suspect, who was not represented by the lawyer, was released on a Sh50, 000 bond.
On the other hand, the three convicted terrorists who escaped from Kamiti Maximum Prison were also charged with posing threat to national security and escaping from lawful custody.
The three escaped from the prison on November 14, 2021, before being re-arrested in Endau location, Kitui County.
The three were, Musharaf Abdalla, who was convicted of attempting to attack Parliament in 2012; Joseph Juma Odhiambo, who was arrested in 2019 at the border between Kenya and Somalia for planning to join the terror group al-Shabaab; and Mohamed Abdi Abikar, who was convicted for his role in al-Shabaab's attack on Garissa University in April 2015.
Their escape prompted President Uhuru Kenyatta to revoke the appointment of Wycliffe Ogallo as the Commissioner-General of the Kenya Prisons Service, following news of the escape.
A statement from State House noted that compelling public interest and the need to entrench accountability in the ranks of the leadership of all security organs occasioned the decision.
Officials who were on duty on the night of the escape were all arrested, investigations commenced.