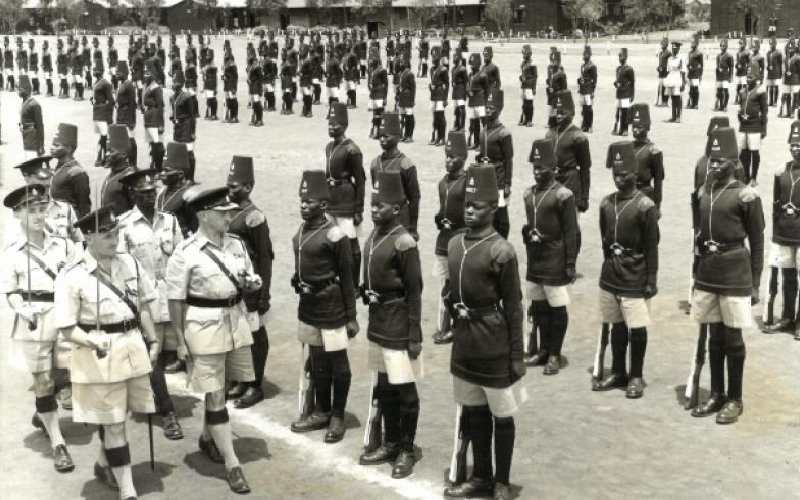 The National Police Service, which was started by Sir William McKinnon to protect his business interests, has grown in leaps and bounds.
Today as President Uhuru Kenyatta presides over the passing out parade at National Police Service College (Embakasi A Campus), it is worth revisiting the long journey of police training.
From a training depot 110 years ago, the police boasts of seven training facilities. They are National Police College (Kiganjo Campus), National Police College (Embakasi A Campus), National Police College (Embakasi B Campus), National Police Service Senior Staff College (Loresho Campus), National Service Staff College (Emali Campus), National Police Service College (Magadi Field Campus) and National Police Service College (Border Police Training Campus).
The small Training Depot in Nairobi was founded in 1911 before it was moved to Kiganjo in 1948 where a new training camp was established and renamed Kenya Police Training School. Initially the camp was occupied by Italian prisoners-of-war.
The first commandant of the college was Superintendent J A Sweeney who renovated the rudimentary buildings and surrounding grounds.
"The change of climate, atmosphere and location proved beneficial for the health of the African recruits, and there occurred no outbreaks of infectious diseases as had happened during previous years at the Nairobi Depot," wrote Lieutenant-Colonel H P Rice in The Kenya Police Review of June 1950.
Enjoying a waft of fresh air, the camp was not overcrowded as was the case at the Nairobi Training Depot. The training school had staff quarters, main ward and isolation wards.
Later on the Special Branch and Criminal Investigation Department was set up in Nairobi and a General Service Unit Training School at Nyeri. There was further introduction of Provincial Post-Training centres, which provided training to Africans at the grassroots.
Impressed by the progression of African policemen, Deputy Commissioner of Police S L Vincent showered praise on them, saying what they lacked in communicating in English, was compensated with other fine qualities.
"An aspect which, I think is of particular interest, is the way in which the African policeman has developed. When I joined the Force nearly 24 years ago, there were, I believe, only two African policemen capable of recording a statement in English and of making an entry a police station's record book," said Vincent in one of his addresses.