Ethiopia conflict threat to regional security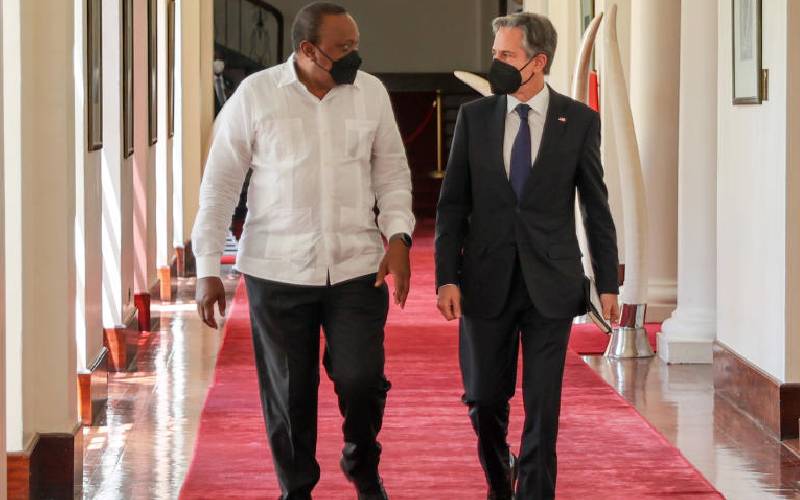 President Uhuru Kenyatta and visiting United States Secretary of State Antony Blinken have called for a diplomatic solution to the year-long conflict in Ethiopia.
Blinken, who yesterday began a three-country tour in Africa, together with President Kenyatta collectively called for an end to the war between the Ethiopian Defence Forces and the Tigray People's Liberation Front (TPLF).
The visit came on the back of President Kenyatta's October meeting with US president Joe Biden at the White House and built on the discussions about Covid-19, climate change, and regional peace and security.
Blinken said they discussed Covid-19, clean energy, and also advancing peace and security.
At a press conference later with Foreign Affairs Cabinet Secretary Raychelle Omamo, Blinken applauded Kenya for its leadership in a region witnessing strife in Ethiopia, Sudan and Somalia.
The US is urging its citizens to evacuate from Ethiopia and has scaled back activities at its embassy in Addis Ababa.
Blinken said that the US was concerned about the escalating violence which was now expanding throughout the country.
"Our special envoy is working with (Olusegun) Obasanjo to press the parties to end hostilities immediately and without preconditions, to stop the human rights abuses and violations, to provide humanitarian access to the millions in northern Ethiopia, who are in dire need of life-saving supplies," he said.
The immediate concern, he said, was the safety and security of American citizens.
"My strong hope and conviction is we will help move things back to a place where it will be very safe for them to return. But the responsible, prudent and necessary thing to do is to make sure that we are looking out for our citizens," said Blinken.
The US official, the highest-ranking to visit Africa since Biden took office, stopped short of labelling the conflict in Ethiopia as genocide and insisting that the US would ensure there was accountability.
"We have seen and continue to see atrocities being committed; people suffering and regardless of what we call it, it needs to stop and there needs to be accountability," said Blinken.
Omamo said Kenya believed in the potential of Ethiopia to find a resolution to this crisis.
"We believe that a ceasefire is possible. We believe that the other conditions regarding humanitarian access are possible. We must believe in the fortitude and the wisdom of the Ethiopian people because, in the end, these solutions will come from them," she said.
Omamo insisted on continued collaboration to fight terrorism, referring to attacks in London and Kampala as reasons why sharing of intelligence was necessary.
"Even as we condemn the attack in Kampala, we must remember that a few days before there was an attack in the United Kingdom of a similar kind. What it tells us is that terrorism is a problem for all of us. And the requirement is one of constant vigilance by all," said Omamo.
Blinken said the twin blasts in Kampala "was a painful reminder of how vital it is that we continue to work together to improve security throughout East Africa".
"We're grateful to Kenya for being our security partner. Our country's consults frequently in critical situations throughout the region."
The US official further commended Kenya for its contribution to Amisom.
"It's vital that Somali leaders complete the national elections process as soon as possible and focus again on combating al Shabaab and bringing greater stability to the region and to the country," he added.
On Sudan, Blinken said, the US-backed the Sudanese people's call to restore Sudan's democratic transition and Prime Minister Abdalla Hamdok.
"Prime Minister Hamdok is a source of legitimacy. And it's vital that the transition regains the legitimacy that it had before the civilian-led effort was derailed.
"If the military puts this train back on its tracks, and does what's necessary, I think the support has been very strong and the international community can resume that support," said Blinken.