Mboya's body was sneaked through Nakuru town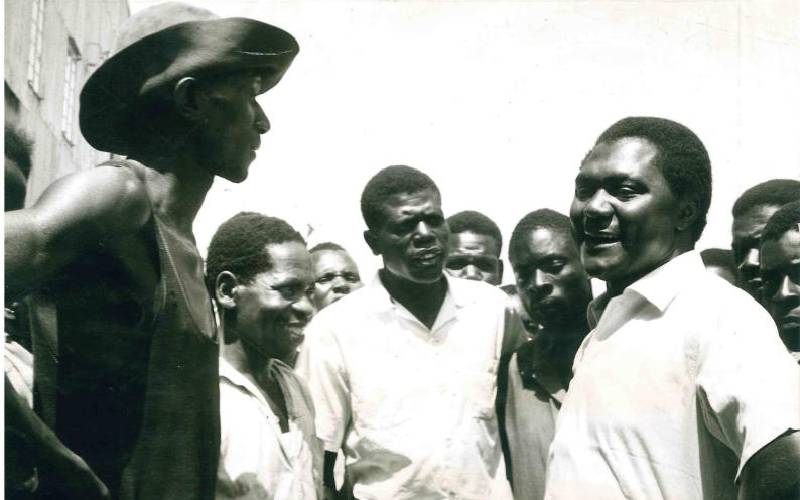 Security agents in Nakuru had to devise a plan of sneaking Tom Mboya's body through the town on the way for its burial in Rusinga Island, Homa Bay.
This followed intelligence reports that riots were likely to erupt if the funeral convoy used Kenyatta Avenue where mourners and Mboya's supporters lined up.
Mboya was shot dead on July 5, 1969, as he stepped out of a pharmacy along the Government Road, currently known as Moi Avenue.
Mboya, 38, was the Economic Planning minister.
Riots that later spread to other towns, broke out in Nairobi following his assassination by a lone gunman.
His body had to be sneaked through a different route to his home for burial, as crowds waited for the convoy along Kenyatta Avenue.
The change of route was to avert skirmishes due to heightened tension between members of the Kikuyu and Luo communities, according to retired intelligence boss Bart Joseph Kibati.
Acting on intelligence reports, the District Security Committee decided that the convoy goes through Geoffrey Kamau Road. The plot worked.
But when word leaked that Mboya's body was kilometres past Nakuru, some of the surging crowds along Kenyatta Avenue grew more anxious, but police were already in control.
Days ahead of the burial, tension had been palpable in Nakuru. The situation threatened to get out of control when the Nakuru Ex-Freedom Fighters Organisation (Ndeffo) joined the fray.
"Kimunya Kamana, the leader of Ndeffo made things worse with his warlike stance, and the tension almost erupted into a full-fledged tribal war," says Kibati in his book Memoirs of a Kenyan Spymaster.
According to Kibati, the Luo hurled stones while the Kikuyu retaliated using machetes and other crude weapons.
So dicey was the situation that security agents barely rested. Kibati would arrive home past midnight. With burial dates approaching, rumours started spreading that leaders from the Luhya and Kalenjin communities had also been assassinated.
A monument in honour of Mboya stands a few metres from where he was murdered.