We know officers are privately hired to settle personal feuds, Matiang'i says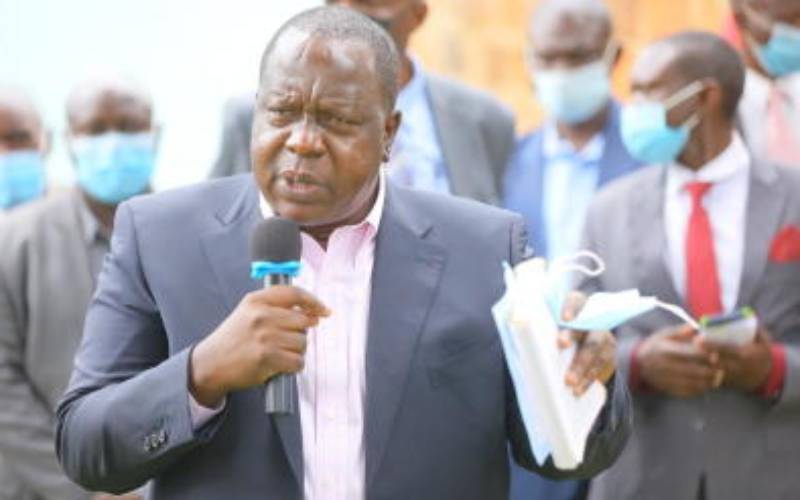 Interior Cabinet Secretary Dr Fred Matiang'i has issued a stern warning against rogue police officers involved in extra-judicial killings, where he revealed that there were cases where police officers are contracted to kill civilians.
This comes amid allegations by Human Rights groups that about 146 killings and 34 disappearances had been masterminded by law enforcers this year alone.
In a statement dated November 16, Dr Matiang'i says that the government was aware of officers who were privately hired as hitmen to settle personal feuds, promising to take action against the culprits whom he says, are just a handful.
"The acts of a few officers should not be allowed to tarnish the reputation of an entire force. We will keep on ridding the service for rogue elements to set examples and to remind everyone that it is a civilian government that does not believe in killing its own citizens," his statement read in part.
After an afternoon meeting with the Human Rights Groups, Matiang'i invited Muslim leaders to a meeting with various government security agencies to discuss the alleged forced disappearance and extra-judicial killings of terror suspects.
He says the meeting will also focus on reviewing the alleged involvement of state agencies in the increased disappearances and killings as well as discussing counter-terrorism measures.
"We will sit down and agree on where the truth lies. We want people to put out information on what they know because this constant blame on the police and other state agents should come to an end. It will be an open, absolutely candid process," Matiang'i added.
The meeting will bring together the National Police Service, National Counter-Terrorism Centre and Independent Policing Oversight Authority (IPOA) and National Cohesion and Integration Commission (NCIC), Supreme Council of Kenya Muslims (SUPKEM), National Muslim Leaders Forum (NAMLEF), Haki Africa together with the Law Society of Kenya.