Supplies' regulator defends members at Kemsa, power firm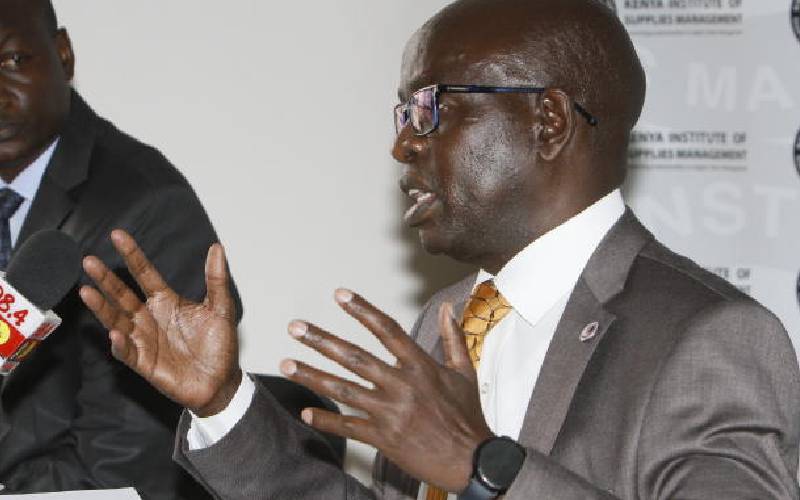 Kenya Institute of Supplies Management (KISM) has defended its members who have been sent home by the Kenya Medical Supplies Authority (Kemsa).
KISM also raised concerns over some 59 employees who were suspended by Kenya Power.
Yesterday, KISM chairman John Karani said 100 of their members are among those who have been affected; and petitioned Kemsa board to engage all stakeholders.
"As the umbrella body for supplies practitioners with statutory powers, KISM welcomes efforts to transform Kemsa into an effective public body," stated Karani
He added, "We are the regulators of supply chain management practitioners and are at hand to provide the necessary technical support towards transforming Kemsa."
As the regulator of supply chain management profession in Kenya, Karani said all the staff sent home from the warehouse and the procurement departments are their members.
For this reason, the chairman said the institute ought to be involved in decisions and investigations involving their members with a view of subjecting them to internal disciplinary mechanisms, where applicable.
"We would also like to know the criteria used to decide who leaves and who remains at the Institution and advocate for a systematic, structured, transparent and equitable process" he explained
KISM said it would be important to ensure rigorous efforts on building capacity and capability to implement these reforms, at the staff and board levels.
"The council is ready to offer any support to this end, taking cognizance of the critical role of supply chain management in achieving Universal Health Coverage" stated Karani
On suspended Kenya Power staff, council member Moses Omondi said the council was shocked by the announcement released jointly by the Kenya Power chairman and board of directors on the suspension of 59 Supply Chain Management staff.
Otieno reiterated that KISM supports recommendations to clean up the rot at the power company but condemns deliberate effort to profile, castigate and unfairly target their members.