School fires: Who will stop this madness?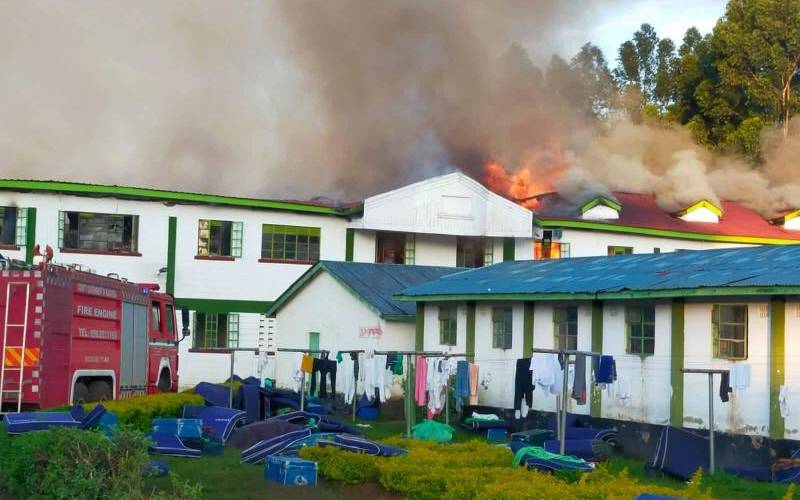 Any student found guilty of burning or planning to burn their school will not be able to transfer to another institution, Education Cabinet Secretary George Magoha has warned.
The directive comes as several schools are counting losses from recent fires.
"Surely you cannot be more intelligent than us. Anybody who is planning to burn buildings, remember that once you are caught, you will not be admitted to any other school, definitely not a public school in this country," said Prof Magoha yesterday.
The CS spoke at Machakos School where he commissioned a new tuition bloc after assessing the institution's infrastructure development.
More than 20 dormitories in various schools have been burnt within one month, with security agencies working to unravel the mystery behind the fires that have seen a teacher accused in one of the incidents.
Some leaders and stakeholders have blamed the unrest in secondary school on the Ministry of Education, the Judiciary, parents and teachers.
On Monday, Prof Magoha warned students who engage in any form of destruction of school property that severe disciplinary measures will be taken against them.
"What is all this nonsense that students were in a prep room and fire broke out in a dormitory? It is stupid and primitive and must stop. Do not think that you are going to force us to close schools. We are not closing any schools, and examinations shall proceed as scheduled," he said.
The CS blamed the escalating cases of unrest and indiscipline on poor upbringing at the family level, exonerating the teachers and school managers from the blame.
"Discipline starts from the family, and it is a fact that quite a number of our families have failed us. It looks mundane and juvenile for somebody in high school to burn a building. What has a building done to you?" he posed.
Magoha dismissed claims that the escalating cases of students' unrest were fuelled by Covid-19 related stress.
"That is not true. The statistics show otherwise. Starting from 2016, there were 239 episodes of arson mainly by students," he said.
Kenya Secondary School Heads Association (KESSHA) Chairman Kahi Indimuli, who is also the senior principal of Machakos School, called for a review of the Education Act to confer powers to school boards of management and county education boards to deal with indiscipline cases in public schools.
Students returned to school on October 11 after a one-week holiday, and some of them have already been sent back home after the fires.
Leaders in Kakamega County, where several schools have been affected, said courts should not be lenient on naughty learners.
"Students found guilty of torching schools should be jailed for up to 60 years to serve as an example to their colleagues intending to commit similar criminal acts," said Kakamega Governor Wycliffe Oparanya.
According to Oparanya, a jail term could serve as a deterrent measure.
He said the Ministry of Education ought to consider abolishing boarding schools as earlier recommended by former Kenya National Union of Teachers (Knut) Secretary General Wilson Sossion and other players in the education sector.
"We should ask ourselves whether boarding schools are necessary," said the governor.
Address indiscipline cases
Kakamega Woman Representative Elsie Muhanda echoed the sentiments, saying harsh penalties would serve naughty learners right.
She urged parents to take their roles seriously by advising their children regularly to help address indiscipline cases.
Kakamega Deputy Governor Philip Kutima said students who burn schools punish their parents.
Prof Kutima, a former university lecturer, said burning schools interrupt the learning calendar at the expense of students who waste time at home.
Migori Woman Representative Pamela Odhiambo called for dialogue among education stakeholders to discuss the unrest.
"Teachers, BOM and parents have taken years to build these schools, and it saddens to see these very institutions that I once passed through being burnt," said Dr Odhiambo.
So far, police have arrested at least 40 students countrywide, following school unrest.
Kakamega Police Commander Hassan Barua said at least 16 students linked to the fire in Kakamega High School had been arrested.
In Sigalame Boys High School, police had arrested eight students and are pursuing a teacher suspected to have incited them to torch the school.
Maranda High School in Bondo, Siaya County, which joined the list on Sunday evening was closed indefinitely yesterday.
[Erastus Mulwa, Jackline Inyanji, Isaiah Gwengi, James Omoro and Robert Amalemba]