Uhuru Kenyatta asks for an increase of climate financing at COP26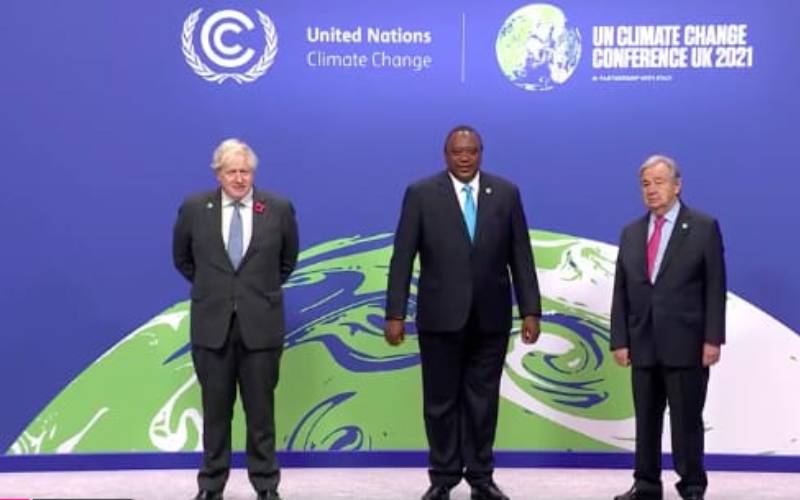 Speaking at the 26th Conference of Parties (COP26) in Glasgow, President Uhuru Kenyatta has called for an increase of ambition by member states to end carbon emissions as well as an increase in climate financing.
"Kenya has high expectations at the COP26 meeting to see a quantum increase in climate financing. Two times in a row developing countries have been promised USD100 billion per year but this is yet to be delivered."
President Uhuru has also called for adaptation and provisions to help the vulnerable adapt to climate change.
"Increase in financial support should be strengthened. we expect the Paris agreement to be finalised and it should be inclusive to accommodate the needs and priorities for developing countries."
The summit has started on a high note with global leaders warning that failure to upscale measures to reduce carbon emissions will further create hostile environments for generations to come.
Kenyan environment advocate Elizabeth Wathuti has pleaded with the global leaders to make decisions over the next two weeks that will create room for the survival of life in the next decades.
"Through the green generation initiative, we have planted 30,000 fruit trees. However, these trees will not survive on a 2.7 degrees' Celsius planet," Wathuti notes.
She further emphasizes that, "I have seen with my own eyes, three young children crying at the side of a dried-up river after walking 12 miles with their mother to find water."
During his opening remarks, the prime minister of the United Kingdom Borris Johnson warned that a rise in temperature degrees on the planet could jeopardize the food supply for hundreds of millions of people, enhance locusts swarm, and lead to the withering of crops.
"Three degrees, and you can add more wildfires and cyclones, twice as many. Five times as many droughts, and 36 times as many heatwaves. Four degrees and we say goodbye to whole cities, Miami, Alexandria, Shanghai, all lost beneath the waves," he said.
According to Antonio Guterres the UN secretary-general, the last 6 years have been the hottest years on earth.
The UN Chief has also announced that a group of experts will be convened to standardize the meanings and metrics for measuring carbon emissions as the data provided has been inconsistent.
"Enough of killing ourselves with carbon. Enough of treating nature as a toilet. Enough of burning and drilling and mining our way deeper. We are digging our graves," said Gutteres.
In his remarks, President Joe Biden says that this is a decisive decade for countries to prove the goal of limiting global warming to just 1.5 degrees Celsius.
"There is only a brief window left before us to raise our ambitions, and to raise to meet the task that's rapidly narrowing."?
Don't give Mungiki space
Members of the public must therefore play an active role in taming Mungiki by reporting them to the police.