Allen Gichuhi: I was not consulted before appointment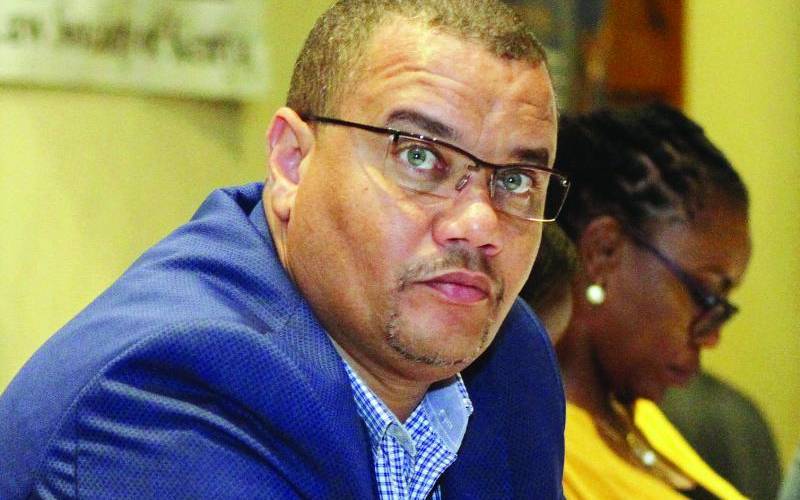 In a rare act of courage, ex-Law Society of Kenya President Allen Gichuhi turned down a parastatal appointment and officially wrote to the appointing authority setting out the reasons and demanding his de-gazettement.
Gichuhi had been appointed the chairman of the Industrial Property Tribunal by trade CS Betty Maina effective October 6.
However, six days later, Gichuhi wrote a letter to the CS declining the appointment while also raising a number of issues, among them the failure to consult him about the appointment.
Gichuhi is a senior partner at Wamae & Allen Advocates, an upmarket firm that describes itself on its website as "a premium full-service law firm." He is the immediate former President of LSK, the 48th who served between 2018 and 2020. He was succeeded by the current President Nelson Havi.
"I am not aware of any open, fair and competitive recruitment process leading to my appointment," Gichuhi said, alluding to a May High Court decision that quashed executive's 129 parastatal appointments for want of competitive recruitment.
In the High Court decision, Justices Jessie Lesit, Chacha Mwita and Lucy Njuguna said the appointments were illegal as they lacked transparency and competitiveness. They said the appointments were contrary to Article 232 of the Constitution on the values and principles of public service.
"The requirements made in the Constitution (Article 232) was after views of Kenyans were collected during the constitution-making of the Constitution 2010. People of Kenya wanted to see transparent appointments and officers capable of guiding public wealth, not political patronage," said the judges.
Long before Gichuhi, former Chief Justice- also a former LSK boss- Dr. Willy Mutunga rejected former President Mwai Kibaki's appointment to a university council. At the time, Mutunga claimed Kibaki did not consult him.
In his rejection of the appointment, Gichuhi also cited a potential conflict of interest arising from his practice as a lawyer. He also said he was busy and heavy laden with arbitral practice and pursuit of further studies and personal commitments.
"Being a senior partner in a busy law firm, my appointment would cause a conflict of interest in line with different matters my firm handles. This may give rise to a dispute before the Tribunal," he explained in the two-page letter.
Gichuhi would also not understand why he was being appointed in a position where the current chair was serving a term ending July 2022. He did not give the CS a choice:
"I would really appreciate if my appointment is de-gazetted forthwith and another person appointed in my place," he concluded his letter.
On Friday, October 29, Gichuhi's three-year appointment was reversed and the same gazetted. The same fate befell Weda Isoe, who had been named to chair the Competition Tribunal less than a month ago. However, the reason for the revocation of his appointment was not stated.
The latest changes saw Kenya Ports Authority board member Delilah Ngala being moved to the Kenya Fishing Industries Corporation where she will serve alongside Johnson Kazungu, Lumumba Oyua and Kanainza Daisy Nyongesa for three years.
Sara Bonaya, a widow of former Foreign Affairs Minister Bonaya Godana, has been appointed chairperson of the Kenyatta International Convention Centre.
Jackson Kimuri was also appointed as a director of the National Housing Corporation while Ann Wetangula was named as a board member of the Sacco Societies Regulatory Authority.
Anne Owuor, Isaac Mbingi Okello, Marion Mutugi and Peter Mweleli were named to the Board of Trustees of the National Social Security Fund.
Peter Leitoro, Jane W. Njuguna, Joel K. Laigong, Peter 0. Wandera, and Jaswant Singh Rai were appointed to be members of the Kenya Forest Service, for a period of three years.
Vincent Marube, Silvana Kaparo, and Florence M. Hegarty join the Kenya Leather Development Council.