Report: Kenyans have no access to clean water and sanitation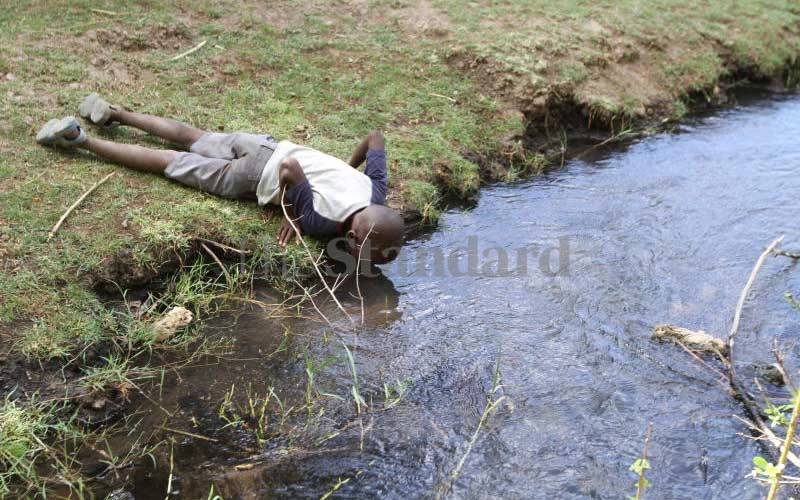 Kenyans are struggling to access clean drinking water and sanitation, according to an annual performance report on water and sanitation released by civil society organisations (CSOs) last week.
The report shows that only 59 per cent of Kenyans have access to basic drinking water and 30 per cent have access to basic sanitation.
Since 2000, access to safe drinking water has increased by 12 per cent, while access to basic sanitation has fallen by five per cent.
The report indicates that total investments in the water sector amounted to Sh11.4 billion in the financial year 2019/2020, representing an increase of 1.7 per cent, from the previous financial year.
"In the financial year 2019/2020, a total of 27.7 million beneficiaries were reached by Civil Society Organisations (CSOs). The beneficiaries were mainly women and girls," the report states.
The report recognises that Kenya has made major strides in the expansion of water-related infrastructure, due to the State and private investment in the provision of water to mitigate the effects of the Covid-19 pandemic.
Some 16.66 million women and girls benefited from these interventions, representing 60 per cent of the total project beneficiaries.
"The gender focus is similar to the situation in the financial year 2018/19 when 57 per cent of the beneficiaries reached by CSOs were female," says the report.
The report indicates that ensuring water and basic sanitation is accessible to all by 2030, requires a substantial increase in budgetary allocation estimated at Sh1.7 trillion.
"The estimated annual cost for Kenya to achieve universal access to water and sanitation is Sh100 billion, yet only about Sh40 billion annually was available as of 2018, leaving a total shortfall for achieving Kenya's 2030 goal of Sh600 billion," reads the report.
Kenya Water and Sanitation Civil Society Network CEO Malesi Shivaji said they are committed to ensuring accountability and contributing to good governance in the water sector.
"We think it will be important to ensure that such an investment is integrated just beyond numbers," said Shivaji.
Senior Programme Manager for Environment at the Swedish Embassy, Lisa Anderson, said Covid-19 has emphasised the importance of access to water and sanitation.
Anderson said the pandemic has accentuated the importance of Water Sanitation and Hygiene (WASH) and Water Resource Management (WRM) as a disease prevention and control investment.
"CSOs have proven to be effective actors in holding policymakers and government accountable for progress through evidence-based advocacy and lobbying for increased budget allocation and ensuring the same is invested in an equitable manner," said Anderson.
The report indicates the water sector as one prone to corruption and mismanagement and that CSOs have amplified the voice of marginalised groups, which suffer disproportionately from the effects of water and sanitation-related poverty.
Water Services Regulatory Board Director for Monitoring and Enforcement Richard Cheruiyot said access to water services needs to be improved.
"Safe drinking water and sanitation is a basic human right, whose fulfilment requires that the services be available, physically accessible, equitably affordable, safe and culturally acceptable," said Cheruiyot.
Water Services Trust Fund CEO Ismail Shaiye said the government must embrace civil society partnerships.
The report noted that while Kenya has done well in terms of establishing supportive legal and policy frameworks to facilitate development in WASH and WRM sectors, making water and basic sanitation available to all by 2030 requires a substantial increase in budgetary resources.
The report says globally, three out of 10 people do not have access to safe drinking water. "Almost half of the people drinking water from unprotected sources live in Sub-Saharan Africa. Six out of 10 people do not have access to safely managed sanitation services, and one out of nine practice open defecation," it reads.
According to Unicef estimates, 9.9 million people drink directly from contaminated surface water sources and an estimated five million people practise open defecation.
Further, only 25 per cent have access to handwashing facilities with soap and water at home.