'Witch burning' is a crime and has nothing to do with culture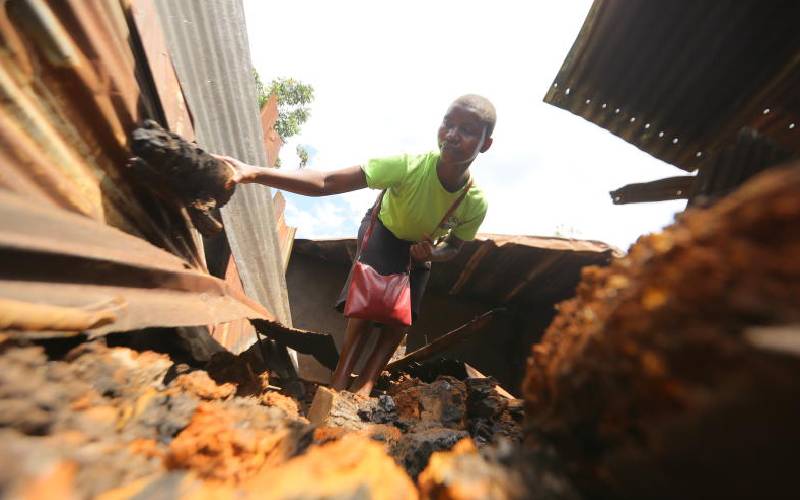 One of the four victims of the October 17 attacks in Kisii targeting suspected witches had buried her husband two weeks before she met her death at the hands of a blood-thirsty mob.
The four had been labelled witches and it was a matter of time before a "victim" of their witchcraft was identified for them to be lynched.
The killing of old women, and in some cases old men in Gusiiland, has led to social stigma, and a repeat of heinous acts against the surviving family members.
Authorities, the church and the civil society argue that the practice of "witch burning" has slowed economic growth due to destruction of property, forced migration from rural to urban areas, homelessness and conflicts among community members.
Further, witchcraft accusations continue to affect the welfare, health, life, and dignity of old people, particularly women.
Unlike in other murder cases, majority of leaders from the region have refused to courageously speak out against the lynchings.
In the recent cases, only Kisii Deputy Governor Joash Maangi and Kitutu Chache MP Jimmy Angwenyi openly addressed the media on the killings.
"It is unfortunate that we are killing our elders on mere suspicion of one being a witch.
"This is a primitive way of handling conflicts. Perpetrators must be held accountable for their actions," said Maangi.
Ruth Manoti, Director of Seeds of Hope Human Rights Group argues that, normally the lynching is well coordinated by a certain group of young men.
"Eventually, it leads to the stigmatisation of the family of the "witch" and forcible removal of the families from their ancestral land.
"The accusers then get the opportunity to appropriate themselves off the land," she said.
Condemn such attacks
Manoti argues that the heinous attacks are never a case of eliminating the 'witches' but a continuation of gender-based violence that is rampant in Kisii.
"The sick in the community are coached to label older members of the community as witches," Manoti said.
"This is the same community that still believes that cancer patients, people living with HIV and Aids and epileptic patients are victims of witchcraft."
She says the church and political leaders must stand firm and condemn such acts. "We successfully fought FGM, we will not relent on this. This is a criminal enterprise," Manoti said.
According to Manoti, the Kenya Human Rights Commission, the National Land Commission and National Gender and Equality Commission should work together to ensure the realisation of girls' and women's land and property rights through legitimate succession and inheritance processes; as stipulated in the Constitution.
KHRC says the government should ratify and implement the AU Protocol to the African Charter on Human and Peoples' Rights on the Rights of Older Persons in Africa that clearly provide for the protection of the property, land and inheritance rights of old women.
This Protocol in Article 8, prohibits abuse from harmful traditional practices and specifically calls on governments to take measures to eliminate harmful traditional practices.
Statistics from KNCHR indicate that about six people in Gusii region face violence every month on suspicion of being witches.
"An analysis of most of the "witch" burning cases shows a linkage between these horrendous acts and resource conflicts in the social, political, and economic arena.
"Most of the victims are widows whose accusers are relatives from the families of their deceased husbands." the commission says.
It adds that witchcraft accusations against widows are traceable to land scarcity, greed, selfishness, and misogyny.
"Even where there was no conflict when the husbands were alive, the accusations arise immediately upon the death of the men, with families ganging up against the widows and accusing them of witchcraft.
"The accusers are emboldened by the community attitude and social stigma associated with witchcraft," Manoti said.
The killings which target widows, the commission says, are also a symptom of deeper patriarchal beliefs by some people in the Gusii community that girls and women should not inherit or own land and other property.
Inherit land
"The broader question of girls' and women's right to inherit land and other property from their parents cannot be ignored within the context of widow killings," Manoti said.
"While most women in Gusii land gain access to land through marriage, some community members who believe that women do not deserve to own property resort to dispossessing them by killing them."
Wilkins Ochoki, the president of Law Society of Kenya South Nyanza branch said victims of the attacks ought to get justice.
"We have the Witchcraft Act but this was a pure case of murder. Witnesses should be taken for witness protection because the problem is bigger than we are seeing," he said.
Ochoki says such killings should be treated as a criminal offence under the Criminal Procedure Code and Penal Code.
"Even if they were witches, they should have been arrested and punished accordingly as per the law and not as we saw them being treated by people who burnt property."
Mwagichana chief Simon Omwenga said the law must take its course.
"We will ensure that all other suspects are arrested. The victims families will be protected. Those who imagine that they have disposed of this land will be in for a rude shock," Omwenga said.
"We can't have a community that lives on superstition. Unfortunately, the majority of our families here are living on ancestral land and without title deeds. Much as we have tried to sensitise the community, still most families have never initiated succession processes."
Gospel Embassy Church pastor Thomas Morwabe said the killings are not a tradition or cultural practice but criminal acts.
"This is greed held in patriarchal nature in the community. Let us give our women the dignity that they deserve," Morwabe said.
Kenya Female Advisory Organisation representative Achieng Oketch says women rights to land and right to life must be upheld.
"No one should be denied the right to the spaces they live in. Let us give our elderly women a humble life.
"Their social and economic rights should be protected by all and sundry," Oketch said.