Lawyer Miguna says he botched plans to assassinate him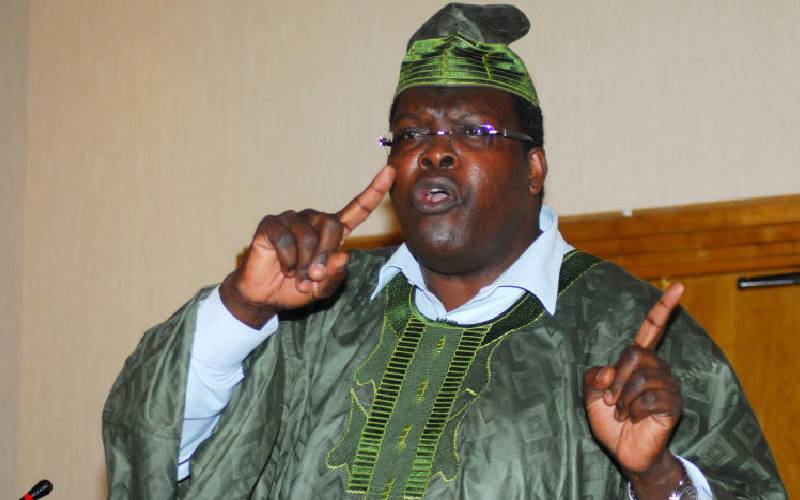 Lawyer Miguna Miguna (pictured) has narrated what happened when his home was bombed in Nairobi before he was hounded out of the country.
The lawyer took an active part in the swearing-in of the now-defunct National Super Alliance (NASA) coalition leader Raila on January 30, 2018, and later on asked NASA supporters to pull down portraits of President Uhuru Kenyatta.
Miguna was unlawfully deported in February 2018 in the aftermath of the mock swearing-in of Raila as "the People's President."
Speaking on KTN News on Wednesday night, the lawyer who lives in Canada said those behind the plan to bomb his house wanted to kill him.
"Their first option when they bombed my house was to kidnap and kill me. Once they failed because I had been forewarned, they detained and cooked up deportation [claims]," he said.
Miguna, who has been away since February 6, 2018, said in law one cannot deport somebody born in that country.
He said he has been in Kenya since he was born and went to school for most of his education in Kenya.
Miguna said people claiming to be police officers wearing civilian clothing bombed and destroyed his house and that he was detained for six days before being taken to court.
The Canada-based lawyer added that the government refused to obey the law and have him charged, and instead he was forced out of the country.
He said his rights were violated when he was taken out of the country even though the court ruled that he still has Kenyan citizenship.
Miguna said he has never renounced his citizenship.
"We have a rogue government that does things outside the law."
He added that on 15 different occasions, the court has said he should be allowed back into the country but the government has objected to it.
"Fear can make you do things that are malicious and irrational. The government is acting on fear," he added.
"Why were Tom Mboya, Dedan Kimathi, and Robert Ouko, killed? Because of fear."
Meanwhile, former Chief Justice Willy Mutunga has announced his plans to travel next month to Toronto to secure the safe return of lawyer-turned-politician Miguna.
Mutunga made it explicitly clear that his intervention is meant to defend the independence of the Judiciary, in light of flagrant breaches of the law by the State.
Multiple courts have ruled that the government must facilitate Miguna's safe passage to Kenya and issue a valid passport.
Miguna said Mutunga is undertaking the journey to defend the Judiciary and the people's confidence in it.
But if Mutunga and Miguna try to re-enter the country, the same hurdles that were in Miguna's way the previous time are bound to stop him yet again.
But a confident Miguna says the former CJ is an advocate with more than 50 years' experience, a human rights activist, a political activist, and a former detainee who has gone through what he [Miguna] has gone through.
"The former CJ is not like any other person."
He said the Judiciary is the only pillar in the country defending the Constitution as all other organs have collapsed.
Miguna said some of the people still holding public offices have been declared unfit by the court yet no action has been taken.
"Fortunately for the country, some of us have decided it doesn't matter if we die in the process. What matters is the rule of law and obeying court orders. We are ready to do anything possible for that to happen."
Questioned on what would happen if they are blocked at the airport, Miguna said, "It is better to die on your feet than to live on your knees. I would die on my feet fighting for social justice".