Malawian President pays tribute to shared history with Kenya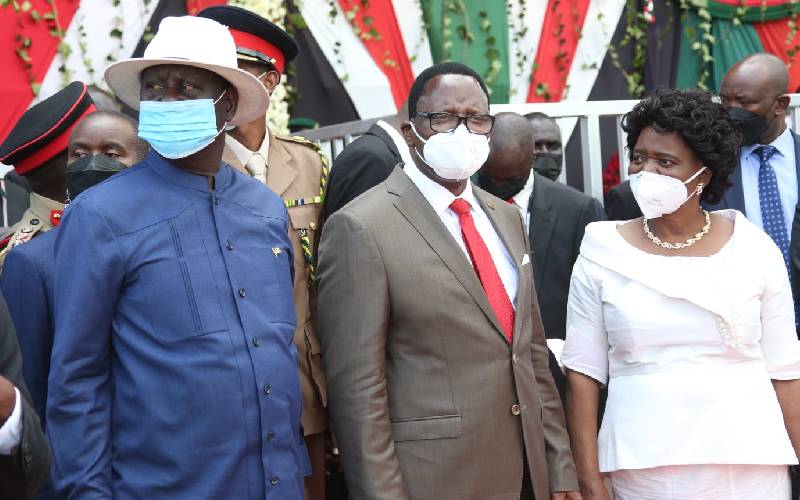 Malawian President Lazurus Chakwera has described celebrating Mashujaa Day as an ideal way to share a history of both nations that have a great deal in common.
Speaking during the Mashujaa Day celebrations at Wanguru Stadium in Kirinyaga County where he was the key guest, he said the struggle for independence took place symbiotically in Kenya and Malawi.
President Chakwera who was accompanied by his wife Monica described both nations as friends whose struggle for independence as a one of the things that unite the two nations.
"Kenya's joy is Malawi's joy, the struggle for independence in our countries was a fight against the same foreign oppressor, a battle fought in the same decade," he said.
He drew similarities from the two countries' history and the ways they had a lot of common milestones in their journey to independence.
From the struggle for independence, the swearing-in the first African liberators and the cordial relationship between the founding father Hastings Banda of Malawi became first Malawian Prime Minister and Kenya's President Jomo Kenyatta also took up office six months apart.
"It is no accident that the cities in Malawi have at least one road named after the first Kenyan President Mzee Kenyatta and the heroes that are celebrated in Kenya are also recognised in Malawi," he said.
Chakawera said the celebrations would renew their brotherhood, love and friendship between the two countries.
"By celebrating this day together, we reignite the solidarity created by our founding fathers," he noted.
Chakwera spoke of a future of shared prosperity, opportunities and victories.
"Shared heroes, past, present and future, it is we Kenyans and Malawians who must pursue that future of peace and transformation and genuine love," he opined.