MPs vet President Uhuru's EACC nominees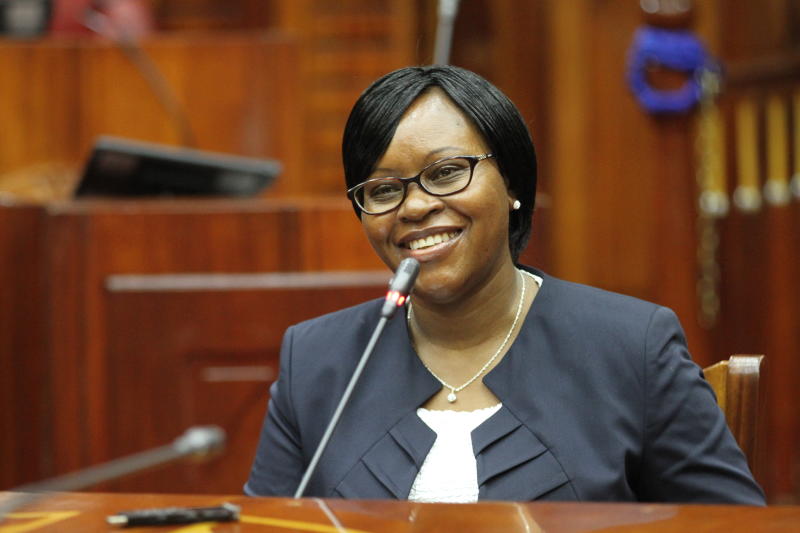 President Uhuru Kenyatta's nominees to the anti-graft agency were yesterday taken to task by Members of the National Assembly on their suitability to give policy direction.
Appearing before the Justice and Legal Affairs Committee, the nominees Col (Rtd) Alfred Musimba and Dr Monica Wanjiru Muiru were hard pressed to state how they plan to ensure the Ethics and Anti-Corruption Commission (EACC) effectively discharges its constitutional mandate.
MPs asked Musimba to explain whether his global ties would interfere with his work as a commissioner in terms of enhancing people centered delivery to improve quality of cases (civil or criminal).
The MPs said that corruption has led to increase in unemployment rate in the country.
Led by Mukurweini MP Antony Kiai, the MPs wanted to know whether he would be neutral in some cases.
"Looking at your impressive Curriculum Vitae I can see that you have even been awarded a medal from China and you have been involved in bilateral engagements between Kenya and China," he said.
Musimba was engaged in other works among them being an attaché in China for the Kenyan government.
Kiai wanted to know how the commissioner would handle a case involving Kenya and China citing the Standard Gauge Railway (SGR) which is shrouded in mystery.
"You know that China as a country is one of our partners and we owe the country a lot of money and the flagship project done by the Chinese the SGR which is in the public knowledge of being shrouded in mystery among other things," the MP said.
"Are you ready to ensure that the public is made aware of all the details that happened between the two countries in regards to the matter because it's shrouded in mystery," he added.
Rabai MP Kamoti Mwamkale posed "would you be able to investigate the matter?"
MPs also wondered how Musimba who is not well versed with how to handle corruption cases will effectively serve at the EACC.
Dagorreti South MP John Kiarie raised concern over militarisation of public institutions, making reference to Musimba who retired from the military seven years ago.
The MPs argued that he had a lot of military qualification yet the "matter ahead of you has nothing to do with that."
"How will your background bring changes in this organisation so that people can have hope in you? How can you convince us that the qualifications that you possess are the right ones for this very crucial job of fighting corruption in Kenya?" Posed Rabai.
"How will your background bring changes in this organization so that people can have hope with you?"
Musimba promised to use military expertise to fight graft.
"Once confirmed I will ensure that I will use my military expertise of resilience to fight graft," he stated.
He added that fighting corruption is like fighting a war that requires resilience, courage and motivation.
If successful, Musimba said that he would leverage on technology to turn around investigation time and effectively manage wealth declaration through real-time management information management system.
Also vetted was Dr Wanjiru a lecturer at Egerton University whom the legislators questioned why she wanted to be a commissioner.
"Would you rather impart this knowledge and sense of patriotism in our students than being at the commission?" Posed Homa Bay MP Peter Kaluma.
She said she is motivated in seeing change and living in a better country. "My vision is to have a corruption free country by using technology to fight the vice. The government should also be transparent in how it uses borrowed money from foreign institutions as investigating agencies provide water-tight cases," she said.
If successful, the duo will replace Dr Dabar Abdi Maalim and Rose Mghoi Macharia who left the commission on September 1 after the president accepted their resignation as stipulated in law. No reason was stated for their resignation.