'I am alive and enjoying my weekend': Charles Njonjo on rumours of his death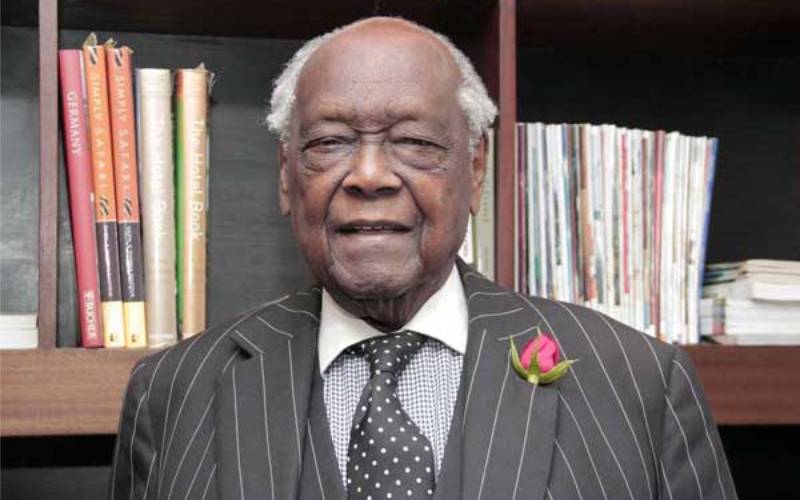 Charles Njonjo, the first Kenyan to hold the office of the Attorney General, has dismissed fake reports of his death that made rounds on social media last evening.
In a text message to a senior journalist at Citizen TV as seen by The Standard on Sunday, October 10, the 101-year-old former cabinet member termed the rumours as great exaggeration adding, he was enjoying his weekend.
"Reports of my death have been greatly exaggerated. I am well and enjoying my weekend at home as we celebrate Utamaduni Day," his statement read in part.
On Saturday, October 9 evening, fake reports of the centenarian's demise emerged and circulated online, a confusion that saw certain public figures take to their platform to share their condolence messaged with Njonjo's family.
Njonjo, who celebrated his 101 birthday in January is the only surviving member of Kenya's post-independent Cabinet formed by Kenya's founding President Jomo Kenyatta.
Kenya's history dates back to 1963 when the British colonialists granted the country's leaders liberty to run the affairs of the land; Jomo Kenyatta took the oath of office assuming the position of Prime Minister.
One and a half years later, on December 12, 1964, the Prime Minister proudly hoisted the flag of independent Kenya and took an oath to assume the country's presidency, a seat he would occupy for 15 years.
Kenyatta formed the independence government with a 15-man member cabinet as follows;
Jaramogi Oginga Odinga (vice president), Tom Mboya (Minister for Justice and Constitutional Affairs), James Gichuru (Minister for Finance and Economic Planning), Jackson Angaine (Minister for Lands and Settlement), Eliud Mwendwa (Minister for Labour and Social Services, Dr Njoroge Muigai (Minister for Health and Housing), Julius Gikonyo (Minister for Commerce and Industry), Dawson Mwanyumba (Minister for Works, Communication and Power), Bruce Mckenzie (Minister for Agriculture), Achieng Oneko (Minister for Information, Broadcasting and Tourism), Joseph Murumbi (Minister of State in the Prime Minister's office), Joseph Otiende (Minister for Education), Lawrence Sagini (Minister for Natural Resources), Mbiyu Koinange (Minister for State for pan African affairs), Samuel Ayodo (Minister for Local government) and Charles Njonjo (Attorney General).
Njonjo's long life span has always been a subject of discussion among Kenyans who marvel at his dedication to healthy living, and is popularly referred to as "The Duke of Kabeteshire".